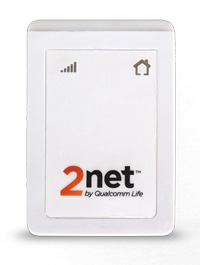 Qualcomm has officially announced the launch of Qualcomm Life, its wireless healthcare business, in Europe.
The Life business is built on the 2Net Platform and Hub, a data collection and reporting system that has been operational in the USA since December 2011. The system works by collecting data from medical devices that connect through an on-site secure Hub. Certified mobile phone or other cellular-enabled devices or applications can also be used to transmit data to the platform.
(The 2net Platform and Hub are each individually certified as Class I Medical Devices in Europe.)
Once captured, the data is then transferred to either the patient, medical staff or service provider connected to the platform.