This was the message from Martin Brynskov, Chairman, Open & Agile Smart Cities (OASC), who stressed smart cities are a huge market for telcos. By Sarah Wray.
Brynskov was speaking at Digital Transformation World event last week, held by the telecom trade association, TM Forum. Research by the Forum (see graphic below) identified smart cities as one of the biggest potential markets for 5G.
OASC is an international open standards collaboration group for smart cities that represents over 140 metropolitan areas. Brynskov addressed almost 3,000 delegates saying, "Smart cities is not a sector" but represents "all the sectors in one," from energy to tourism, entertainment, mobility and more.
Although this means a massive market, it is a highly complex too — which will be explored at our smart city meets telco event in London in September. Details here.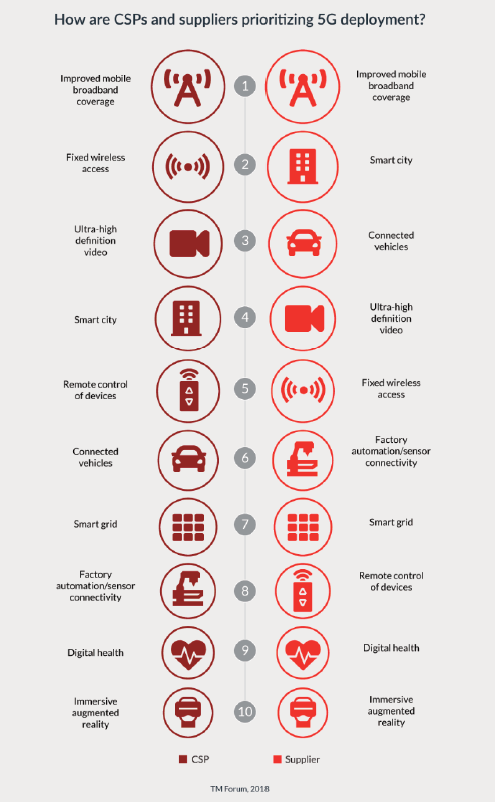 The biggest challenge
"Forget about selling handsets," Brynskov said, urging telecom players to instead, "Think about how you will even operate in this space. That's going to be your biggest challenge."
He said it will include: negotiating space for the increased number of cell towers needed for 5G; proving the benefits to citizens, rather than selling networks; and solving immense data challenges.
Brynskov highlighted, as an example, the growing understanding that citizens have that they, not tech companies or cities, own their data. He commented, "If you want to process that [data], terms and conditions apply," noting legislation such as the General Data Protection Regulation (GDPR), which came into effect last year.
He added, "Already very hard principles are being turned into directives".
Not about money
One of telcos' biggest concerns around 5G is generating return on investment (ROI) for the terrific sums they have spent and will have to spend on 5G spectrum and infrastructure.
Juniper Research estimates that by the end of 2018, communications service providers, hardware suppliers and public bodies spent $60 billion on 5G research and development. In 2018 alone, they are estimated to have spent $30 billion on trialling networks ready for commercial roll-out.
The good news, Brynskov said, is that: "Cities really want 5G to work. They want to work with you and they want to buy your services." The not so good news, though, is that cities view "money [a]s a sideshow".
He cited gaming as proof of the point that, "If you deliver something that people 'need', it's a booming market immediately. So you have to apply the same logic: how do you serve the community? That's where there's going to be money."
"We have tons of problems in big cities – the growth in Asia, Africa and India really demands technology to help with sustainability goals around everything from poverty and congestion to pollution.
"You name it, we need technology to do it…Again, terms and conditions apply."
Finding common ground
If telcos want to be players in the smart city market – "probably the biggest market of the moment" – they need to find common ground with cities and accept that "nobody will own [that ground]".
This is one of the reasons OASC is collaborating with TM Forum on its (still evolving) Open Digital Framework, Brynskov said.
The framework includes TM Forum's Open Digital Architecture, Open APIs, data and artificial intelligence standards, reference implementations and reference materials tied to business processes.
The Forum describes the framework as an "interactive, continuously evolving collection of tools, knowledge and standards" for operators.
"[OASC] likes the idea of agreeing something simple that works everywhere, across all sectors. And then we can virtualise and compete on top of that," Brynskov commented.
"No community will let you suck the economy or the power out of the local level. It will not happen."
Culture  and cooperation
He told telco operators that succeeding in smart cities is: "About your culture and your ability to form partnerships to tackle the global problems and global dynamics" but in a way that works on a local level.
Those who are open to these types of partnership will win, he said.
The rest is "just details – and this includes cities and telcos working together to shape future regulation and more.
Brynskov was asked what his takeaway message was for operators hoping to take advantage of the smart city opportunity? "That's easy," he said. "Be fair."