In June 2012, the Wi-Fi Alliance announced what it termed "a major milestone" in carrier-grade Wi-Fi technology with the introduction of Passpoint – a single industry-wide solution for access to Wi-Fi mobile broadband.

Based on technology defined in the Wi-Fi Alliance Hotspot 2.0 specification, the Passpoint programme was created to address critical business needs for mobile data, streamline access and to help ease operator data traffic offload to Wi-Fi networks.
At Mobile World Congress, Mobile Europe spoke to a range of experts to ascertain how carrier-grade Wi-Fi is progressing.
Tiago Rodrigues, Program Director of the Wireless Broadband Alliance (WBA), another industry body that has worked closely with the Wi-Fi Alliance, said it is actively engaged with operators on this topic, but admitted that "we are not there yet".
He added: "One of the key areas we're working on is the quality of service, network management and offload solutions where the network decides which services to put onto Wi-Fi and which services should stay on the cellular network."
Chris Nicoll, principal analyst at Analysys Mason, says some vendors, such as Cisco, Aruba Networks, Ruckus and Ericsson, are "far along" with their next-gen enabled hot spot products.
Overall, however, it is "a little bit early" to be talking about end-to-end solutions that operators can rely on.
"We have talked to a number of operators who told us that they had previously gone with low cost access point solutions or had very old infrastructure, so they are finding that they will need to replace their infrastructure in order to support hotspot 2.0," he said.
Further, there are not enough devices supporting Passpoint at the moment as "device manufacturers want to see the network coordinated first", according to Nicoll.
But the analyst added that the WBA is seeing "very good support" from major device manufacturers and Passpoint-enabled devices should be available in the third quarter of 2013.
"Support for Passpoint/Hotspot 2.0 on both the service providers' infrastructure and devices has to happen for carrier-grade Wi-Fi to take hold in the market. This will start in 2013, but we expect it to be a larger factor in 2014 and 2015."
FT-Orange is a big believer in standardised solutions and helped initiate the work on the Hotspot 2.0 specification that led to the Passpoint certification programme.
Thierry Bonhomme, EVP of Orange Labs, Networks and Carriers, told Mobile Europe that it wants to use Wi-Fi in public places to complement its existing cellular network coverage and increase capacity for data services.
"We want to ensure seamless access between cellular and Wi-Fi and traffic management, i.e. offload. Again, we believe that standardised solutions are needed, in order to have it embedded in all Wi-Fi devices."
David Nowicki, CMO of Wi-Fi offload vendor Devicescape, believes operators are missing a trick if they don't seek to incorporate public Wi-Fi into their networks.
"It's costly to put in new infrastructure. What a lot of people are doing right now is looking at the Hotspot 2.0 standards that are coming into the industry to integrate more public Wi-Fi into their networks," he said.
A Devicescape case study in San Francisco showed that while an operator would typically deploy 100 macro base stations and 100 small cells to cover the city, the vendor could deliver 27,000 hotspots through crowdsourcing techniques via users' devices on the operator's network.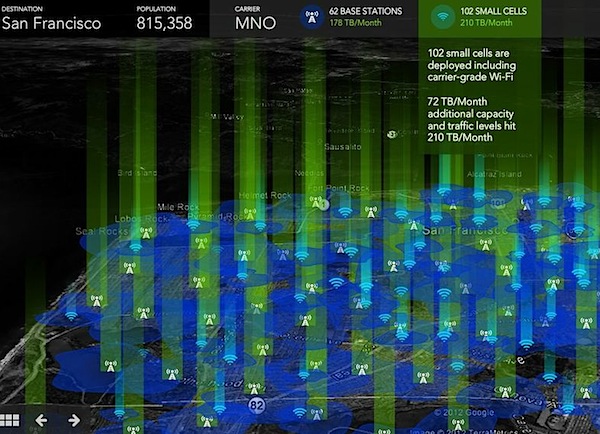 San Francisco case study - coverage map featuring just macro base stations & small cells
"This is a giant jump from where a network is today, and where it could be. You no longer need to predict where high capacity is going to be, where the next chaos in your network is going to pop up, as you're covered," added Nowicki.
He said it was also beneficial as 4G LTE gets rolled out.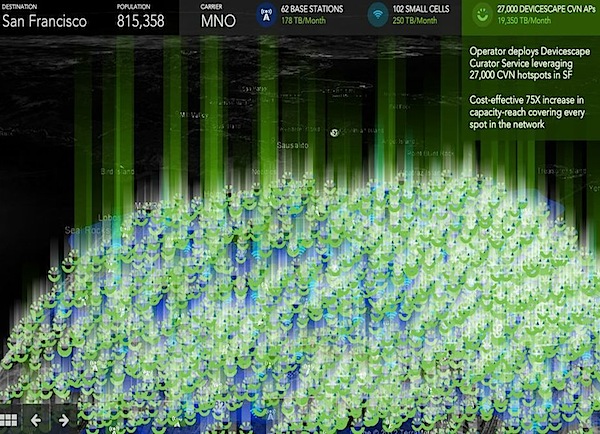 San Francisco case study - coverage map with Devicescape hotspots added on top of an existing network
Citing examples in the US, Canada and France, Nowicki said operators are still looking to Wi-Fi to complement their networks as users "can't necessarily have that 4G experience everywhere where they'd want it to be".
Over in Scandinavia, TeliaSonera launched its own Homerun Wi-Fi network in 1999 and currently has about 4,500 Wi-Fi hot spot sites.
"In the Nordics, we include access to our own Wi-Fi network Homerun in mobile subscriptions that include surf, and we therefore we need to secure a good user experience, so in that sense our Wi-Fi is carrier grade," Tommy Ljunggren, Vice President of System Development, Mobility Services at TeliaSonera said.
"The most important thing for us is to make it simple to use public Wi-Fi and log on to our Homerun-network. We have therefore been working with device manufactures and others to include the SIM authentication ".1X" or EAP-SIM in devices, which means our customers devices can automatically switch to a nearby Homerun network."
Certainly, Wi-Fi is gaining credence. A survey conducted by Analysys Mason and Amdocs in late 2012 found that a third of 33 operators polled had either deployed, or planned to deploy a Wi-Fi network with the main driver being a desire to create competitive differentiation.
Carrier-grade Wi-Fi can certainly increase that differentiation, but there is still a way to go before the Passpoint version is actively deployed on a large scale.