ON DEMAND: Driving Smart X world with Private 5G networks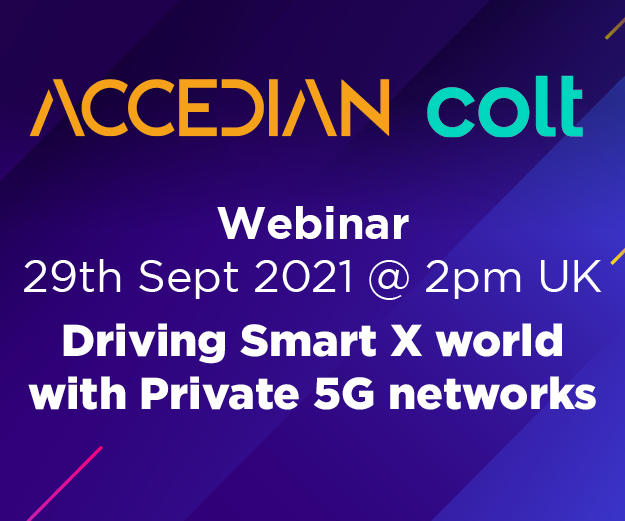 Watch the video recording of the Mobile Europe & European Communications webinar with Accedian and Colt, which took place on 29th September 2021:
Driving Smart X world with Private 5G networks
The fast-growing private network market is set to shape the future of enterprise digitization. All vertical industries are actively exploring, testing, or deploying private 5G networks. Specifically, manufacturing was the most active vertical for private networks as of September 2020, accounting for 28% of all vertical activity.
Industrial interest in private 5G networks has grown as the technology not only meets the security, reliability, and latency requirements of existing wired networks for industrial processes and applications, it also adds mobility and greater flexibility. Colt Technology Services (Colt) has partnered with Accedian, a leader in performance analytics, cybersecurity threat detection, and end user experience solutions, to deliver dynamic, adaptive connectivity solutions to Colt's enterprise customers, empowering them with real-time visibility and assurance to optimize their digital experiences. Learn how private 5G networks can enable enterprises to unlock the full potential of Industry 4.0.
This webinar with Accedian and Colt covers:
Key business drivers and benefits of private 5G networks for different industries
Private 5G deployment scenarios, performance guarantees, and architectures
Who should attend: Service providers and enterprises, including those in the industrial manufacturing and real estate (smart buildings and offices) verticals. Analysts and the media are also encouraged to attend.
About Colt
Colt strives to transform the way the world works through the power of connectivity – taking what's always been in its DNA to enable customers' success. The Colt IQ Network connects more than 900+ data centres and over 29,000 on net buildings across Europe, Asia and North America's largest business hubs.
Colt understands today's shifting connectivity requirements and provides agile, on-demand and secure high bandwidth networking and voice solutions to ensure enterprises can thrive. Customers include data-intensive organisations spanning over 210 cities in more than 30 countries. Colt is a recognised innovator and pioneer in Software Defined Networks (SDN) and Network Function Virtualisation (NFV). Privately owned, Colt is one of the most financially sound companies in the sector, and because of this, it's able to put its customers' needs at its core. For more information, please visit www.colt.net.
About Accedian
Accedian is the leader in performance analytics and end user experience solutions, dedicated to providing our customers with the ability to assure their digital infrastructure, while helping them to unlock the full productivity of their users.We are committed to empowering our customers with the ability to see far and wide across their IT and network infrastructure and a microscopic ability to dive deep and understand the experience of every user, helping them to delight their own customers each and every time.
Accedian has been delivering solutions to high profile customers globally for over 15 years. For more information, please visit www.accedian.com
Speakers
Aaron Partouche

5G & Edge Business Development Director @COLT

Patrick Ostiguy

Founder & Executive Chairman, Accedian