ON DEMAND: Open RAN – network performance in the lab and in the field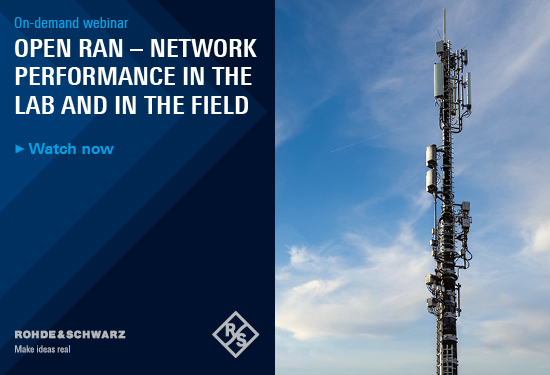 With the technical evolution of Open RAN, radio access networks (RANs) are made open, disaggregated and intelligent. This technological evolution fosters future RAN to be built on virtual network elements, white-box hardware and standardized interfaces. The O-RAN Alliance defines new interfaces complementary to 3GPP RAN interfaces as well as additional specifications, and assists its members in integrating and testing their implementations.
Opening virtualized networks with Open RAN demands suitable test and measurement solutions. Conformance testing is required to test the O-RAN fronthaul interface. When deploying an Open RAN network, network testing solutions are necessary to verify its interoperability and to compare the end-to-end performance as well as the user experience of an Open RAN with a legacy network. This webinar provides an overview of the O-RAN disaggregation aspects and describes how T&M can guarantee the successful deployment of an O-RAN network.
In this webinar, you will learn more about:
RAN disaggregation aspects
O-RAN fronthaul conformance testing
E2E testing of Open RAN based networks
How to compare the network performance of Open and legacy RAN
Network synchronization aspects and verification over the air
Speakers
Arnd Sibila

Technology Marketing Manager, Rohde & Schwarz

Arnd Sibila joined Rohde & Schwarz in 2012 as Technology Marketing Manager for Wireless Technologies and then led the Infrastructure Global Key Account Manager group. Since 2016 he focused on Technology Marketing for the Mobile Network Testing market segment. Previously, Arnd gained 21 years of experience at Siemens Communications and Nokia Siemens Networks where he held various technical and management positions in the field of Wireless Communication Systems and Mobile Networks Product Lifecycle covering nearly all wireless technologies.

Reiner Stuhlfauth

Technology Manager for Wireless Communications, Rohde & Schwarz

Reiner Stuhlfauth is a Technology Manager for wireless communications at Rohde & Schwarz headquarters in Munich, Germany. He focuses on wireless communications technology and T&M aspects in cellular and non-cellular radio technologies. In this role, he promotes test and measurement solutions for e.g. LTE, 5G and WLAN. Reiner is one of a group of authors at Rohde & Schwarz who have published a technology book on 5G NR: "5G New Radio – Fundamentals, procedures, testing aspects".