Ericsson debuted a new model for carrier-grade software-defined networking (SDN) called "network slicing", together with a new multi-application card for its SDN router series at the Broadband World Forum event in Amsterdam.
Network slicing is created by combining a service provider SDN architectural framework with Ericsson's existing Cloud System product – a delivery platform that enables software applications and virtualised network functions to be deployed, wherever they are needed in the network.
The idea is to enable operators to be able to put key telecoms network applications into the cloud, as well as providing cloud services to the end users.
"The mobile access network is 70 percent made up of software but there is a quality issue in the mobile access. On the fixed network, there is a slightly smaller portion of software, so the quality is easier to control, but when you combine the two [together] you are putting them in a chain and this means that overall delivery quality depends on both," said Ericsson CTO Ulf Ewaldsson.
"Most operators have investments in the private cloud, [mainly] to support billing and BSS systems, but there is also a pressure to put telecoms applications in the same cloud. This gives us the opportunity to connect those engines of SDN being used in the private cloud directly to the same SDN for the network."
Ericsson is convinced that its vision of the "Networked Society" will come about because the network will be able to offer many new services in the future with SDN in the cloud, from remote-controlled cars to emergency information and entertainment content being shared with drivers (read our interview with Ulf Ewaldsson on 5G for other examples – Ericsson CTO: 5G is about integrated wireless technologies, not just speeds
"With network slicing, we could have one stream that goes to something which needs very low latency. In 5G, we're looking at devices needing latencies lower than five seconds. That is what would be required for remote controlling something," explained Ewaldsson.
"On the other hand, we might not need a lot of speed, but we might need new protocols to enable the cloud to know what is going on the road so it can control what's happening there, for example. Each of these slices represents a certain quality of service and it's a combination of cloud technology with virtualisation of apps in the cloud that the operator would run."
According to Ewaldsson, this would put the cloud just outside the network, running IMS or switching applications to be able to create a virtual machine on the base station within the same cloud and orchestrating it using real-time analytics.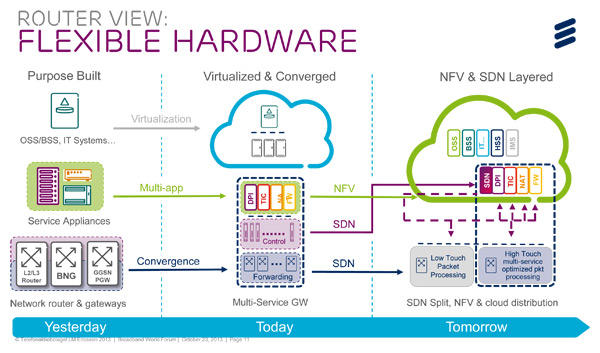 To enable control of several services in the cloud, Ericsson has also announced a new multi-applications card for its Smart Services Router range featuring the Smart Network Processor 4000 (SNP 4000) chipset.
The SNP 4000, launched at Mobile World Congress in February, was developed in-house to handle tens of millions of data flows from various services, with a dedicated architecture to flexibly allocate resources to the services that require it.
"We're getting a lot of requests from customers to simplify services. It's possible to take security, billing and charging apps and move them somewhere else. It makes sense [to take] a machine-heavy app [and] have it in a packet-core data centre, for example. This is what having the network-enabled cloud will enable you to do," commented Jan Häglund, VP, Head of Product Area IP & Broadband.
"It's not only a network processor chipset for smart applications in an IP network. There are 128 cores and each core can run parallel processing up to the level of 24 parallel executing threads at the same time."
The card is also programmed using GNU C/C++ tool chain on Linux to make it much easier and quicker to add new applications.
"The key thing is that it's programmable in high level programming languages. The traditional method was to programme chips with low-level machine code, which made it available to relatively few people and a slow speed of service introduction," added Häglund.
"[This card] accelerates the speed [of service delivery] by almost the factor of 10. What you've seen of our smart services router is just the beginning of us continuing to build a complete family of end-to-end IP operating systems, multiple application deployment across the network and network management."
Have you voted for your European Operator CTO of the Year? Click here to vote.