In the new era of 5G, virtualisation and cloud networks, dynamic network orchestration and assurance are at least as critical as automated digital customer engagement, says Amdocs' Yogen Patel.
The new work and leisure trends enforced over the last year have accelerated the digital transformation agenda for communications service providers (CSPs). Demand for different types of service has intensified. Businesses need to equip employees to collaborate more seamlessly from home, placing new demands on mobile as well as fixed-line services. Consumers, too, are looking for new rich-media ways to cope with long spells at home.
CSPs that can rise to these demands, with improved connections and new value-added services, have an opportunity both to better serve customers and to drive new revenue streams. But to capitalise on these opportunities, they need smarter and more automated ways of managing and executing the delivery of those customer experiences.
Enabling a more flexible future
Service providers have already been investing in a major shift in telecoms networks with the arrival of 5G and cloud-based networks, but mobile operators must now also turn their attention to the operations and service management challenges raised by these new networks.
Previous generations of mobile networks were largely static and 'service ready': monolithic; appliance-based; largely centralised; with a fixed number of network nodes to manage.
With 5G, virtualisation and cloud-native networks, the mobile network is becoming much more dynamic. It features many more modular and decoupled network functions, covering a hybrid mix of physical/virtual/cloud-native variants. These functions could be distributed at the edge, in regional hubs, in centralised data centres and, in the future, on public clouds.
Trying to manage these highly complex and continuously flexing environments is impossible using traditional approaches, involving manual processes pieced together across multiple internal system silos.
In the new world, service providers need to be working towards end-to-end service automation, from digital engagement right through to network delivery, monetisation and service management. We refer to this as digital-to-network automation.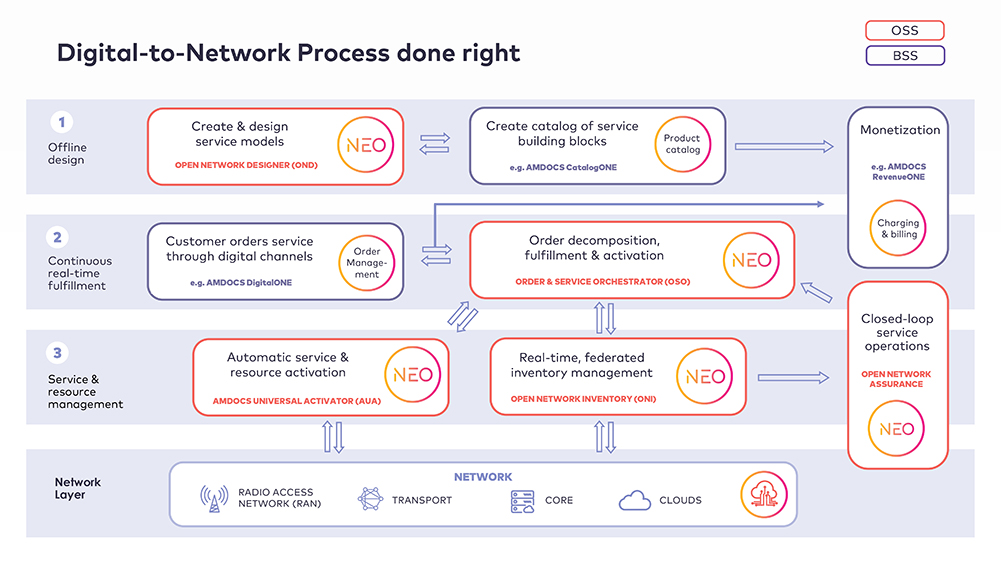 Real-time OSS automation
As previous generations of mobile networks have been hard-wired to support a relatively small number of standardised services, most of the digitalisation and automation effort has been focused on the customer engagement layer – for self-service on billing, basic commerce and care, including use of technologies like chat-bots to understand what customers need.
Automation linked to service and network operations could be provided for via manual or bulk automation for the finite range of standardised scenarios or processes offered up to now. But those days are coming to an end. New technology and customer demands require more extreme automation of downstream service and network operations.
The future won't wait
New dynamic, scalable and programmable networks, coupled with new ecosystems of application providers, pave the way for a whole marketplace of new innovative services tailored to diverse customer needs. These could include SD-WAN services for enterprise customers, or assured 'gaming-grade' network performance as part of a gaming cloud service for consumers.
It's a future that's approaching quickly, so CSPs need to be ready. Delivering new services requires the ability to cope with all the variations and complexity of downstream processes, including monetisation, on demand. Immediacy and scalability must be matched by cost-efficiency too, hence the need for end-to-end, digital-to-network automation.
At an operations support systems (OSS) level, managing the diverse, dynamic scenarios of the future requires unified service design and orchestration capabilities (eg for services that are enabled by stitching together various relevant network functions and applications).
With so many more 'moving pieces' in the network, operators will need a 360-degree, real-time view of what's going on, too. And advanced assurance capabilities, boosted by AI and machine learning, will be important to proactively and automatically spot and address the service impacts of any issues across interconnected network functions.
Closing the automation loop with Amdocs NEO: Amdocs NEO is an example of a comprehensive service and network automation platform that provides these essential new capabilities, and which CSPs can harness to manage innovative services in the new network era.
Read this eBook to learn why digital-to-network automation is critical for successful digital transformation.
The author, Yogen Patel, is Vice President and Head of Solutions Marketing, Amdocs