From 30th May, 5G will be available in Belfast, Birmingham, Cardiff, Edinburgh, London and Manchester.
Consumers and business customers can order devices, including smartphones from Samsung, OnePlus, LG, and Oppo from today.
The operator said its 5G Smart plans will give customers access BT Sport HD HDR, and an exclusive Gamer's Data Pass with zero-rated alongside access to the 5G network.
Plans start from 10GB (£54 per month) and extend up to 120GB (£74 per month).
EE is launching 5GEE Wi-Fi with the HTC 5G Hub, which will be available for an upfront cost of £100 and with 50Gb of data per month for £50 per month, or for £75 per month with 100Gb of data per month.
5GEE home broadband will launch in June; plans are to be revealed soon.
Consumers don't care?
Kester Mann, Principal Analyst at CCS Insight said, "Being first-to-market with 5G matters little to consumers, but is clearly an important honour for BT.
"It enables the company to reinforce its network leadership and chimes nicely with the sentiment of new CEO, Philip Jansen, who plans to transform the company into a 'national champion'.
"In getting 5G as soon as next week the UK will have completed a remarkable turnaround, from laggard to leader.
"In 2012, it become only the fifty-third nation to launch 4G. Now, with all four networks planning to go live in 2019, it can justifiably claim to be one of the world's 5G pace-setters."
Business offers
EE says that from today, SMEs and larger businesses can order 5G smartphones and a variety of 5G business mobile plans are available, including SIM-only and mobile-sharer deals, plus features such as mobile security (from Mobile Iron), flexible data options, unlimited calls and texts, and swappable benefits as standard.
Speed and reach
The operator expects customers to experience an increase in speeds of around 100-150Mbps even in the busiest areas. Some customers will break the 1Gbps milestone on 5G smartphones. By comparison, the fastest speed possible when EE launched 4G in 2012 was 50Mbps.
Marc Allera, CEO of BT's Consumer division, said, "We're adding 5G to the UK's number one 4G network to increase reliability, increase speeds, and keep our customers connected where they need it most…We're upgrading more than 100 sites to 5G every month from today."
EE is expanding 4G coverage into rural areas, and adding more capacity to 4G sites by turning 3G signals into 4G to make more spectrum available.
Mann commented, "The launch highlights that the shift from 4G to 5G is an evolutionary one, as it focused on offering a more reliable mobile experience. Its new 5G propositions contain little that is truly innovative, but address existing customer pain-points without over-inflating expectations."
Phased roll-out
This is Phase 1 of EE's 5G rollout that uses the combined power of 4G and 5G to give customers the fastest, most reliable mobile broadband so far.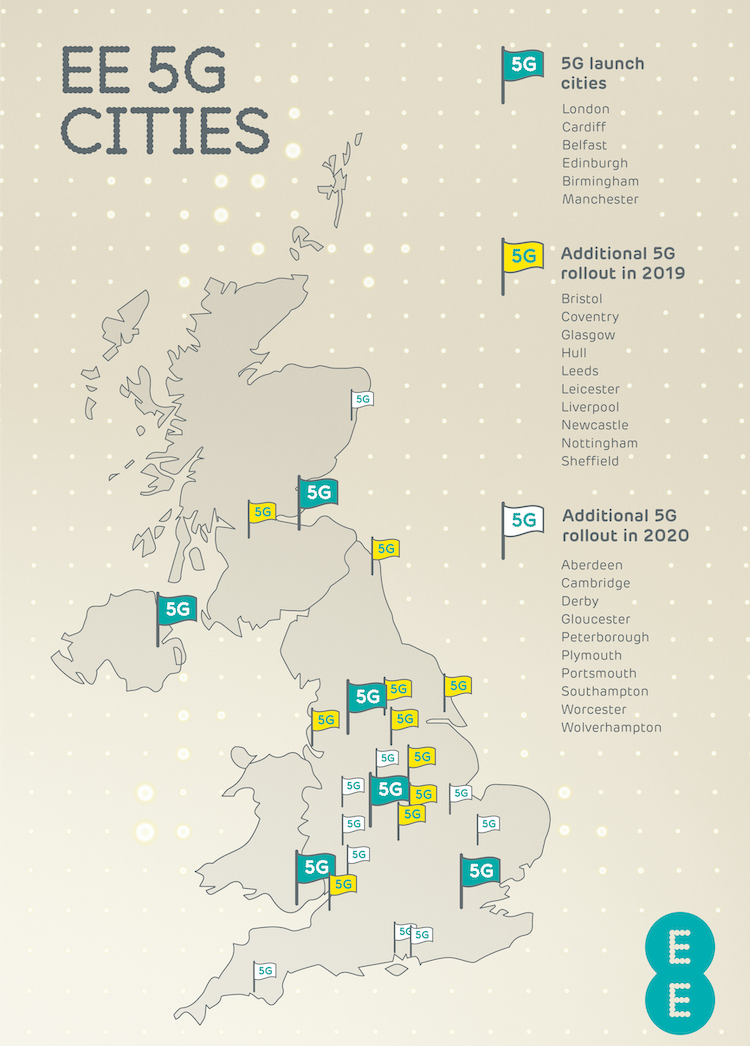 Phase 2, from 2022, will introduce the 5G core network, better device chipsets and greater availability of 5G-ready spectrum. Higher bandwidth and lower latency, and the expanding 5G infrastructure, will also enable a more responsive network supporting applications like mobile augmented reality (AR), real-time health monitoring, and mobile cloud-based gaming. Phase 2 will also see the convergence of network technologies, EE/BT integrates fixed, mobile and Wi-Fi.
 
Phase 3, from 2023, will introduce Ultra-Reliable Low Latency Communications (URLLC), Network Slicing and multi-Gbps speeds. It will enable critical applications like real-time traffic management of fleets of autonomous vehicles, massive sensor networks with millions of devices measuring air quality across the entire country, and the 'tactile internet', where a sense of touch can be added to remote real-time interactions.
New partnerships
EE will provide 5G to the Google for Startups Campus in London and is partnering Niantic for Harry Potter: Wizards Unite, which was co-published and co-developed by WB Games San Francisco and Niantic that includes AR.