Auction exceeds expectations raising almost €6.6 billion over 52 days.
Last week Germany's telecoms regulator, the Bundesnetzagentur (BNetzA), took drastic steps to hasten the conclusion of the auction, raising the minimum for new bids for certain spectrum to €13 million.
Deutsche Telekom (DT) spent €2.2 billon, Vodafone €1.9 billion, Telefónica €1.4 billion and market entrant Drillisch coughed up €1.1 billion. DT said it was relieved, but complained about how much it had been forced to pay. Dirk Wössner, a DT board member, said in a statement that it left a "bitter taste".
He added, "The network rollout in Germany has suffered a significant setback. The price could have been much lower.
"Once again, the spectrum in Germany is much more expensive than in other countries. Network operators now lack the money to expand their networks."
Hannes Ametsreiter, who leads Vodafone's German operations agreed, saying the outcome was a "disaster for Germany".
Could have been worse?
However, Italy's 5G auction also reached €6 billion, and there are many more yet to come, including in the UK, Europe's second biggest economy and France, the third largest.
The German operators are also concerned that some spectrum has been held back and will be allocated to industrial groups that want to build their own 5G infrastructure.
Volkswagen and BSF have already expressed an interest in going down this route.
Winner and losers
Germany's Finance Minister, Olaf Scholz, has pledged to use the funds to upgrade country's poor digital infrastructure.
Although it is by far Europe's biggest economy, Germany was listed as thirtieth out of 34 European countries regarding fibre to the home/building penetration, at just over 2% by the FTTH Council in March (see graph below) and its 4G coverage and capacity is far worse than that of many of its neighbours too.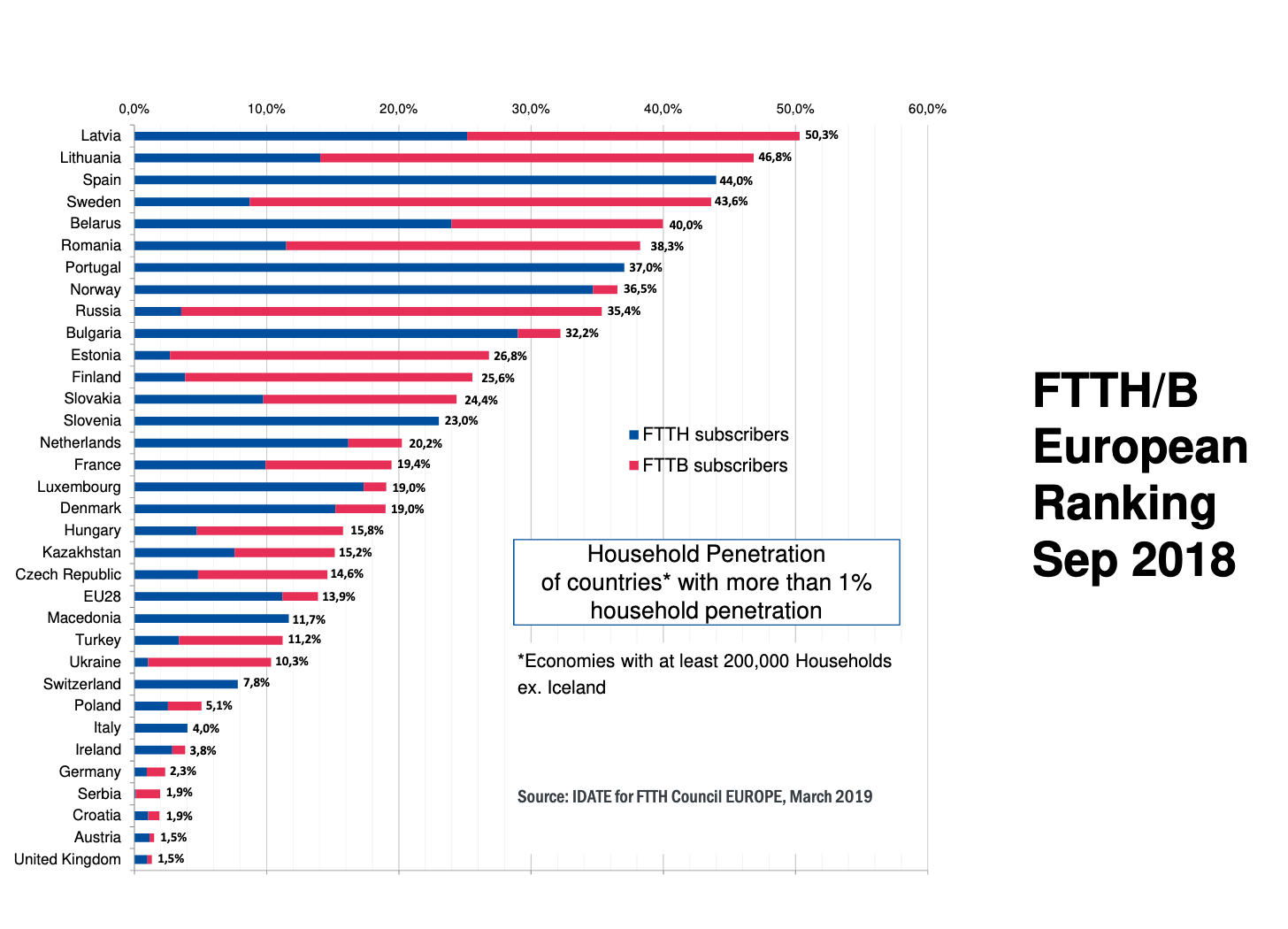 Jochen Homann, President of the BNetzA, which ran the auction, said ,"The frequencies will be used not just for the new 5G mobile phone standard but also for better mobile phone coverage in Germany."
It is now up to the companies to quickly make use of the frequencies."
The winners of the auction will be obliged to provide 5G coverage to 98% of all German households by 2022 under a "national roaming" scheme.
A million 5G customers
At 5G World, which kicked off in London yesterday, the situation in Europe was shown in sharp contrast to the progress made in other parts of the world.
Takki Yu is Senior Director and Head of AN Development Team at SK Telecom. In his keynote, he said that the Korean market already has a million 5G subscribers and that take up of 5G services has been faster than for 4G.
South Korea has three operators offering 5G services.
Unlimited data plans in Europe
The former CEO of O2 UK, Ronan Dunne, is now Executive VP and President of Verizon Wireless, Verizon. He told the keynote audience that the US operators offer unlimited data plans which has driven massive usage.
He said he expected Europe to follow suit and that 5G is the only efficient way to provide enough capacity.
Dunn also pointed out that the American operators have access to far more spectrum, for instance, he said Verizon had 1,000 contiguous bands in the mmWave spectrum, which provides super-fast communication – although it presents technical challenges.
Things are changing
The UK's Minister for Digital, Media, Culture and Sport gave a speech at 5G World too, but would not be drawn on the subject of government's stance regarding the use of Huawei equipment in 5G networks beyond saying the situation was in flux.
UK operators are struggling to progress their 5G strategies and wide-scale deployments in an atmosphere of such uncertainty.