Ericsson takes top spot back from NEC
The global microwave equipment market totaled $1.2 billion in 2Q12, up 16% from the previous quarter and down 6% from the year-ago 2nd quarter, Infonetics Research has said.
Ericsson regained the #1 position in the global microwave equipment market in 2Q12, Infonetics said, edging past Huawei by a hair. NEC, the microwave market share leader just a quarter ago, slipped to 3rd. Regionally, EMEA had the strongest 2nd quarter, accounting for around half of global market share.
NSN, which was listed as fifth best selling company in Infonetics's 2Q 2011 report, has slipped out the top five, to be replaced by Ceragon. NSN has since listed and sold its microwave business to Canadian company Dragonwave. Alcatel-Lucent remains as the fourth biggest selling microwave vendor for the quarter.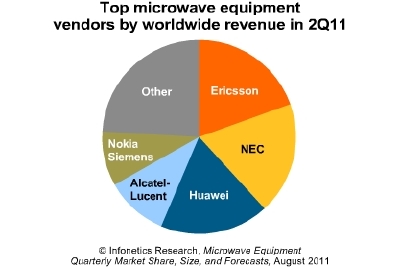 "The microwave equipment market rebounded nicely in the 2nd quarter thanks to strong performances from Ericsson and Huawei," notes Richard Webb, directing analyst for microwave at Infonetics Research. "Huawei had a huge quarter, its biggest ever for microwave equipment. The operator now counts some of the world's major tier 1 international operators as its microwave customers and often supplies their operations across many countries."
Webb added, "Despite choppy performance in recent quarters, we expect the microwave equipment market to grow to $6 billion by 2016, driven by a continuing demand for increased mobile backhaul capacity and the proliferation of small cells."
Infonetics' stas were excerpted from its 2nd quarter 2012 (2Q12) Microwave Equipment vendor market share and forecast. The report analyses TDM, Ethernet, and dual Ethernet/TDM microwave equipment by spectrum, capacity, form factor, and architecture.
.