Dell'Oro Group says its preliminary findings across a number of segments show the most rapid growth overall since 2011.
The market analyst, Dell'Oro Group is finalising its analysis of the Q4 2020 across the telecom equipment market, which covers broadband access, microwave and optical transport, mobile core and RAN, SP router and carrier Ethernet switch. Overall it grew at 7% year-over-year for the full year 2020 – the fastest pace since 2011.
The analysis in its different reports suggests revenue rankings remained stable between 2019 and 2020, with Huawei, Nokia, Ericsson, ZTE, Cisco, Ciena, and Samsung ranked as the top seven suppliers, accounting for 80% to 85% of the total market.
At the same time, revenue shares continued to be affected by 5G rollouts in highly concentrated markets: Ericsson and Nokia improved their RAN positions outside of China, initial estimates suggest Huawei's global telecom equipment market share, including China, improved 2 to 3% for the full year 2020.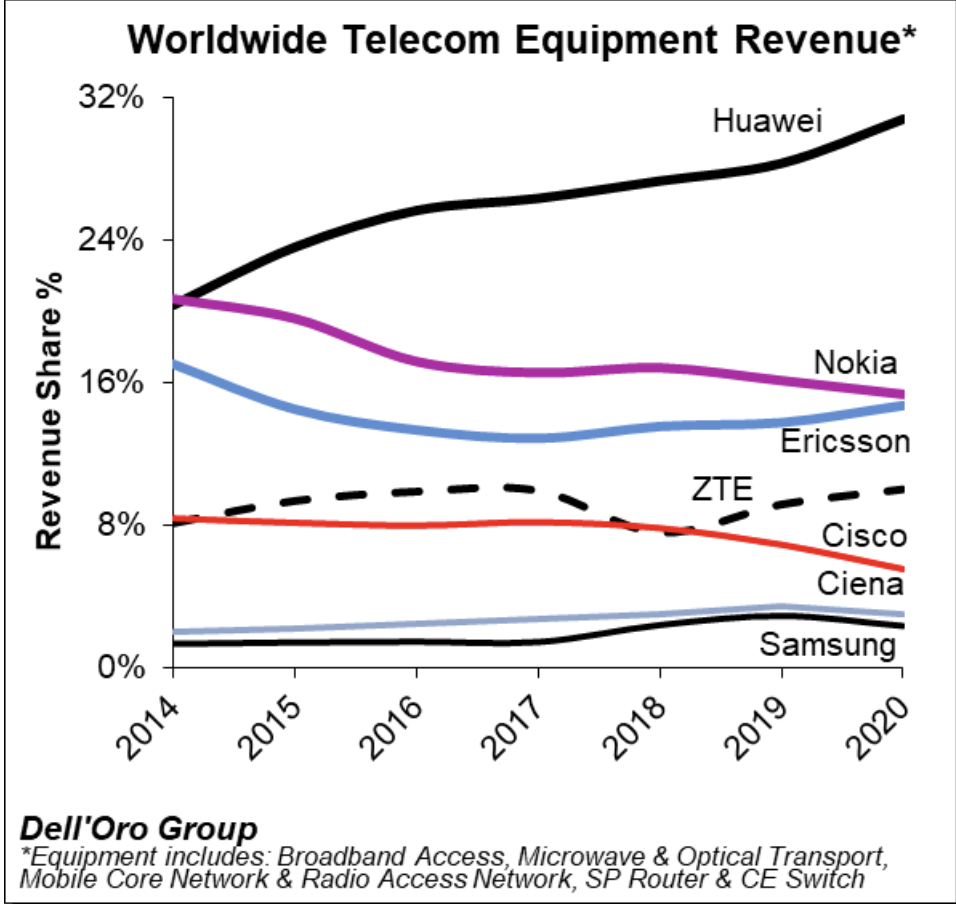 The table at the bottom shows Dell'Oro's estimates of the top seven's market shares.
Other key takeaways for the telecoms infrastructure market in 2020 include:
Preliminary estimates suggest that the positive momentum that has characterised the overall telecom market since Q1 extended into the fourth quarter, underpinned by strong growth in various wireless segments, including RAN and mobile core networks, and modest growth in broadband access and carrier Ethernet switches.

Mobile core networks and RAN increased above expectations to account to almost half the total spend.
Supply chain disruptions caused by the pandemic in the early part of year affected some segments but they had mostly been resolved by the end of the year.
Surges in network traffic from shifting usage patterns resulted in strong demand for capacity upgrades in some technologies and regions, but the pandemic did not lead to significant incremental capacity increases in others.
With investments in China outpacing the overall market, Dell'Oro estimates Huawei and ZTE collectively gained about 3 to 4% of revenue share between 2019 and 2020, together comprising more than 40% of the global telecom equipment market.
Even with the higher baseline, the Dell'Oro analyst team remains optimistic about 2021 and projects the overall telecom equipment market will advance 3% to 5%.