The unit is drawing on experience in the NTT group, which is running some Open RAN sites in its 5G network in Japan.
NTT DATA is launching an end-to-end cloud-native 5G standalone (SA) campus network in Munich using radio frequencies reserved for this purpose by the German regulator. NTT Docomo, Japan's biggest mobile operator and part of NTT Group, has already deployed open RAN on the public 5G network in Japan. It is also a founding member of the O-RAN Alliance. 
The centre, Ensō –The Space for Creators, aims to develop solutions and services for private as well as public 4G and 5G networks, which will be realised through NTT Group's global network. Its partners are Mavenir and NTT Ltd.
Early adopter
Ralf Malter, COO and Managing Director at NTT DATA DACH, said, "NTT DATA was an early adopter of 5G-only networks and is a pioneer in virtualised campus networks.
"With our cloud- native 5G SA network in combination with O-RAN, we are now taking the next step and developing attractive solutions that are exciting for many industries worldwide."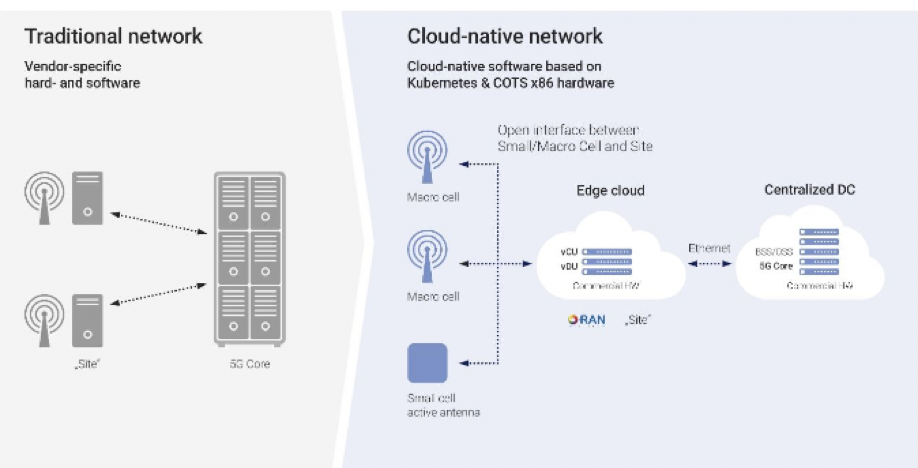 Figure: Cloud-native mobile networks are based on standard servers and a standard IT stack. This makes them highly scalable, more cost-effective and O-RAN's open interfaces enable the use of different hardware and software providers.
 
The 5G campus network in the Ensō – The Space for Creators is an end-to-end cloud-native 5G SA solution with a focus on interoperability within 5G networks and how they can be integrated into the existing telecommunications and IT infrastructure.
The 5G network is combined with a Wi-Fi 6, centrally controlled via 5G and complemented by an edge-core cloud architecture.
 
"By connecting the 5G network to the NTT Data Center, we can map a complete company IT infrastructure in Ensō and, based on this, create use cases together with the companies as well as develop E2E solutions, for example for user and device management with SIM card solutions as well as for security aspects," explains Kai Grunwitz, Managing Director of NTT Germany.
 
Mavenir is a providing the cloud- native software for its operation. Aniruddho Basu, SVP Emerging Business at Mavenir, said, "We are working with NTT DATA on innovative projects and are breaking new ground together so that companies can reduce their dependence on system suppliers and the costs of development and operation".
Companies also benefit from the know-how of the entire NTT Group in "Ensō – The Space for Creators". It operates in cross-country and cross-industry centre-of-excellence and project teams, exchanging experiences and developing 5G solutions in conjunction with IoT, VR/AR technologies and smart operations for international companies.
 
More information and videos here.