The telecoms regulator said the aim of its five-year framework is "a full fibre future for the whole of the UK" and follows public consultation.
The aim is to drive competitive commercial investment while ensuring consumers are protected from high prices – and support the closure of the copper network.
In a statement it said: "We believe this approach will lead to properties in around 70% of the UK having a choice of networks from competitive commercial rollout.
"Openreach has committed to deploy full fibre to a further 3.2 million properties (10%) in more rural areas. And the Government plans to cover the remaining 20% of the country through public funding, to help ensure nobody gets left behind."
Secretary of State for Digital, Culture, Media and Sport Oliver Dowden said: "Our strategy for the rapid rollout of gigabit broadband is working, with coverage increasing from 10% in 2019 to nearly 40% today. Stable, long term regulation is crucial to this. We welcome the regulations Ofcom have announced today, which strike the right balance between encouraging commercial investment and protecting consumers.
"Tomorrow we will build on this by publishing Project Gigabit, our plan to drive the rapid rollout of gigabit broadband across the whole of the UK, including the first places to benefit from our £5bn investment in hard to reach areas."
There are four main strands to the Review, which can be accessed here.
Wholesale price regulation
Ofcom has reduced the wholesale price that BT's access arm Openreach charges retail providers for entry-level, 40 Mbps superfast copper broadband service, in line with its falling costs. It will maintain this price and the prices of slower copper broadband packages.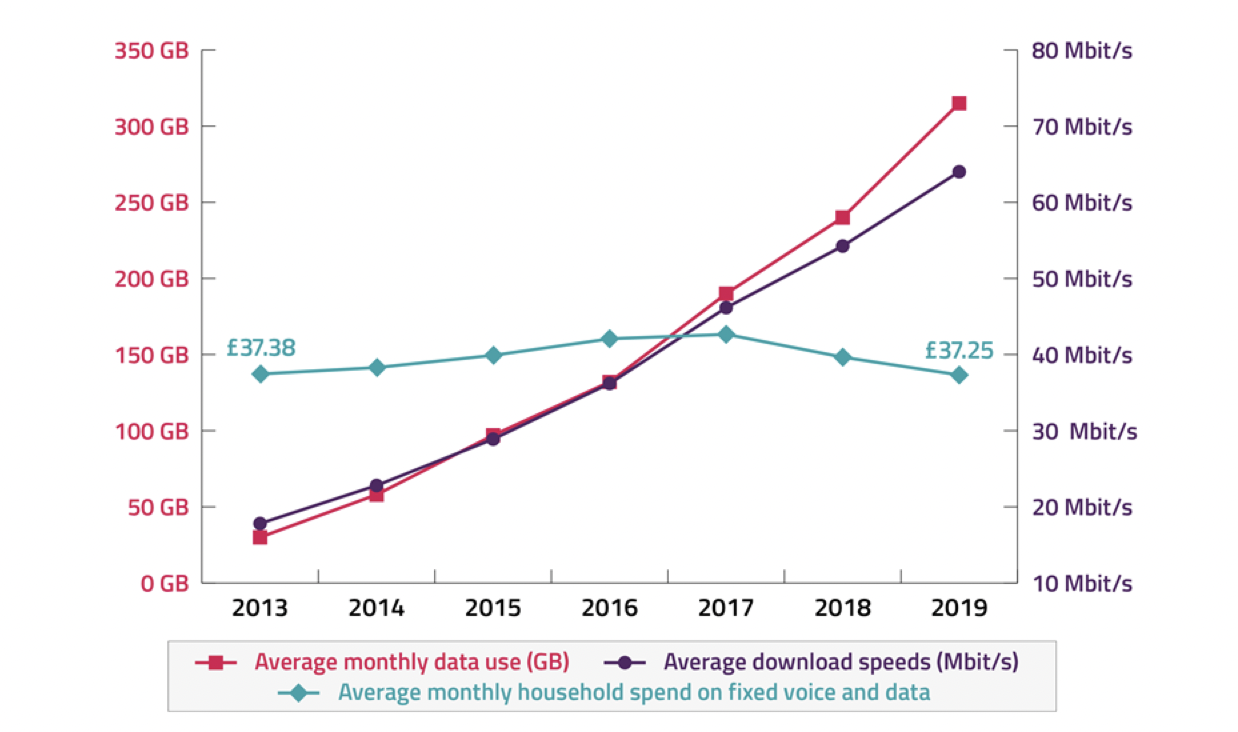 Source: Ofcom
Ofcom will not set prices for Openreach's fastest fibre services as wholesale price increases for these produces will be constrained by the fact people can opt for the entry-level service if they wish.
Openreach is allowed to "charge a bit more" for regulated products that are delivered over full fibre instead of copper as it is consistently faster and more reliable, than copper-based broadband.
This approach is designed to improves the investment case for BT and its rivals by providing them with a margin to build the new networks. It also helps make sure people can still access affordable broadband.
The regulator said, "We recognise that full fibre is a long-term investment, taking more than a decade – if not two – to pay back. So, we aim to allow all companies the opportunity to achieve a fair return over their whole investment period, and do not expect to introduce cost-based prices for fibre services for at least ten years."
Closing the copper network
Openreach should not have to bear the cost of running copper and fibre infrastructure, so Ofcom intends to progressively remove regulation on its copper products over a number of years.
Again the thinking is this will improve the business case for Openreach and promote the take-up of fibre services.
Customers will be protected during this transition to ensure they can continue to access their services – particularly those in vulnerable circumstances.
Duct and pole access
Ofcom claims it has already levelled the playing field by making it significantly cheaper, quicker and easier for BT's rivals to build their networks, by giving them better access to Openreach's underground ducts and telegraph poles. This can halve the upfront costs of connecting a home.
Last year order volumes to use this infrastructure covered over 23,000km of duct and over 140,000 poles, up from 2,500km and 12,000km respectively the previous year.
Preventing anti-competitive behaviour
Ofcom will prevent Openreach from harming competition, by reviewing all long-term discount agreements it offers its wholesale customers and restricting them if they could stifle investment by its rivals.
Openreach will continue to be prohibited from offering geographic discounts on its superfast broadband wholesale services and this has been extend to full fibre.
Dame Melanie Dawes, Ofcom's CEO, said, "Over the past year, being connected has never mattered more…This is a once-in-a-century chance to help make the UK a world-leading digital economy."
 
Today's new regulations will apply to BT from April 2021 until March 2026.
 
Kester Mann, Director, Consumer and Connectivity at CCS Insight, noted, "This crucial ruling is a huge boost for the deployment of full fibre broadband that will benefit millions of UK homes and businesses for years to come. It comes at a time when the value of connectivity has never been more appreciated as the pandemic triggers major change in how people live and work.
 
"The UK's over-reliance on using dated copper lines for 21st century connectivity has held back its aspirations to become a world-leading digital economy. Today's news sets fresh conditions to help accelerate full-fibre broadband deployment to help it move out of the slow lane."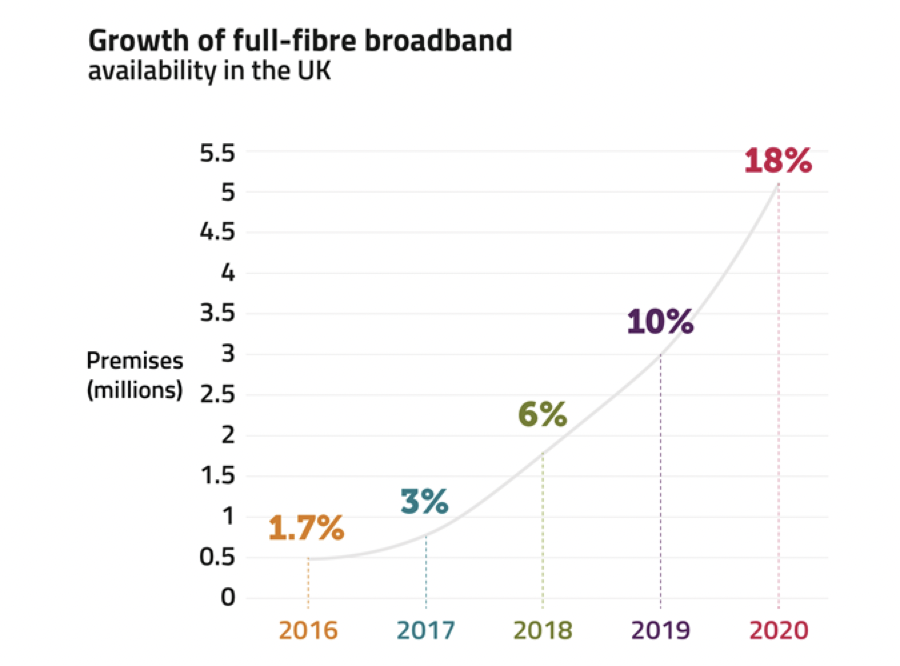 Source: Ofcom
Better news for BT
Mann added, "After a turbulent recent period, the news caps a great week for BT following a successful outcome in the 5G spectrum auction yesterday. Rolling out fibre infrastructure is a costly and time-consuming venture with a pay-back measured in decades.
 
"CEO Phillip Jansen recently declared that BT is 'ready to build like fury' and while it would have preferred a longer period free from regulated pricing, the announcement still brings much-needed certainty to make a return on investment.
Jansen told the Today programme on BBC Radio 4 this morning, "We're very pleased because it gives us the confidence to press ahead with the plan…[to  provide] 20 million premises with full fibre by the mid to late 2020s".
When it was suggested that BT's competitors might not be so pleased with no pricing constraints on fibre, Jansen replied, "I'm not so sure about that, you know, if you look at the market, you know today, people across the country are able to get up to 30 Mbps, which is a decent speed but it's not enough for the future, and if you look at the prices in the UK, I think that they're very, very competitive."
He added, "You can buy for fibre – we sell 17,000 a week already through Openreach – for less than a pound a day. So I think that the value for money point for broadband in the UK today is strong, and I have every anticipation that that will continue as fibre rolls out over the next few years."
 
Rival responds positively
Greg Mesch, the outspoken CEO at CityFibre, also welcomed the news: "Ofcom's Market Review is the culmination of its strategy, using competition to drive full fibre investment and nationwide coverage.
"It will inspire confidence and unleash a decade of innovation and investment from competitors like CityFibre, rebalancing market share away from incumbents and driving better services and prices for wholesale customers and consumers…As the nation's largest independent full fibre platform, CityFibre is already committed to bringing our networks to a third of the UK market.
"With Ofcom setting out a comprehensive framework for at least the next five years, we can now go both further and faster, playing our part to deliver the full fibre networks that will underpin the UK's economy and society for generations to come."