Vodafone Netherlands is to offer the Adyen Shuttle mobile point-of-sale (POS) payment device in its retail business-to-business stores across the Netherlands, in a move that will see the operator directly challenging POS terminal providers for the small and medium business market.

Dutch payments vendor Adyen became the fourth contender in the mobile POS market when it debuted "Shuttle" in December 2012.
Its solution looks very similar to existing rivals Square from the US, Germany's PayLeven and Sweden's iZettle, in that the device is a black mobile chip and pin card reader that can be linked to an app on a mobile device.
Both Square and iZettle are plug-in devices, while PayLeven and Shuttle, connect wirelessly via Bluetooth to an app on the smartphone or tablet.
Shuttle's singular difference is that the device is able to accept all types of debit and credit cards in Europe and has Adyen's significant financial background behind it, which could give Vodafone an edge on other mobile POS and traditional POS providers.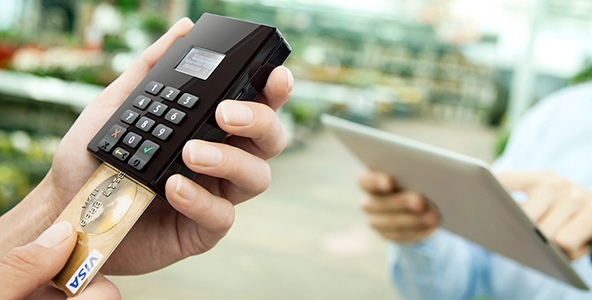 Vodafone Netherlands is to offer Adyen's Shuttle mobile POS solution to enterprises
The app on the smartphone or tablet links to Adyen's back-office, which processes payments and provides detailed transaction insights of both in-store payments and e-commerce sales, analytics reports and processes refunds.
"Business customers expect more from Vodafone than just a mobile device, competitive pricing and good network coverage. Our products and services are increasingly contributing to operational improvements and the implementation of new revenue models," said Rutger van den Berg, category manager at Vodafone Nederland.
"With the Adyen Shuttle, our clients access a fast, simple and fully secure mobile payment solution at an attractive price."
Adyen's competitor PayLeven was the first vendor in Europe to produce a solution that closely mirrors Square, which has not ventured far outside the US market as yet.
The German vendor is providing its solution in Brazil, the UK, Germany, Austria, Italy, Benelux and Poland, and has announced that PayLeven will now be available in Belgium too.
Small and medium businesses will need to pay €69 for each device, as well as a 2.75 percent fee on each completed transaction, which is slightly cheaper than the Shuttle, which costs €99 per device and incurs fees varying from €0.08 for Visa debit, plus 0.15 percent per completed transaction, to €0.99 for Maestro, to 3.95 percent for American Express.
"Although more than 70 percent of Belgians say they would prefer to pay by card, cash in Belgium is still the most common payment method," said Alston Zecha, founder and COO of payleven.
"We will change that by finally offering small and medium-sized businesses the opportunity to accept card payments and to make their business simpler and more efficient in other areas."