Apple is the most valuable with Huawei and Verizon also in the top ten, but only five network operators are in the top 150 most valuable
The Brand Finance Global 500 2022 Report names new entrant TikTok as the world's fastest-growing brand, up 215%, "leading global revolution in media consumption".
Apple, which recently became the world's first $3 trillion corporation, held onto its slot as the world's most valuable brand title with record brand valuation at more than $355 billion, followed by Amazon then Google at some distance.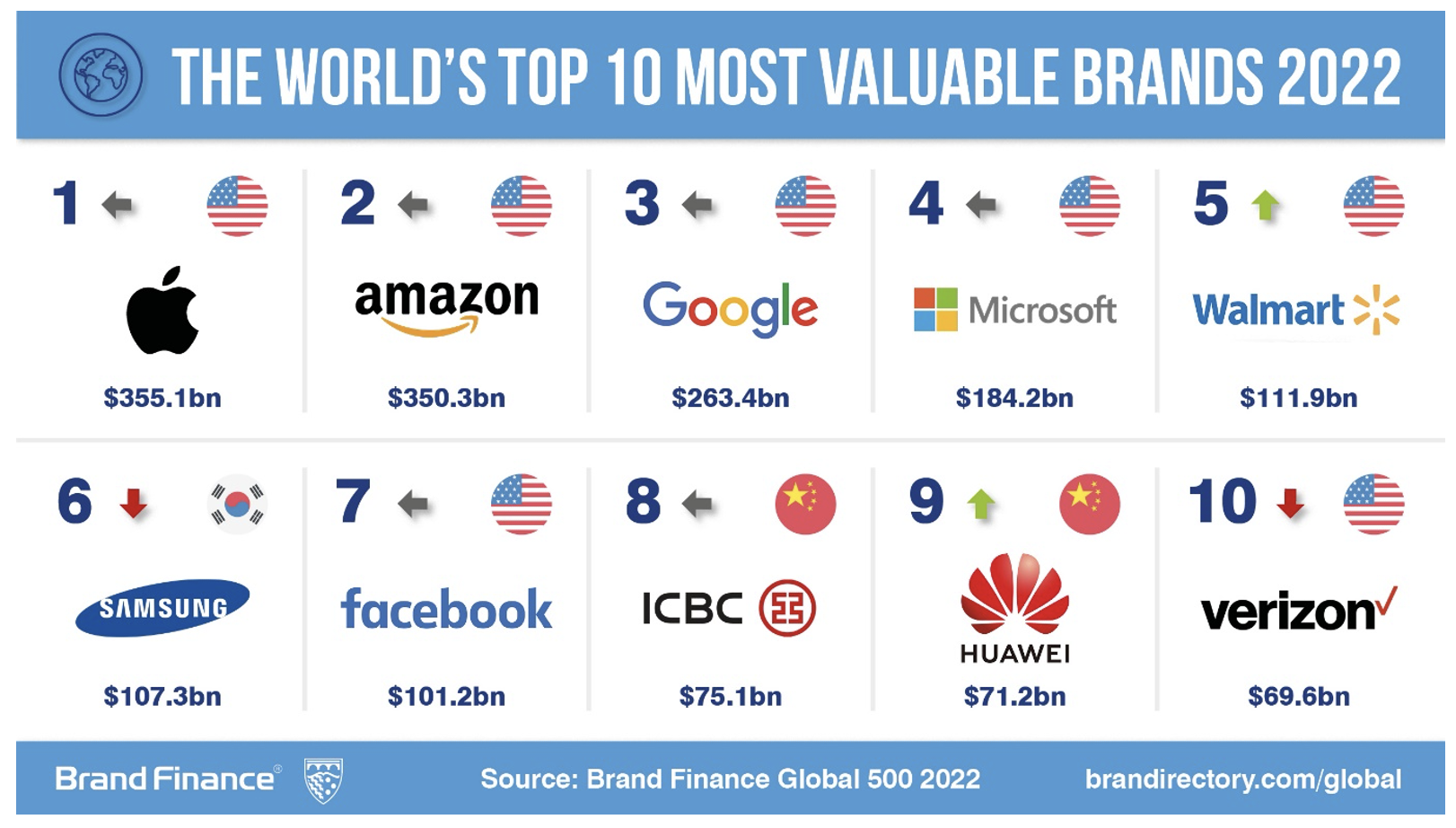 Operators are few
Huawei and Verizon are cited as the world's ninth and tenth most valuable brands respectively, but the gap between Apple's brand value and Verizon's is immense.
Perhaps somewhat surprisingly to western eyes at least, Huawei has risen six places since last year and Verizon fallen one place.
Deutsche Telekom has risen six places, to seventeenth, while AT&T is down five to 26, and although China Mobile is down two to 34 in the ranking, rival China Telecom rises 32 to sit at 105.
Japan's NTT is up two places to 35 – and that's all the network operators that make it into the top 150 most valuable brands.
By sector
The report finds tech remains most valuable industry, while the second-ranked retail sector crosses $1 trillion mark following 46% brand value growth during COVID-19 pandemic.
An interesting development in the retail sector is Rakuten's fall of 61 places to 308, as its mobile network in Japan, the first cloud-native operator in the world, continues to rack up losses and NTT DoCoMo could become the country's leading Open RAN player.
The development of COVID-19 vaccines resulted in pharma named as fastest-growing industry, while tourism sector remains below pre-pandemic valuation
The US and China continue to dominate, accounting for two-thirds of brand value, but India sees fastest-growth during the pandemic to take its place among the top nations for brand ownership, rising 42%
WeChat came in as the world's strongest brand for second consecutive year with top score of 93.3 out of 100 and elite AAA+ rating
Microsoft's CEO, Satya Nadella, tops the Brand Finance Brand Guardianship Index 2022 of world's top 250 CEOs
View the full Brand Finance Global 500 2022 report here.
Content trumps network
As David Haigh, Chairman & CEO of Brand Finance, commented:
"Media consumption has increased throughout the COVID-19 pandemic, but – what is more – the way we consume it has irrevocably changed. In order to compete in this evolving marketplace, media organisations have invested heavily in their brands – from content acquisition through to user experience.
"TikTok's meteoric growth is the proof in the pudding – the brand has gone from relative obscurity to internationally renowned in just a few years and shows no signs of slowing down."
Telcos were heroes in the pandemic, but like their shareprices, their brands too are arguably undervalued.