The new Market Panorama and Forecasts from IDATE were released at FTTH Conference in Amsterdam.
Fibre to the home (FTTH) and fibre to the building (FTTB) subscribers in Europe increased by 15.7% in EU39* since September 2017 to reach more than 59.6 million subscribers in September 2018.
Alternative, fibre-only players contributed about 55% of the FTTH/B expansion.
Governments and local authorities are more involved in fibre projects, either directly, through agreements with telcos, or public funding. Incumbents in some countries are changing their emphasis from prolonging the life of copper-based and cable networks, and instead rolling out FTTH.
Russia has the most subscribers in the European region, but a slower growth rate compared to other  countries which are catching up with an overall 21% growth rate.
Spain gets a spurt on
The country that added the most full-fibre subscribers during the study period was Spain with 1,858,743, then France with 1,480,220 new subscriptions, while Russia added 1,256,000 FTTH/B customers.
Other countries that had significant increases include the Czech Republic with 523,950 new subscribers and Italy with 449,637. Italy also passed an outstanding number of homes, rising from 4,398,435 in September 2017 to 6,295,000 in September 2018 – an increase of 43.12%.
The take-up rate rose to 37.4% between September 2017 and 2018 in the EU39, up from 34.8% the previous year, but for the first time, it was surpassed by the growth rate in the EU28 at 38.2%.
Countries including Andorra, Belarus, Belgium, Latvia, Netherlands and Romania experienced a take-up rate of more than 50%
By September 2018, FTTH architecture deployments had overtaken FTTB (56% vs 44%).
Latvia leads again
For the third year running, Latvia tops the table of the highest percentage of FTTH/B connections at 50.3%. The UK has made it into the league table of European countries with a penetration rate of more than 1% (excluding Iceland) for the first time, taking the bottom (thirty-third) position with 1.3%, which the research largely puts down to regulatory action by Ofcom to encourage competition.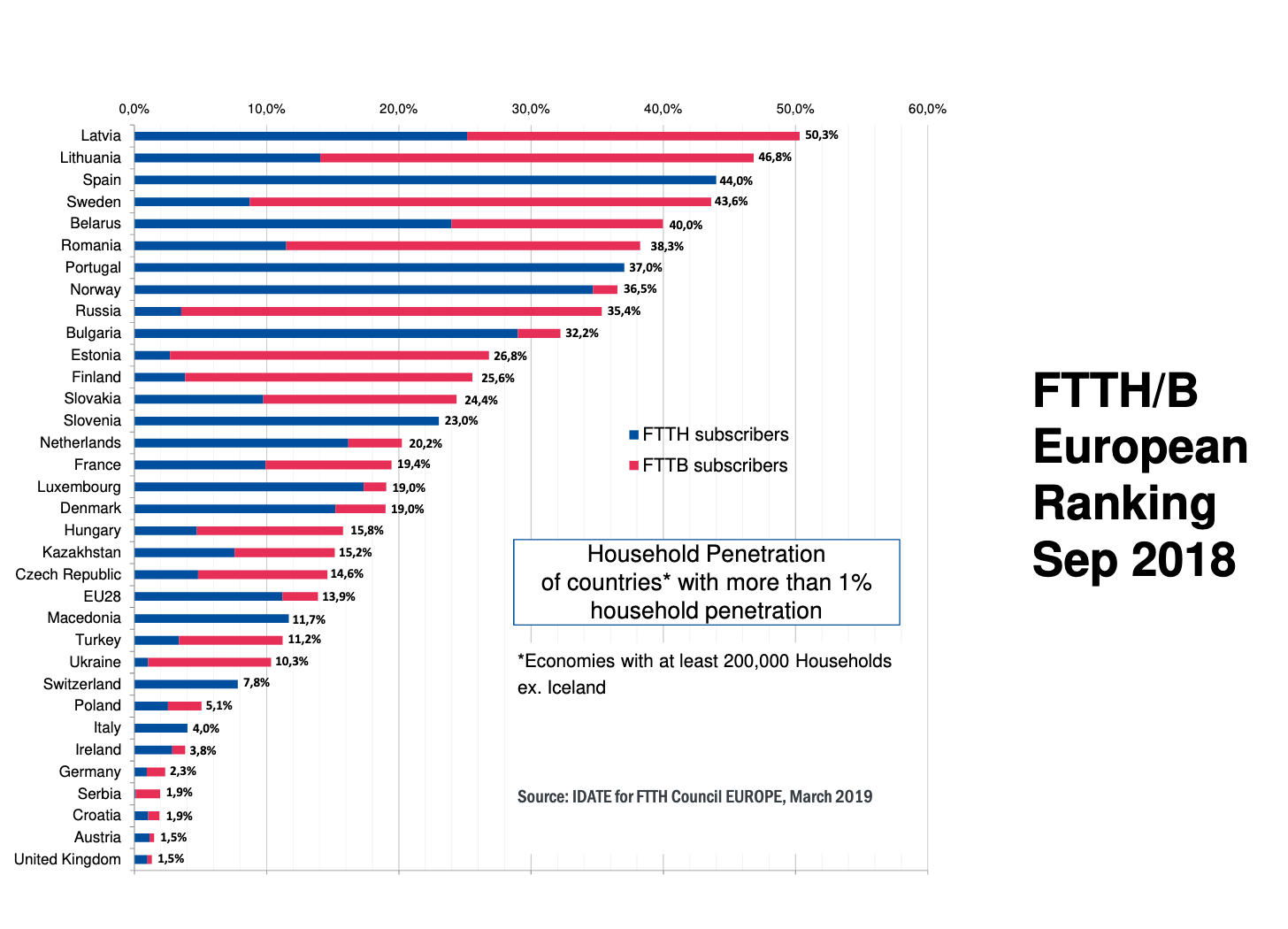 The Global and European FTTH Ranking and the market forecasts for 2020 and 2025 are free to download.
* They are Andorra, Austria, Belarus, Belgium, Bulgaria, Croatia, Czechia, Denmark, Estonia, Finland, France, Germany, Greece, Hungary, Iceland, Ireland, Israel, Italy, Kazakhstan, Latvia, Lithuania, Luxembourg, Malta, Macedonia, Netherlands, Norway, Poland, Portugal, Romania, Russia, Serbia, Slovakia, Slovenia, Spain, Sweden, Switzerland, Turkey, Ukraine and UK.