Facebook has today launched "Home", a home screen user interface that sits on top of Android's mobile OS, in a bid to better integrate the social network into smartphones and create a new social mobile experience.
Speaking live from Facebook's California headquarters, Mark Zuckerberg ended months of speculation with the announcement, stating clearly that it was not Facebook's intention to create a new Facebook OS or to "fork Android" (i.e. downloading the Android source code and using it as the basis for creating something else, like Amazon did with the Kindle Fire tablets), as it was integral to keep Google-backed OS open.
"Home" operates as a group of applications that layer over the typical Android smartphone home screen and lock screen, meaning users can instantly view and interact with content from Facebook with a few swipes and button presses as soon as they pick up their handset, without needing to launch an app.
While viewing content such as articles, status updates, Instagram photos and videos, or even while playing a game on an app, users can instantly share content by pulling up "Chat Heads" to create multi-way conversations or reply to SMS text messages without needing to exit the app.
Users can also download and launch new apps from the "App Launcher" and "App Drawer", both supplied by Google Play.
In addition, HTC has launched the HTC First, a new smartphone that comes with "Home" preinstalled and will work on AT&T's 4G LTE network in the US.
Victor Basta, managing director of Magister Advisors, said Facebook's move was "a classic case of 'out-googling' Google".
He explained: "By going 'over the top' of Google's prized Android OS, Facebook is doing to Google exactly what Google did to the Internet, sitting on top of a chaotic system, making it simple and uniform through a proprietary layer, and underpinning this with deep search functionality. In Facebook's case it happens to be sitting on top of Android supported by the depth of Graph Search.
"The clear strategic threat is that it could dramatically reduce the value of Google's investment in Android, and Google has zero say in this, since unlike Apple, they do not control what happens within the Android ecosystem."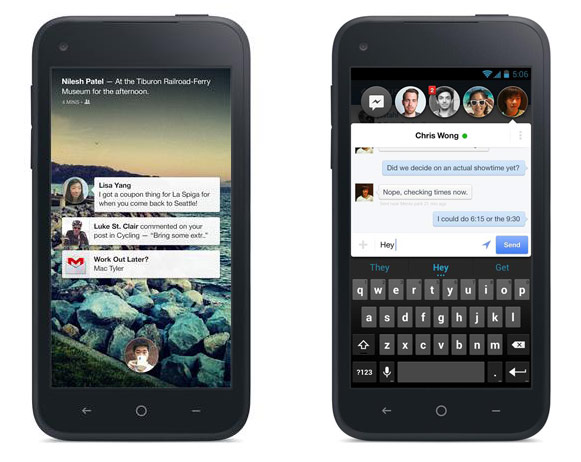 Facebook Home: The new "Notifications" on the lock screen (left), as well as the new "Chat Head" feature (right), which could transform the nature of online commerce
According to Basta, the "Chat Head" feature has enormous commercial potential as it utlises Facebook's search engine Graph Search, which is powered by behaviour understanding of the user base.
"The bigger picture is that Google, Facebook and Apple are now all effectively competing for the same sources of value. This is a three–way fight in which everyone else marginalised," he said.
"As communities share views and opinions in new ways it transforms the nature of online commerce. People and interest-based search is emerging as the driver for Facebook's next $100bn of value."
Prior to the announcement, Informa analyst Malik Saadi told Mobile Europe that Facebook had already said they were interested in a reference platform so that it is properly integrated into mobile devices.
"Facebook does not take full advantage of device features such as location, Wi-Fi or Bluetooth, so it is just an OTT app you can download [rather than] something deeply integrated in the OS," said Malik.
To fully make use of Graph Search, the tool needs to be fully integrated into the handset's hardware and able to "use all the phone's APIs", he added.
Orange and EE are currently working with Facebook on new services to go with "Home" and will be the first operators in Europe to bring the HTC First handsets to consumers, Zuckerberg announced.
"It's important strategically for Facebook to improve their presence on mobile, taking that current existing presence and putting it into a monetisation stream," ABI Research analyst Michael Morgan told Mobile Europe.
"Mobile operators such as AT&T who have structured their smartphone pricing plans to require unlimited text messaging and voice have an implicit defence against OTT messaging services that leverage data (which is fundamentally metered) instead of messaging plans.
"ABI Research believes that Facebook Home offers an interesting opportunity for operators to co-opt the OTT messaging strategies while retaining their individual services to fill in the gaps of users who do not use FB messenger."
Mobile application revenue streams have exploded in the last two years. According to ABI, global smartphone app revenues tripled within the last 12 months from €2.7 million to €7.3 million. In 2013, they are expected to increase to €12.7 million.
King.com is a cross-platforms Facebook games developer with several leading apps under its belt, including the number one Facebook game Candy Crush Saga, which is also the top grossing mobile app on both iOS and Android with over 10 million downloads.
According to spokesperson Tommy Palm, one of the biggest challenges for mobile games is being discovered by users.
"We see Facebook as a very important partner to distribute our games with deep-linking functionality. If a user receives a game request from a friend and they follow that notification through from a phone, it goes directly to the app store to download the game," he said.
"Smartphones have been around for a long time but it was innovation in simplicity and user interface that made it accessible and relevant for more then a small minority.
"Facebook is great at creating that user-friendly tech and making it accessible for game developers, so in that sense a better integrated social experience for smartphones will benefit app developers."
"Home" will be available as a free download on Google Play from 12 April and will work on the HTC One X, HTC One X+, Samsung Galaxy S3, Samsung Galaxy S4 and Samsung Galaxy Note II.