Panasonic Avionics is holding the world's first mid-air Tweetathon at the opening of the Aircraft Interiors Expo in Hamburg to highlight the company's push into airplane Wi-Fi.
Passengers on six different aircraft will interact with each other, as well as their Twitter followers back on earth, using the #High5Live hashtag, while on separate flights all across the globe.
"This is the first and only global real broadband service in the air and we want to show that off," said Panasonic Avionics' Vice President of Global Communication Services David Bruner.
Panasonic Avionics has spent the last four years building a high-speed satellite network that spans the globe, including every ocean, in order to enable their new eXConnect Wi-Fi system to work on aeroplanes.
Contrary to common belief, Panasonic has found that mobile phones do not affect the key avionics in an aeroplane, which means that in the near future air travellers will be permitted to keep their smartphones on, without needing to switch them off or turn them to Airplane mode.
"We have had to go through and test each and every aircraft that we install the Wi-Fi on with Transmitting Portable Electronics Device (TPED) testing," Bruner added.
"We test each aircraft with a really high signal strength that simulates every passenger having their phone on and transmitting data at a high capacity, and we have proven that it is safe to leave your mobile phone on. In general, 8-10 percent of passengers routinely leave their phones on without realising it."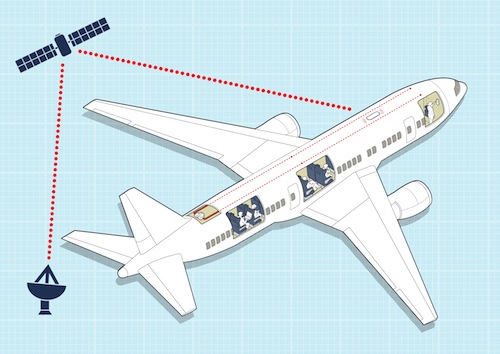 While GSM call reception is already available on certain airlines, most notably Emirates, Panasonic has taken it one step further by putting a base station onto an aircraft which connects in flight to satellites and from there to the mobile networks on the ground.
"Luftansa was our first customer and we have been trialling Wi-Fi with them over the last 3.5 years. eXConnect has so far been rolled out on 1,800 aircraft and 31 airlines are our customers," continued Bruner.
"In Europe, SAS and Turkish Airlines are our customers, with more to come in 2014. Every airline in Europe will make a commitment to Wi-Fi in the next 12 months and this will be rolled out within the next 5 years.
"Airlines tell us that their passengers weigh this as the number one amenity that they want to have onboard."
The system allows airlines to set their own policy rules, such as permitting no voice calls after a certain time on a night flight, while still enabling SMS and GPRS.