Messaging revenues decrease in share

Further evidence that operators are in the midst of a quickening change of their service revenue mix came with today's results from Everything Everywhere.

The company reported that In absolute terms, data revenues grew 17% year on year. That increase, coupled with MTR cuts to voice services, meant that 45% of its revenues are now accounted for by non-voice services. A year ago, non-voice services accounted for 38% of total income.
Data revenues (ie not including SMS/MMS) have grown from 17% of revenues in Q1 2011 to 27% of revenues in Q1 2012.

Meanwhile, Everything Everywhere has seen messaging's share of ARPU fall to 18%, a drop of 3% compared to Q1 2010, when messaging accounted for 21% of revenues. This chart, dating back to Q3 2010, appears to show a slow recession in SMS/MMS revenue share.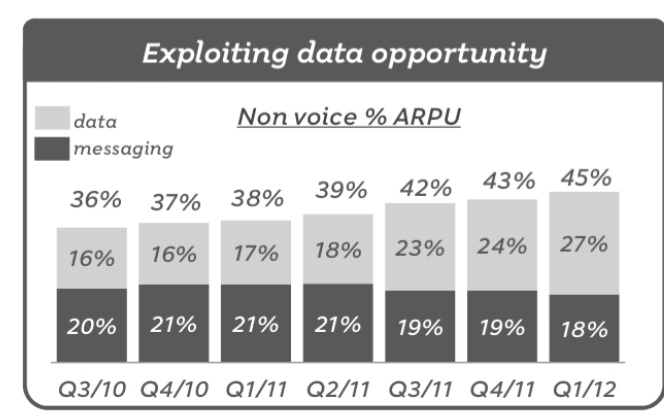 Note also that the company has seen MTR cuts hack into its voice revenues this quarter, which would logically lead to a rise in share of non-voice services. So the interesting aspect is not perhaps that non-voice has risen as a percentage of revenue, but that messaging revenue appears to be dropping in share off as data increases.

Swisscom today reported a 28% drop in messaging revenues, explaining that it has been affected by customers substituting texts with social media messaging. However, Swisscom has also the seen its price per Byte drop - leading to a drop in ARPUs.

Everything Everywhere, though, said that service revenues were up 2.9%* on last year, if the impact of MTR cuts is excluded. And blended ARPU, excluding MTR cuts, rose 4.5% year on year, partly as a result of EE increasing its postpaid mix to 49% of total subscribers.

Service revenues excluding regulation rose from 1.461 billion to 1.503 billion, and as we have seen, data revenues grew 17%. The operator also added a net 886k customers in the last 12 months.
*With the MTR cuts included, service revenues fell 2.5%.