It can be hard to know where to start with artificial intelligence (AI) and machine learning (ML) – here's a look at successful real-life deployments by network operators.
5G brings unprecedented complexity due in part to disaggregation of networks from open RAN to the core, and new services powered by very low latency and slicing. 5G's success will depend on the level of automation it will be built on: Key new 5G services will need the instantaneous configuration and reconfiguration of several network components to be viable and profitable                                   .
The volume, variety and velocity of data generated by 5G networks, applications and users continues to rise far beyond human abilities to collect, collate, verify, analyze and or act on it in real time, or something very close to real time. For this reason operators need greater insight from network data and to achieve closer collaboration between network-facing and customer-facing operations to improve customer experience and create new monetization opportunities.
Operators know they need to enable operations with AI (AIOps) to achieve 5G scale and agility but it is hard to know where to start and ensure the AI solutions can evolve with their needs.
"AIOps needs the support of multiple vendors and solution creators. This includes support for ML libraries, prebuilt workflows to support telecoms processes, prebuilt interfaces for major data sources to support data collection and the support of APIs within telecoms operators' businesses to facilitate actions based on insights," according to Analysys Mason in a new report, Using AIOps solutions in the telecoms industry: a market assessment.
This is why the Red Hat® OpenShift® (see graphic below) is a key part of an open hybrid cloud platform for AI projects built on open-source software that benefits from the collective skills and technology of partner and developer communities. Red Hat provides operators with a Kubernetes platform of the assurance, scale and quality they need.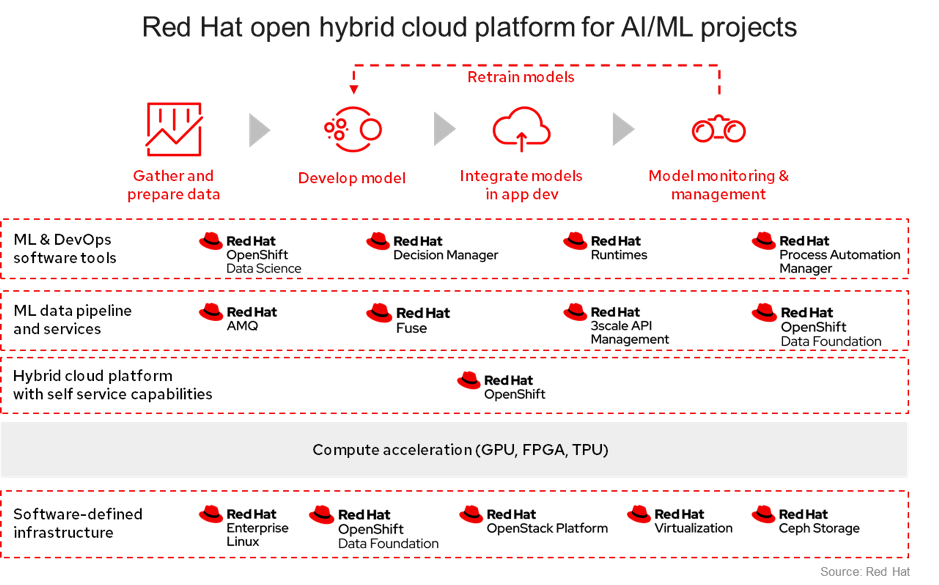 You may wonder how operators overcome those challenges. Here are some real-life success stories that show five ways service providers and partners around the globe implemented AI to monetize or optimize their 5G networks: At the edge; developing customer-driven applications; monetization; predictive maintenance and closed-loop mediation.
Leverage the edge
A Japanese service provider is helping to address the shortage of workers, leveraging the      Red Hat OpenShift platform to deploy intelligence at the edge. The system integrates data from cameras monitoring stores in airports to detect potentially dangerous behaviors, such as customers leaving packages in stores, and theft.
Verizon Media built Leo, an AI platform and application certified on Red Hat OpenShift, to provide developers with 5G data insights, such as from large-scale AI inferencing, to build innovative new customer-facing services.     
"Red Hat OpenShift helps us harness edge data and deliver real-time intelligence," said Ganesh Harinath, Vice President and Chief Technology Officer, Verizon Media. The company can process more than 1 million AI inferences per second and so has improved the accuracy of predictions for thousands of edge appliances and endpoints."
Creating customer-driven apps and new monetization ops
Turkcell, a leading converged telecommunication and technology services provider, opted to build an AI services architecture and application hub on Red Hat OpenShift.
It was keen to develop customer-driven applications and create new monetization opportunities.
Red Hat OpenShift provides a common platform for AI tools, processes and workflows that are accessible to Turkcell's developers from anywhere in the organization. Its data scientists across all teams benefit from AI capabilities on a single platform which spurs innovation in diverse areas. The operator now runs more than 50 AI services on Red Hat OpenShift and can bring new digital services to market in roughly half the time it took previously. Also, operational efficiencies from consolidating AI workloads on containers and Kubernetes have delivered cost savings of up to 70%.
Customer-driven developments include automating the onboarding of Turkcell's customers, using AI, computer vision and optical character recognition to speed it up. 
To encourage customers' use of the paid-for Fizy music streaming service, the services can detect emotion from selfies submitted by customers to suggest songs that match their mood and add to their experience.
Turkcell's chat bot solution is just one example of new monetization opportunities: The chat bot software helps its own customers but Turkcell also offers it as a commercial product to other businesses.
AIOps for predictive network maintenance
Telcos already have large scale-implementations of virtualized network functions (VNFs) and network functions virtualization (NFV) will proliferate with the wider adoption of 5G. These VNFs, and in the near future cloud network functions (CNFs), run on commodity servers and support by various multi-vendors layers of hardware and software.
The Avanseus Cognitive Assistant for Networks (CAN) running on OpenShift gives network operations center and field teams highly accurate failure predictions for this environment,  seven to 30 days in advance (this is configurable). It also suggests remedial action and the likely root cause based on historical patterns. This ultimately helps reduce reactive trouble tickets by more than 30%. It has already been deployed by many service providers and enterprises.
AIOps for closed-loop mediation
Anodot, start-up with Intel as its major investor, offers  an AI/ML solution and one of the use cases it supports is closed-loop remediation for network operators which leverages Red Hat's technology. Like predictive maintenance, closed loop remediation is a much sought after capability by telcos. Closed-loop processes can take an issue from start to fix with little or no manual intervention. In the coming age of 5G with services dependent on super high agility and super low latency, such capabilities will be essential.
There is a lot going on in the industry. If you'd like to hear more about AI and ML capabilities and how they are being deployed by network operators around the world, register here to join leading industry experts at Open5G virtual event on Oct 6.
Thank you to Alexandre Reiniger, Business Development Manager, Red Hat and Volker Tegtmeyer, Principal Product Marketing Manager, Red Hat for providing valuable insights for this article.