Iliad's Free tops the leader board adding 172,000 customers in the second quarter, with Orange a close second.
France added almost half a million subscribers in the second quarter of the year to June – see table below.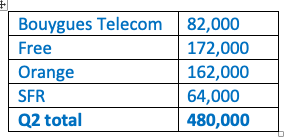 The country ranked 16 in the FTTH Council Europe's latest annual figures, published in March, with a fibre penetration rate of almost 20%.
While this trails the leader of the last three years, Latvia, at 50%, with Lithuania right behind it, the countries are very much smaller in terms of area and population than France.
Spain, which is more comparable in size and population (but still considerably smaller than France in both respects) is third in those rankings with a fibre penetration rate of 44%.
Regulatory influence?
Emmanuel Lugagne Delpon, CTO, Orange Group, speaking at the FTTH Conference Europe in March noted that while Spain's regulator had behaved "more like the US and let the incumbent [Telefónica] run with [fibre deployment] and no restrictions, and that encouraged the others."
He compared this to France, where Orange is the incumbent, saying, "We invested in fibre until the regulator told us to stop for a year to let competitors catch up".
France is playing catch-up and fast, and competition seems to be working. In the period from September 2017 to the same month the next year, which is what the FTTH's latest rankings were based on, Spain added 1,858,743 new FTTH/B subscribers, with France next with an additional 1,480,220.
Second biggest economy
Also, as Europe's second biggest economy, France is head and shoulders above the continent's other major economies: Germany, the largest, languishes at 30 with a penetration rate of 2.3% and seems to lack the urgency felt in Europe's larger economies.
The UK, Europe's third biggest economy, just made it into the ranking for the first time this year, achieved a penetration rate slightly above the 1% qualifying threshold at 1.5%. The Council noted this was due to the efforts of the alternative full-fibre network providers rather than the incumbent.
Since then, BT has changed it strategy and is now ploughing immense resources into fibre deployment, passing about 20,000 homes a week.
Italy, Europe's fourth biggest economy at some distance behind the UK's, is ranked twenty-eight with a penetration rate of 4%, but saw outstanding growth in the number of homes passed.
They rose from 4,398,435 in September 2017 to 6,295,000 in September 2018 – a total increase of 43.12%.