Garnter's recent magic quadrant for public cloud shows AWS ahead for eleventh year running, but warns of high pressure sales.
Gartner predicts that global cloud adoption will continue to expand rapidly. It forecasts end-user spending on public cloud services to reach $396 billion (€333.5 billion) in 2021 and grow 21.7% to reach $482 billion in 2022.
Additionally, by 2026, Gartner predicts public cloud spending will exceed 45% of all enterprise IT spending, up from less than 17% in 2021, as shown in the table below.
Magic quadrant
Separately, the research house has published its magic quadrant report on the cloud infrastructure and platform services (CIPS) market names AWS as the leader for the eleventh year.
It defines CIPS as "standardized, highly automated offering in which infrastructure resources (for example, compute, networking and storage) are complemented by integrated platform services.
They include managed application, database and functions as-a-service offerings.
AWS, followed by Microsoft then Google are the only three to make it into the coveted top right-hand box for leaders.
Tencent, Oracle and IBM are all classed as the niche players, with Alibaba Cloud just making it to being a visionary.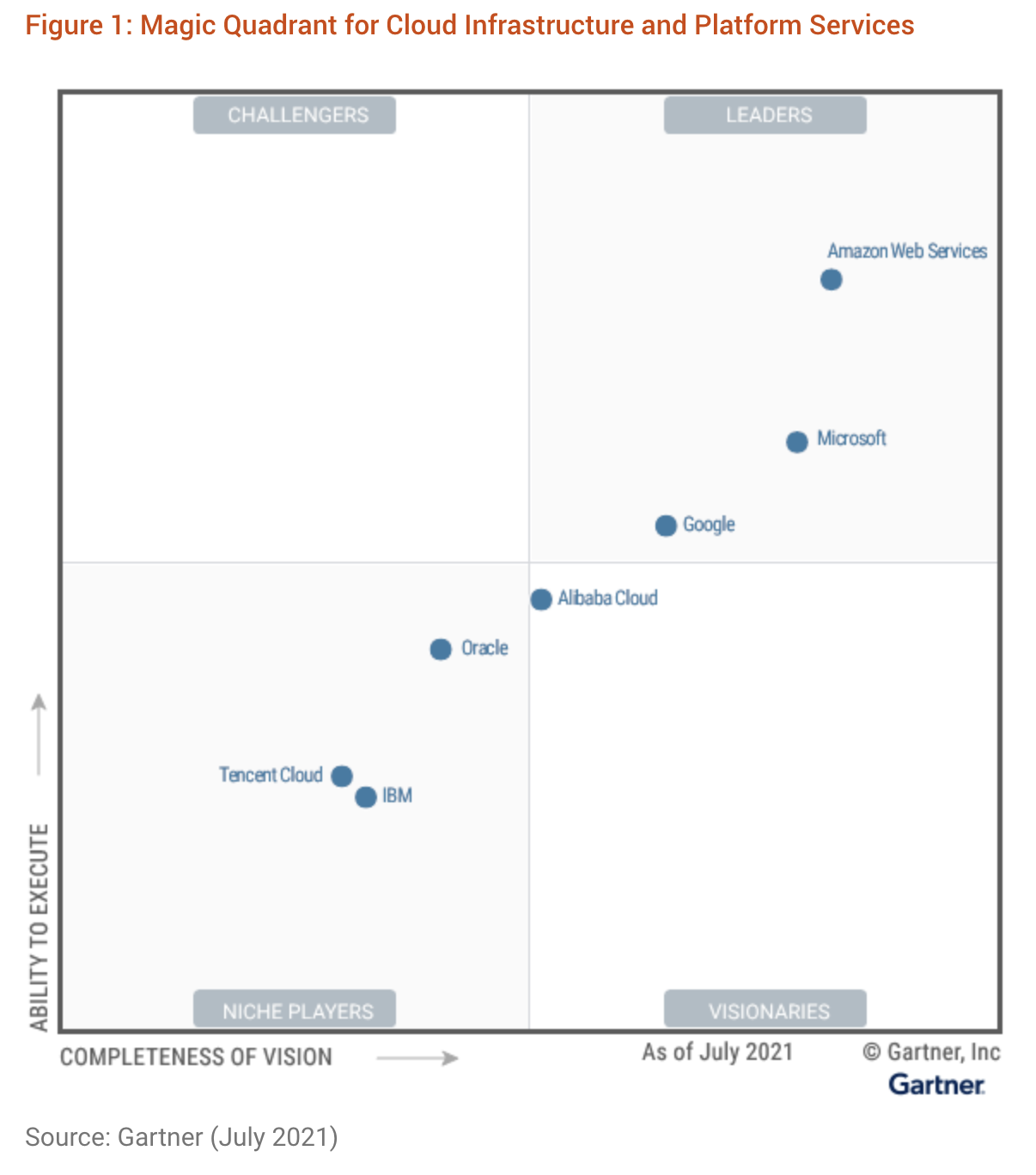 Gartner warns that the offers are very different, and that serious care needs to be taken when choosing a cloud provider.
Notable among Gartner's comments on the relative strength and weaknesses of each are:
• AWS tops the bill for its engineering, customer adoption rates and innovation, and "guides the roadmap" for other cloud cos.
• Gartner is not impressed by the complexity of many of AWS' solutions and, at the same time, its "bare bones" offers that are not ready for enterprise use.
• reports from "dozens of Gartner clients across multiple geographies have reported pressure from AWS sales, which has increased considerably in the past year, to increase annual spend commitments by 20% to renew existing contracts. Customers that rely heavily on the AWS platform are not happy. Gartner reckons hard selling is not AWS' policy and could be stopped if customer escalate complaints.
• Microsoft is found to have the widest suite of capabilities and strong relationships with enterprises, but customers and potential clients are still edgy about its resilience – like when Azure Active Directory fails. The Azure Kubernetes Service is also prone to outages.
• Gartner also called out Microsoft for its overly complex licensing and its sales teams not being too interested in bringing down customers' costs as opposed to selling more.
• Google got a positive write-up including the "most fully featured Kubernetes service of any provider in this market" but noted post-sales satisfaction could be higher regarding Google Cloud Platform (GCP) and warned that its aggressive pricing is unlikely to be maintained, given GCP is the only hyperscaler reporting losses for that area of business.
• Tencent is mostly concentrating on the Chinese market but is the only one of the hyperscalers to have a presence in Russia.
• IBM was noted for its strength in regulated industries and edge computing, yet has a relatively small market share, despite efforts over many years to crack the cloud market, including its acquisition of Red Hat in 2019.
• Oracle is pushing hard to hit the big time in cloud and Gartner describes it as having a unique private cloud region on-premises product due to its full parity with the public cloud, without depending on the internet. Even so, the research house says Oracle engenders negative responses in developers and has many "new and immature" services.
• Gartner warns of a lack of clarity around its Alibaba's pricing and technical info about its services. I'd say there is also the fear of Chinese authorities acting against it and Tencent if it is perceived by them as being too big for its boots.