Visa and Mastercard throwing their weight behind Host Card Emulation (HCE), Samsung and Paypal offering secure payments and Tech Mahindra launching an NFC testing lab were among the notable stories in the m-payments space at Mobile World Congress.
HCE allows consumers to make payments and use other NFC-enabled services, such as loyalty, ticketing and travelling on transport, without using a Secure Element.
When a handset featuring HCE interacts with an NFC terminal, information is moved onto the host CPU on which the applications are running, rather than communicating with the secure element.
Mastercard said it plans to publish its HCE secure remote payment specifications during the first half of this year, with deployments expected throughout 2014. It has been roadtesting the service with financial services firm Capital One on the initial pilot and with Banco Sabadell on a European trial.
Visa announced it was issuing fresh guidelines for companies wishing to produce HCE-based products by hosting accounts in a virtual cloud. Further, it launched a software development kit for companies wishing to develop their own payment apps.
HCE is supported by NFC-enabled devices that run Android 4.4. Benjamin Poiesz, Google Android Product Manager, said: "The Android community continues to build innovative ways to improve the lives of mobile users. We introduced HCE to make it easier for developers to create NFC applications like m-payments, loyalty programs, transit passes, and other custom services."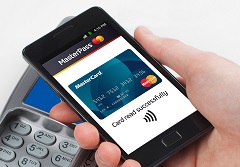 Meanwhile, Samsung and Paypal have signed a deal to allow consumers with the manufacturer's new Galaxy S5 device to make payments using fingerprint authentication.
The service uses authentication software from the FIDO (Fast Identity Online) Alliance and hosts a secure wallet on the cloud, rather than on the device. The only information shared between the device and PayPal is a unique encrypted key that verifies the consumer's identity.
Indian technology company Tech Mahindra also boosted the NFC space with the launch of a new test lab in Bangalore. The company said the lab would be able to cater to the needs of chipset manufacturers, handset makers, service providers and financial institutions.
It added the lab had the capability to meet Wave 1 test requirements from the NFC Forum, as well as the ability to meet the upcoming Wave 2 benchmarks.
The company also bought the lab assets and operations of Sony's Type Approval Lab in Sweden, which it will use as its European flagship in developing new products for manufacturers and operators.