Over 20 countries globally have auctioned or allocated C-Band spectrum for mobile broadband, and Italian operators have paid the most per MHz per head of population.
The Global Mobile Supplier Association's (GSA) C-Band Auction Snapshot Tracker reveals that the first 23 countries to auction or allocate C-Band spectrum for 5G include Australia, Austria, Czechia, Finland, Germany, Hong Kong, Hungary, Ireland, Italy, Latvia, Norway, Romania, Slovakia, South Korea, Spain and the UK – as shown on GSA's map below.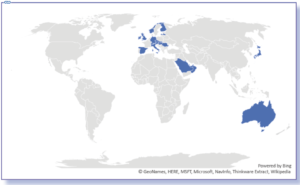 C-Band refers to spectrum in the 3300-4200 MHz frequency range. It is seen as a key band for 5G – particularly applications such as augmented and virtual reality (AR/VR), Ultra High Definition (UHD) video, smart home, smart manufacturing, healthcare and drones – due to offering a good balance between coverage and capacity. It will also be used to provide Fixed Wireless Access (FWA) for domestic and business applications.
Variable costs
The GSA 5G Spectrum Auction Tracker, launched at the same time as the Snapshot, finds that the prices paid for the C-Band spectrum have varied widely, with the amount operators are prepared to spend in each market being influenced by factors such as competition, spectrum licensing terms, existing spectrum holdings and the amount spent by mobile customers in the country concerned.
Italian operators have paid the most per MHz per head of population for C-Band spectrum in recent auctions – more than double the $/MHz/Population final payment value of recent auctions in Germany and the UK. 
2020 momentum
Joe Barrett, President, GSA, commented, "C-Band spectrum has historically been made available around the world for fixed wireless services using legacy technologies, or has been allocated for satellite or government/military use.
"While a few countries have made portions of C-band spectrum available for LTE, with the advent of 5G access to C-Band spectrum is being opened up to support mobile broadband services, often specifically including 5G. The momentum behind 5G spectrum, networks and devices gathered pace throughout 2019 and will accelerate further in 2020."