Not to be outdone, euNetworks unveils 224km subsea cable quantum milestone between UK and Ireland
Orange has successfully completed in multi-vendor lab trial led by Adtran which saw coherent 400Gbps transmission of a Quantum Key Distribution (QKD)-secured 100Gbps data stream over a 184km SSMF through three QKD links and two trusted nodes.
QKD is an important technology that uses particles of light and the fundamental properties of quantum physics to deliver secret keys between parties. These keys can be used to encrypt and decrypt sensitive data and are safe from eavesdroppers or cyber-attacks by quantum computers.
The companies utilised a hybrid approach combining classical cryptography and QKD and the telco said the trial demonstrated the technology's maturity for widespread commercial deployment.
"As we navigate the opportunities and challenges that quantum computing presents, it's clear we're at the beginning of a new era in network security. Our successful lab trial with Adtran highlights the magnitude of industry collaboration required to harness the full potential of quantum technology and secure our digital future," said Orange VP of wireline networks and infrastructure Gilles Bourdon.
"The synergy between Adtran's FSP 3000 open optical transport technology, Adva Network Security's ConnectGuard encryption, Toshiba's latest QKD systems, and our expertise in network integration sets a formidable benchmark for quantum-resistant communications across Europe," he enthused.
Quantum network experiment between UK and Ireland
Not to be outdone, researchers from The University of York in collaboration with the Quantum Communications Hub and euNetworks announced have for the first time successfully demonstrated that quantum communication is possible euNetworks' subsea cable, named Rockabill, connecting Ireland to England in the United Kingdom, running 224 kilometres between Portrane and Southport cable landing stations.
The researchers wanted to address that the longer the distance, the more likely it is that the photon – the particles of light that we use as carriers of quantum information – are lost, absorbed or scattered in the channel, which reduces the chances of the information reaching its target.
This presents a problem when organisations need to send private digital information to other cities or other countries, where the additional challenge could also be an ocean between the communications' start and end point.
Rockabill is an ultra-low loss fibre optic subsea cable with low latency and remarkably low average attenuation – presenting an ideal environment given the 224km cable has no amplification or repeating systems.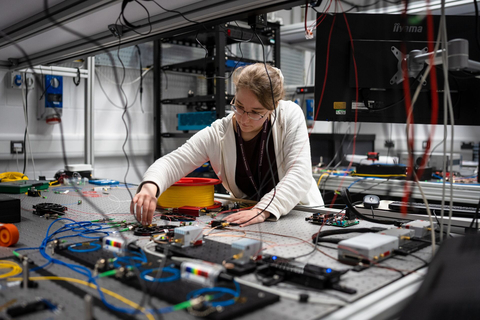 The series of experiments conducted on-site resulted in the successful transportation of single and entangled photons, as well as in the successful measurement of the optical phase exploited in twin-field and continuous-variable QKD, over a longer continuous distance than had ever been established before in undersea optical fibres, devoid of 'trusted nodes' between the two endpoints of the communication channel.
"euNetworks is proud to support a critical project that pushes the boundaries of quantum technology and has implications for the future of network security," said Paula Cogan, CEO of euNetworks.
The triallists say they'll need to do more experiments using the same cable line to pave the way for integrating the services offered by quantum technologies into standard communications for industries sending private data between the UK and Ireland and for further advances in the quantum internet.
QKD can run on current networks
In June however, Orange and Toshiba Europe published new research that showed quantum key distribution (QKD) can be deployed on existing optical networks. A wavelength division multiplexing approach allows quantum key distribution signals to co-exist with classical signals at distances up to 70 km.
The work at Orange Labs in Lannion, France, related to a QKD system operating at 1310 nm, coupled with 1550 nm data channels transmitted over 50km of standard single mode fibre. It showed how the technology can be deployed on a provider's existing fibre network, alongside current data services.
Until then, the deployment of QKD required operators to invest in dark fibre across their networks specifically for sending quantum information, increasing the cost and time to adoption.
At the time Orange group CTO Laurent Leboucher said: "Together with Toshiba, we showed that it is possible to introduce new security functions in the operators' networks without requiring the use of dedicated fibres. With this cost-effective approach, we pave the way towards a digital fortress, guaranteeing the security of our customers' most valuable data."
Tests were run with both 30 and 60 multiplexed channels over 20km, 50km and 70km fibre lengths, with the secure bit rate measured over each distance, according to Optics.org.
Results showed that the high number of WDM channels had little impact on the secure bit rate, which was more influenced by the optical launch power of the aggregated data channels used in the system.
Overall, the results show the possibility to deploy commercial QKD system[s] on currently existing full WDM links with 100Gbps and 400Gbps channels in data centre interconnection (DCI) applications.
Current Orange trial details
Orange said one of the trial's key achievements was overcoming data loss and distance constraints while transporting significant volumes of quantum-secure data alongside the quantum channel.
The trial introduced a hybrid key exchange, blending classical asymmetric methods with QKD, creating a robust dual layer of security. While classical key exchange ensures immediate data protection in line with current cryptographic standards and governmental approval, QKD offers future-proof security, resilient against future computational advancements.
"By utilising a QKD trusted-node configuration provided by our technical partner Toshiba Europe/Japan, we're showcasing some of the practical applicability of this technology in today's networks," said Adtran CTO Christoph Glingener.
"We've also always been committed to championing interoperability, promoting and contributing to open standards, such as the ETSI interface for QKD key delivery. Our latest collaboration with Orange emphasizes that an open, cooperative approach in the design and implementation of QKD solutions is indispensable to propel this vital technology at the speed we all require," he added.
Orange shows QKD with video
Last November, Orange showcased a demonstration of streaming video encrypted by quantum keys on its fibre network. The system was protected by QKD provided by ID Quantique. The experiment was carried out as part of the "ParisRegionQCI" – the Quantum Communication Infrastructure project lead by Orange and funded by Ile-de-France Region.
The project aims at deploying a quantum communication network and demonstrating secure communication connectivity between three key locations around Paris (Jussieu University, Orange Gardens and Plateau de Saclay).
Toshiba and BT
Toshiba is closely working with BT in the UK and the two installed the UK's first quantum-secured industrial network in 2020. Last year, BT and Toshiba announced EY as its first commercial customer to connect using quantum secure data transmission between its major London offices.
In July, HSBC became the first bank to join BT and Toshiba's commercial trial quantum-secured metro network, working in collaboration with Amazon Web Services (AWS). The bank is using it to trial the quantum secure transmission of test data over fibre-optic cables between its global HQ in Canary Wharf and a data centre in Berkshire, 62km away.
Pictured (top): Orange's CV-QKD testbed when it was being installed in Lannion. It is part of the CIVIQ EU Project.