Rakuten Group has also set up Symphony, a new division to drive global expansion, with Tareq Amin (pictured) as CEO.
Rakuten will assume the role of general contractor for 1 & 1's brand new network, with work starting in Q4 of this year. The plan is to build Europe's first fully virtualised mobile network based on new OpenRAN technology.
1 & 1 Drillisch is controlled by the German billionaire, Ralph Dommermuth, and won a fourth German national 5G licence. It is piggybacking on Telefonica Germany's network for now, but to fulfill its licence terms must have 1,000 active antennas in place by the end of next year.
Telefonica Deutschland has also worked closely with Rakuten Mobile and claims to be the first German operator running Open RAN.
In a press release, Rakuten Group's Founder, Chair and CEO, Mickey Mikitani, said, "Like 1&1, we launched our mobile network in Japan with a vision to transform the industry. Through technological innovation, we have been able to offer high quality services at an affordable price that challenge the market.
Over-excited?
"We are very excited to now have the opportunity to share this experience and know-how with 1&1 through the Rakuten Communications Platform and to jointly create a next generation network that will set new standards for future mobile communications in Germany and across Europe."
Rakuten will build out the active network equipment and be accountable for the overall performance of 1&1's mobile network. 1&1 will have access to a range of Rakuten solutions, including the Rakuten Communications Platform (RCP) stack.
This will run the access and core infrastructure, cloud and operations. It will also provide customised orchestration software to give 1&1 a highly automated network.
Beyond orchestration…
The third big announcement of the day by Rakuten (it earlier said it would acquire one of its technology suppliers, Altiostar) is it is setting up a new business division, Rakuten Symphony
All Rakuten Group's telco resources will be pulled together to support its global telecoms ambitions and incorporates the RCP – Open RAN software, network automation and orchestration, R&D, and expertise.Symphony also includes sales, marketing and delivery.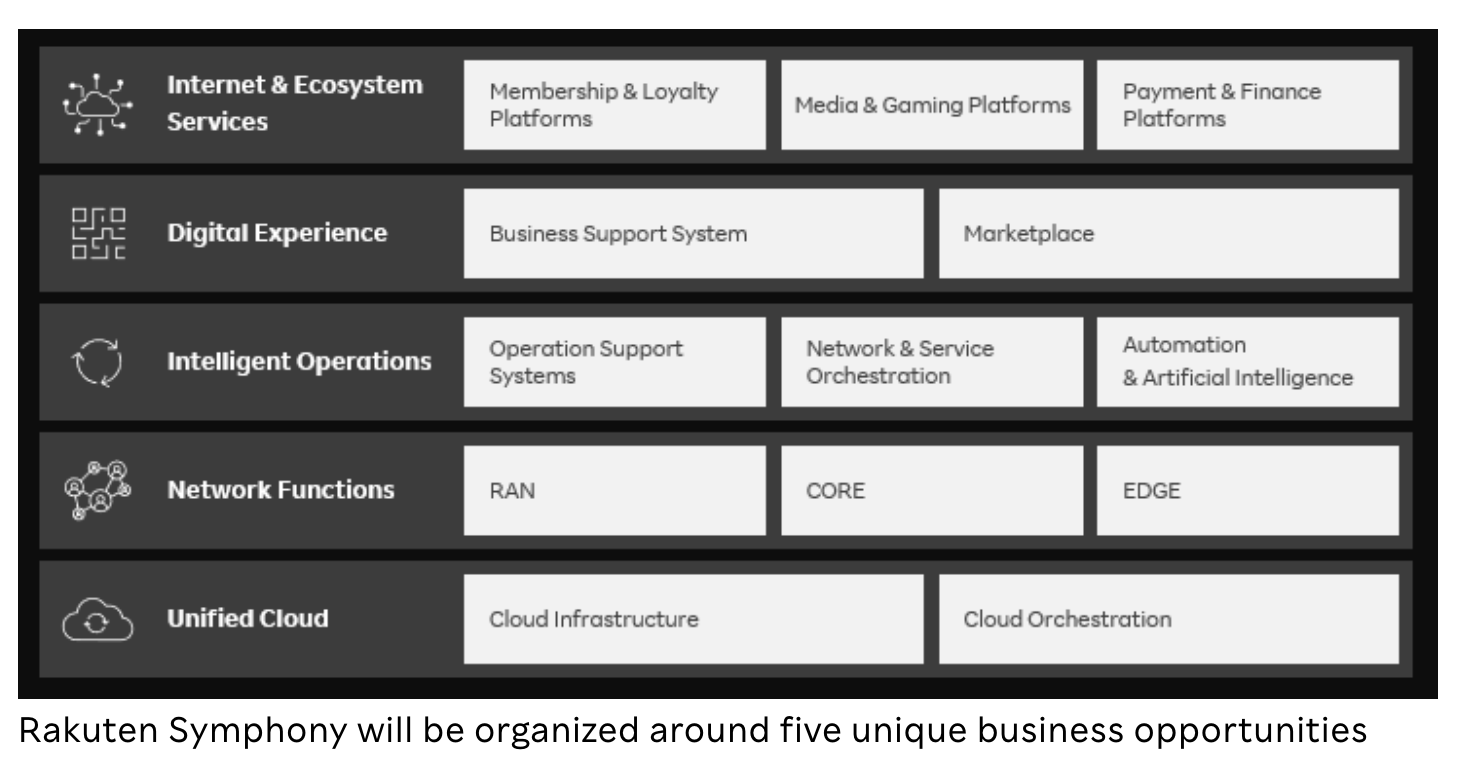 Tareq Amin, who started in the company as Rakuten Mobile's CTO, is now CEO of Rakuten Symphony. Previously, he worked at Reliance Jio which completely disrupted the Indian market.
Engine of global growth
So as outlined in this exclusive interview, RCP – and now the broader-based Symphony – are expected to be the engines of growth, with Rakuten Mobile in Japan acting as a kind of live, commercial demonstration of the Symphony approach.
Note that neither the economic model nor commercial success are yet proven. Nothing daunted, in an interview on Bloomberg TV, Mikitani said the addressable market "will be US$100-150 billion in two or three years."
Nor is Rakuten's Symphony the only show in town though. Amin's former employer, the Reliance Jio is offering a similar vendor/integrator/consultant business and ecosystem, and so is fellow Japanese operator NTT DOCOMO. Like Symphony, both are just divisions of massive conglomerates.
It's way too soon to tell is any of them will succeed, but it will be mighty interesting to watch.