Yogen Patel, Head of Product & Solution Marketing at Amdocs, explains how to improve responsiveness, keep pace with customer expectations and hold off the threat of the new entrants.
Building in automated service fulfilment and orchestration right from the conception of new services is how to succeed –whether the customer is a building company requiring temporary connectivity on a construction site, or a hospital rolling out connected diagnostic equipment across its campus and emergency vehicles, speed and accuracy of deployment are critical to the success of that engagement.
Yet, too often, when it comes to service fulfilment and orchestration, communication service providers (CSPs) remain somewhat limited in their agility and speed of responsiveness due to disjointed systems and manual processes.
However ambitious and innovative operators may be in their designs for new network services and customer experiences, it's also important to ensure these services are matched with slick delivery and issue resolution capabilities – which is proactively incorporated from the outset.
Prioritising dynamic OSS
Although not all CSPs have seen overhauling their service fulfilment and orchestration as a strategic imperative up to now, in the new network era – which will see operators battle each other to launch ever more innovative services and fresh user experiences – setting these up for customers swiftly, provisioning them correctly and billing for them accurately will become increasingly important.
Over-reliance on cumbersome manual fulfilment processes – already exposed in inaccuracies, delays and order fallout with standard connectivity services – will undermine operators' success with more ambitious offerings. Meanwhile, slow problem resolution – due to disconnected fulfilment and assurance systems – has no place in the future experiences CSPs want to offer.
Achieving light touch, quick to activate, and fully joined experiences will rely on modern system capabilities and process automation, in place of the unwieldy combination of manual handoffs, workarounds and glue that make up most operational support system (OSS) environments.
More complex propositions require streamlined handling
Monolithic, siloed IT systems and fragmented fulfilment and orchestration processes jeopardise the ability to launch and deliver new services efficiently. Next-generation network services may simplify life for customers, but behind the scenes they are more complex propositions – often involving wider ecosystems and partners. This means there are more pieces to coordinate, rendering traditional OSS and manual processes unfit for purpose.
So what does good look like?
CSPs should be aiming to streamline service fulfilment by decomposing the mesh of 'product-to-service' mappings into a clear set of activation tasks, while accounting for relevant links and interdependencies. They should be looking to reduce order fallout by setting auto-triggered policies for automated error handling. And they should be striving for a 360˚ view across all network elements, service inventory, order and fulfilment tracking activity.
All of this comes back to making the right choice of OSS/fulfilment system capabilities for the new network age.
Maximising the options with a flexible, modular, cloud-based approach to OSS
Simplicity and efficiency are paramount, so CSPs should be looking to standardise service and resource modelling and to define reusable service 'building blocks'. Further priorities should include unifying service design, creating and composing service chains, workflows and polices via a unified catalogue and intuitive user interface, and – crucially – accelerating delivery by automating end-to-end service lifecycle management.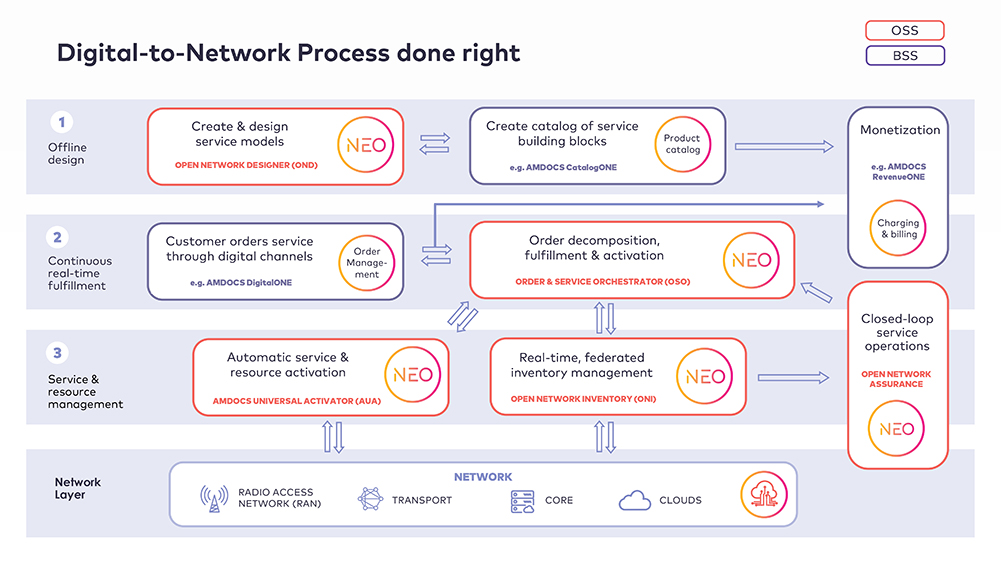 For problem resolution, it's important to look for capabilities that support the proactive identification and resolution of issues with real-time service order status view and triggered notifications. Enhanced visibility will be important here too, via an advanced, cross-silo graphical user interface enabling end-to-end views and data access across the network.
Finally, a single accurate and complete repository of activated services and supporting network resources will enable closed-loop operations and boost service assurance.
Amdocs NEO is a comprehensive service and network automation platform that meets all of these needs in a modular, open standards-based, cloud-native solution which CSPs can harness to manage innovative services in the new network era.
View our interactive guide to Digital-to-Network Automation