LEOsat service still the fastest but speeds have peaked as more users take up the service
Starlink had median download speeds greater than 100Mbps in 14 countries, greater than 90Mbps in 20 countries, and greater than 80Mbps in 24 countries, with only three countries failing to reach 70Mbps, among the 27 European countries Ookla's Speedtest measured in Q2 2023.
Overall, Starlink quarter-to-quarter speeds improved or remained about the same (between 5% and -5%) in 23 countries, while decreasing in four countries.
At first glance, year-over-year median download speeds for Starlink are about the same (-5% to 5%) or better (greater than 5%) from Q2 2022 to Q2 2023 in 15 countries and slower (decreasing more than 5%) in eight countries.
But among the 27 countries Ookla surveyed during Q2 2023, Starlink had speeds faster than the aggregate of all fixed broadband providers combined in 11 countries (Austria, Belgium, Bulgaria, Croatia, Czechia, Estonia, Greece, Ireland, Italy, Latvia, and the UK).
Those speeds were most notably faster in Croatia and Greece for Starlink at 94.41Mbps to 45.24Mbps and 108.97Mbps to 44.09Mbps, respectively, during Q2. Speeds were about the same in four countries (Finland, Slovenia, Germany, and Lithuania), and speeds were slower than the aggregate of fixed broadband providers in 12 countries, most notably in Poland, Spain, Romania, Denmark, and France which saw between 50% and 105% faster aggregate fixed broadband speeds than Starlink.
Quarterly download speeds stabilising 
Median download speeds for Starlink remained about the same (between 5% and -5%) in 23 countries, while decreasing in four countries, quarter on quarter for Q2.
Starlink in Switzerland had one of the fastest median download speeds among countries with Starlink during Q2 2023 at 122.47 Mbps, followed by Denmark (117.38 Mbps), Austria (111.91 Mbps), Belgium (111.20 Mbps), Hungary (108.97 Mbps), France (107.56 Mbps), Ireland (104.42 Mbps), Estonia (102.38 Mbps), Portugal (101.75 Mbps), and Latvia (100.94 Mbps). Sweden, Italy, Bulgaria, and the U.K. all followed but had speeds greater than 100 Mbps.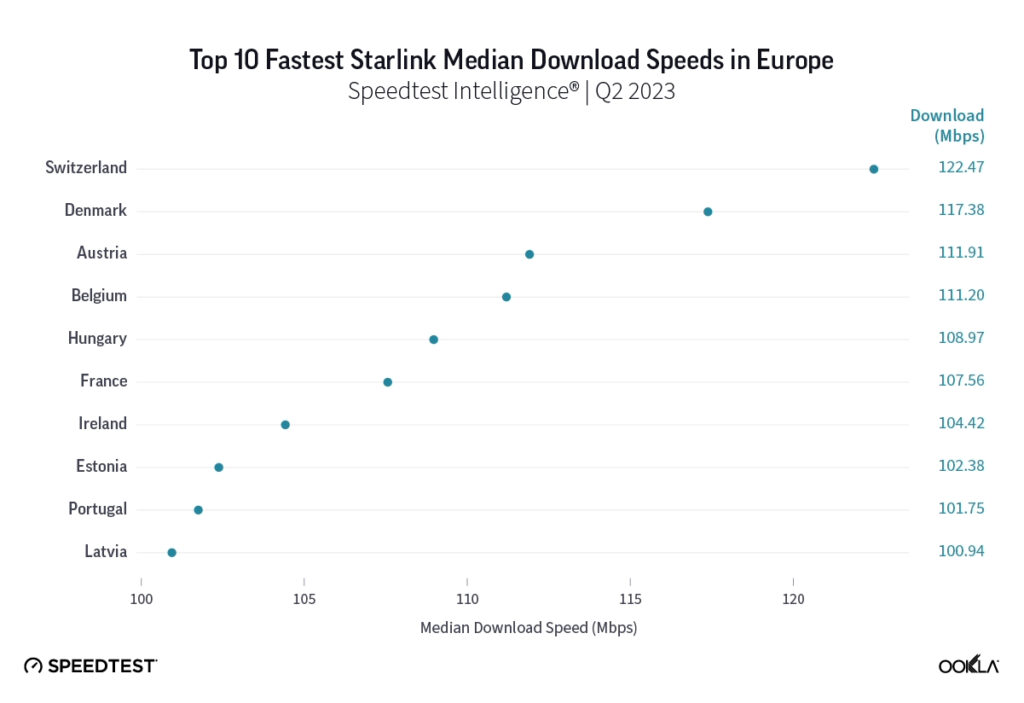 Uplink speeds dipped than stabilised 
Upload speeds for Starlink mostly decreased notably YoY, with only the UK showing an improved median upload speed in Q2 out of 27 countries surveyed. However, looking QoQ, Q2 upload speeds for Starlink stayed about the same or improved in 25 out of 27 countries, with only Greece and Ireland showing declines.
For upload speeds, Starlink all 27 countries Ookla surveyed had upload speeds between 10Mbps and 15Mbps except Portugal (17.7Mbps), Hungary (16.91Mbps), Croatia (16.12Mbps), Bulgaria (15.93Mbps), Romania (15.82Mbps), Spain (15.79Mbps) and Poland (9.11Mbps).
Starlink in Greece was the only instance of a satellite provider in Europe having an upload speed greater than the aggregate of all fixed providers combined, 12.97Mbps for Starlink to 7.85Mbps for the aggregate of fixed broadband providers combined.
Satellite competitors also holding steady  
Skylogic, while delivering speeds slower than Starlink, showed stabilised broadband speeds over the past year for those seeking a Starlink alternative. The satco recorded median download speeds in Italy at 29.21Mbps during Q2, a roughly 27% statistical increase YoY from 22.28Mbps. Notably, Skylogic recorded a median download speed of 68.44Mbps in Italy during Q1 2023.
Among the various countries Ookla recorded Skylogic data for during the past year, the range of median download speeds varied between 19.53Mbps and 68.44Mbps, with most speeds between 28 and 50Mbps, all fast enough to stream 4K video online. Viasat, had relatively similar download speeds in Germany and Italy at 17.22Mbps and 17.45Mbps, respectively, during Q2 2023.
Skylogic showed upload speeds lower than 4Mbps in both Austria and Italy during Q2. Viasat had upload speeds of 3.51Mbps in Germany and 4.69Mbps in Italy during Q2 2023.
Physics wins the latency battle 
Once again, all the aggregates of all fixed broadband providers in Europe had much lower multi-server latencies than Starlink and GEOsat operators Viasat (which had latencies over 600ms) and Skylogic (which had latencies over 700ms). Starlink still saw multi-server latencies under 60ms in the UK (51.26ms), Spain (53.37ms), Portugal (55.84ms), and Belgium (59.34ms). Starlink saw most countries' multi-server latencies between 60 and 90ms.
Starlink in Africa is off to a promising start 
Despite several countries blocking Starlink services, the service is still showing early promise after first launching on the African continent in Nigeria this past January. Speedtest showed that Starlink in Nigeria had a faster median download speeds than all aggregate fixed broadband providers combined at 63.69Mbps to 15.6Mbps during Q2.
Upload speeds were more similar during the same period with Starlink at 13.72Mbps and the aggregate of all fixed broadband providers combined at 10.6Mbps. Starlink did have a marginally higher multi-server latency at 55.88ms to 50.26ms during Q2.
In Rwanda, median download speeds were a little closer with Starlink recording a median download speed at 63.1Mbps in Q2 compared to the aggregate of all fixed broadband providers combined at 34.55Mbps.
Starlink trailed behind for median upload speed at 6.88Mbps to 10.05Mbps for fixed broadband providers during Q2. Multi-server latency for Starlink was much higher at 320.45ms to 29.04ms for fixed broadband providers during the same period.
Starlink future  
SpaceX's Starlink posted a more than six-fold surge in revenue last year to $1.4 billion, but fell short of targets set by CEO Elon Musk, according to Reuters. The company had in a 2015 presentation projected the division would generate almost $12bn in revenue and $7bn in operating profit in 2022, the report said. 
Starlink has also been signing up customers at a pace that is much slower than its expectations, with the unit having more than a million active subscribers by 2022 end, the Journal said. It had expected to have 20 million subscribers by the end of the year, according to the report.
While it is impossible to deny the disruptive impact the service has had on the telecommunications industry, and will continue to have, it can't compete with fixed broadband and its relatively high cost means it will only attract rural subscribers who can afford it.
Early indications are that fewer government subsidies will be available generally to reach these areas and when they are, given owner Elon Musk's well publicised erratic stance on Ukraine and China for example, governments will need to evaluate whether global connectivity and national security are threatened if they manage to upset the owner.