Dawn Bushaus investigates why telecoms is already looking at 6G and who is working on which aspects.
Even though 5G rollouts are just getting started in most countries, researchers, communications service providers (CSPs) and network suppliers are already considering how the next generation of cellular technology will impact society.
Due to appear around 2030, 6G technology promises dramatic improvements in throughput, reliability and reduction of latency, all of which will make immersive and extended reality (XR) experiences the norm.
Massively faster
6G will be able to use terahertz radio spectrum (from 300 GHz to 3 THz) and sub-terahertz spectrum (from 100 GHz to 300 GHz), enabling transmission speeds of hundreds of gigabits to several terabits per second.
Latency will be measured in microseconds, 1,000 times faster than 5G's millisecond latency. And importantly, artificial intelligence (AI) will be pervasive in 6G and implemented from the outset.
Edge computing will also be built in, so we won't really think in terms of access, edge and core, or even simple connectivity.
Rather, as Paul Crane, Converged Network Research Director at BT, explains, "We'll be thinking about a network as a set of distributed compute resource which is running both network functionality and application functionality. The control…and the automation of the control are going to be crucially important." Crane was speaking during a recent TelecomTV digital event focusing on 6G innovation.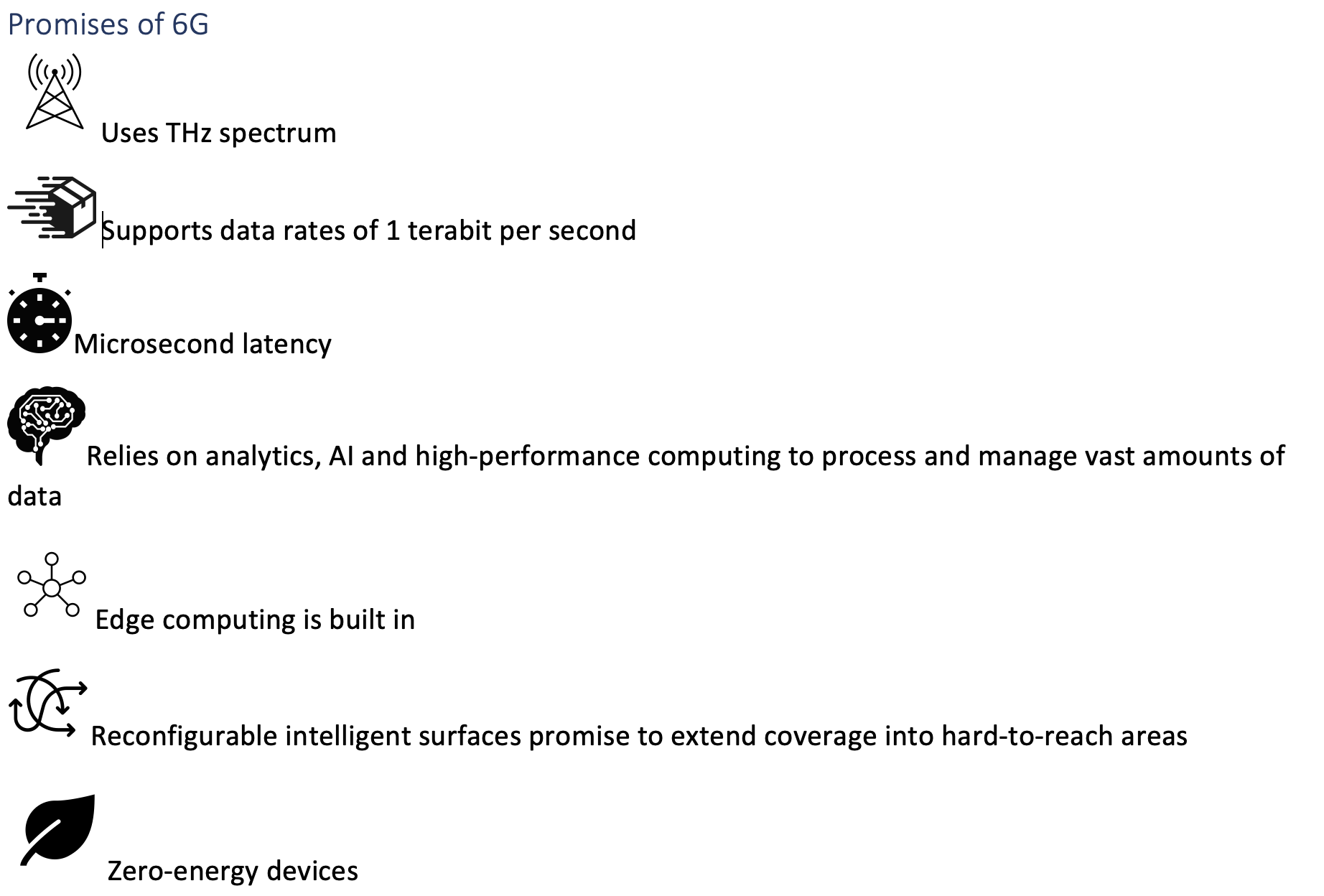 These improvements will support XR applications such as holographic telepresence, 3D gaming, remote surgery, remote experience assistance in industrial use cases and multi-sensory experiences using wearables. Other likely 6G use cases include pervasive connectivity, unmanned mobility and lighter-than-air (LTA) drones.
"Video will evolve," says Rahim Tafazolli, Regius Professor and Head of the Institute for Communication Systems at the University of Surrey in the UK, who also participated in the Telecom TV event. Whereas all forms of mobile video so far have involved only two senses, seeing and hearing, future applications will include more.
"We want to add other human senses like touch, smell and taste to the video – we call it four-dimensional video," Tafazolli explains. "We believe that 6G can be broadly characterized as the integration between communication and sensing, whereas 5G was communication and automation."
Who's working on 6G?
6G research is happening all over the world. The infographic below from US media company Bloomberg shows a regional breakdown of efforts across Europe, China, the US, South Korea and Japan.
CSPs are active in many of the research initiatives. Indeed, BT's Crane notes that it is important for mobile operators to start participating in 6G research now so that they can plan for how they will roll out the next generation of network technology once standards become available.
"What I don't want to see is…that non-backwardly compatible step change that the industry has traditionally gone through," he says. "We need to look at not only the technologies that we'll be deploying in 10 or 20 years' time, but equally importantly at how we go about doing that so that we can avoid that step change and have a much more evolutionary approach, where operators like ourselves can implement technology when there's the market demand rather than build before there's actually demand."
Revolutionary RIS
Beyond the promise of terahertz spectrum, one of the most exciting technological advances coming with 6G is reconfigurable intelligent surfaces, or RIS, which ETSI defines as "a new type of system node leveraging smart radio surfaces with thousands of small antennas or metamaterial elements to dynamically shape and control radio signals." In October, the standards body established a new Industry Specification Group to work on the technology.
RIS effectively turns the wireless environment into a service and could enable new applications such as sensing. For example, ETSI points out, a RIS "can reconfigure the radio environment to sense human posture and detect someone falling, a very useful application for elderly care."