EE has made a bold move today with its launch of Cash on Tap, a new app-based service allowing subscribers to make contactless NFC mobile payments via their smartphones.

In partnership with MasterCard, EE, currently the only operator in the UK with a commercial 4G LTE network, is seeking to broaden its reach by launching a host of new services, including the ability to use NFC-enabled handsets to tap and pay at contactless POS terminals in-store (Read: NFC mobile wallet services live in 13 countries, infrastructure on the way).
Using an EE-branded app, subscribers can add cash from their preferred UK debit or credit card to the app and start making payments straightaway, but the catch is that you can only make payments up to €23 (£20).
Cash on Tap works by storing the long card number securely into a special new SIM card in the handset.
Samsung S4 and Sony Xperia users would already have the right SIM card, but Samsung S3 users will require a free SIM card upgrade to enable NFC payments.
"Now is the right time for mobile payments. We believe that, ultimately, mobile payments have a collaborative future. [The payment] goes through existing payment network rails – there is no charge to customers for credit or debit cards, it's a part of our own commercial model," EE's Director of New Business Jason Rees told Mobile Europe.
"Really, our vision is to bring together the online world and the physical world."
According to Rees, many consumers tend to make low-value simple payments such as a cup of coffee, lunch or a small basket of grocery shopping in cash. There are now over 230,000 retail locations in the UK where contactless POS terminals have been installed.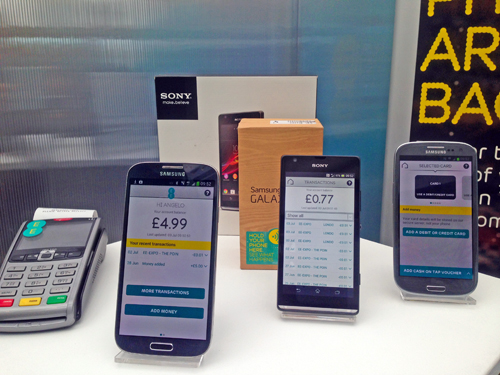 EE's new Cash on Tap NFC app on showcase
"We see it as our role to get great services on great devices, and then within the rest of the market, there's a responsibility to the banking industry to make sure the payment network is ready and available to use the service," he said.
"It's exactly the same infrastructure as what some of the banks are already doing with contactless payment cards."
Subscribers can choose to use the app instantly to tap and pay, or they can add an extra level of authentication, whereby the user has to type their four-digit card pin number into the app each time before they pay.
If the smartphone is stolen, the operator can block the phone and the payment account at the same time.
"[The difference from a debit card account personalisation process] is that we're now doing it over the air, but the security standards are exactly the same," he said.
"We have a Trusted Service Manager (TSM) that works with the mobile operator to manage the secure data throughput, and then you have a TSM that works with the banking element. The SIM is very secure, it's exactly the same technology as you see on the contactless payment cards."
Rees revealed that EE developed the infrastructure between the payment terminals and app to the network and between the TSMs completely in-house, assisted by technology from its parent Orange.
However, he could not comment on how long the infrastructure had been in development for.
He did indicate though, that EE's future road map for mobile payments would probably include mTicketing as the technology would work for this too.
At Mobile World Congress in February, Samsung made its big mPayments and mTicketing showcase to the global industry alongside the GSMA's NFC Experience.
Since then, analysts and operators that Mobile Europe has spoken to, including EE rival Telefónica O2, doubt that NFC would ever be taken up widely enough by consumers to warrant using it for mobile payments.
"All the early adopters that have taken [to] mobile payments absolutely love it because they find it really convenient, really simple, and most importantly, it gives them control as they can add to their balance on the move and manage their expenses – all ingredients that show now is the right time for mobile payments," Rees added.
EE also announced new shared 4G LTE data plans for retail and enterprise customers as well as PAYG options.