Under the leadership of its CTIO, Boris Drilo, Hrvatski Telekom's network has been judged to be among the best in the world by a third-party benchmarkers. Annie Turner investigates the success of one of our CTOs of the Year 2019.
Croatia's geography makes it a challenging place to deliver good quality network coverage. Even so, the operator continues to innovate, and its pioneering work is often deployed in other parts of the Deutsche Telekom Group to which it belongs.
Diverse geography
While Croatia is a small country in area, of about 56,594km square, its geographic variation is huge and home to a population of about 4.28 million. In the west, the country is on the Adriatic Sea coast and includes over 1,000 islands and islets, 48 of which are inhabited. In the south, the Dinaric Alps rise to a peak of 1,831 metres at the border with Bosnia and Herzegovina.
The city of Dubrovnik in the extreme south of the country is practically an exclave (see map below), linked to rest of the country by territorial waters. The central and southern regions near the Adriatic coastline and islands consist of low mountains and forested highlands. The north is hilly, while in the east the flat plains of Slavonia are traversed by rivers including the mighty Danube, and the Drava, Kupa and Sava.
All of which make for a famously beautiful country, but a challenge for Boris Drilo, who is a Member of the Management Board and CTIO at Hrvatski Telekom (HT). Despite the difficult terrain, he and his team have succeeded in bringing internet access of up to 30Mbps to all parts of Croatia, using what he describes as "innovative hybrid technology".
Built for speed
With a big emphasis on security, in Croatia's cities about 900,000 households have direct access to speeds of more than 30Mbps, and 250,000 of them have speeds ranging from 100 to 500Mbps.
In the next two and a half years, HT plans to invest heavily to expand its fibre and mobile infrastructure so that 1.2 million of the 1.5 million households in the country will enjoy speeds of over 30Mbps. Over 600,000 households will gain access speeds of up to 500Mbps in that period.
The fibre-based access network (FTTx) is available to 420,00 households (out of Croatia's 1.5 million) and outdoor 4G population coverage is 99% of the population and the indoor reaches 85%. HT has also been able to increase LTE's top speed from 350Mbps to 850Mbps in about half of the network.
Not surprisingly, voice over LTE (VoLTE) and voice over Wi-Fi (VoWiFi) are both in commercial use, and HT was the first in the Deutsche Telekom Group to run a pilot for video over LTE (ViLTE).
Coverage in rural areas
HT has already secured rates of up to 30Mbps for more than more than 60,000 homes in rural and less populated areas of Croatia using a combination of the fixed and best mobile network what Drilo describes as "a unique combination" to provide stable and fast internet access. This provides two to five times faster speeds so customers can, for example, consume the television content provided by HT's IPTV service which was not available with the limited bandwidth of standard ADSL lines.
The operator is continuing the huge modernisation programme of its fixed and mobile radio and transport networks across Croatia. There is an ever-growing demand for data services, especially in the popular tourist areas of Croatia. So far, 75% of the network had been modernised, in areas including Istria, Zagreb County, the city of Zagreb and the entire Adriatic coastline. These areas are now experiencing an increase in speed of up to 30% with more than 50% higher mobile internet traffic.
The plan is to complete the upgrade to the rest of the country's infrastructure by the end of the year, ensuring it will be prepared for the next step – implementation of 5G technology. The telco is also running a pilot to test 5G network technology in 3.5GHz frequency range across an area covered by about 20 base stations. It wants to gain better insight into the state of technology and its performance in real-life conditions. So far it has achieved speeds above 1Gbps on a commercial 5G device, in the streets of the city of Krk.
Strategy, society and the economy
For Drilo, technology is not the point so much as the difference it can make: the company estimates its investment this year will directly influence the creation of 9,582 new jobs and 0.62% growth in gross domestic product. He explains, "Our investments already affect the growth of the digitalsation index of the economy and society for Croatia. Our investment in the wider availability of high speeds provides the preconditions for introducing the latest smart solutions to homes and businesses and will ultimately result in strengthening the competitiveness of the Croatian economy."
Award-winning achievements
Mobile Europe | European Communications is not the only one to recognise Drilo's achievements. Ookla gave HT awards for the Fastest Mobile Network and Best Coverage in Croatia. It compared user speed tests at Speedtest iOS and Android mobile applications among all mobile operators in Croatia during the first and the second quarter of 2019.
HT achieved better results in the speeds for mobile down-load and upload as well as in mobile coverage compared to other mobile operators in Croatia, with up to 50% better performance. Not only that, according to Ookla, HT's network is among the ten best in the world and in Europe, only the Netherlands did better, while network performance in Zagreb was found to be better than in South Korea, which is generally recognised as having the best network in the world and was the first to deploy 5G commercially.
Earlier in the year, HT also won the Best In Test from P3, which does mobile network benchmarking. P3 found it to be the fourth best in Europe, showing an increase of 73% in traffic and 68% better throughput than its local rivals.
Internal operations
HT is always mindful of customers' experience, and convergence is a big part of that. It introduced its converged customer offer, branded Magenta ONE, in 2016. This continues to grow and serves some 227,000 households and 30,000 business customers, offering fixed line, mobile communications and generous cloud storage options.
HT is also deploying a new approach to IT, based on microservices and open APIs based on TM Forum specifications. HT was asked to present it as a case study at TM Forum's Digital Transformation World event at Nice in May (see panel below).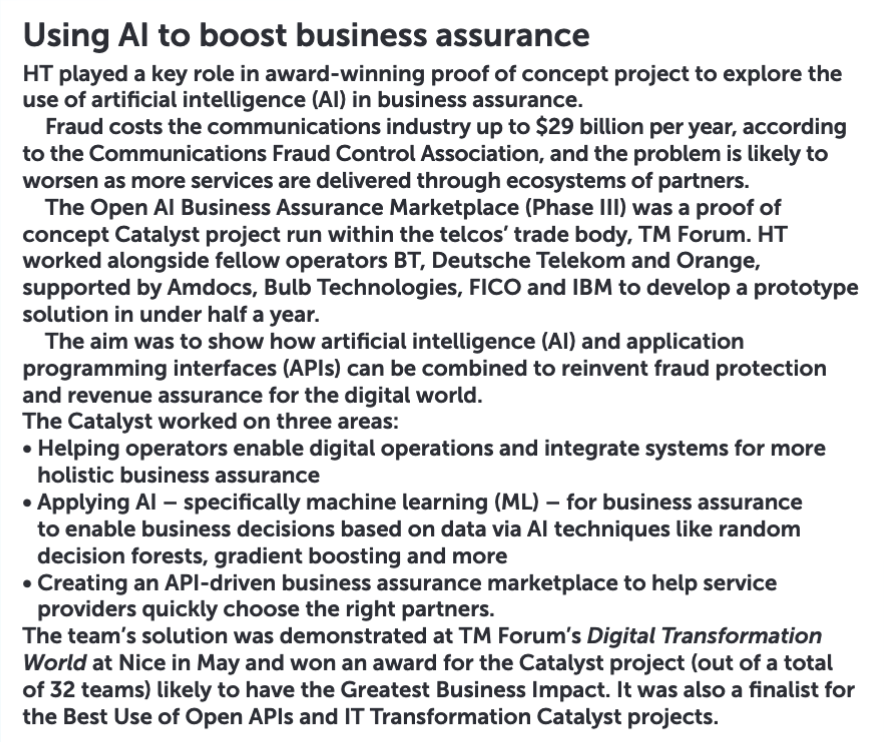 HT has also pioneered the introduction of the virtualised network functions. Currently, the HT NFVi [network functions virtualisation infrastructure] platform is being used to deliver virtualised evolved packet core (vEPC), virtualised Session Border Controller (vSBC) with virtualised broadband remote access server (vBRAS) in the pipeline.
In this and many other areas, HT's outstanding technical abilities and innovative approach have led to it developing and pioneering the use of new technologies which have later been deployed in other DT Group companies. For example, the self-care mobile app being used across DT footprint in Europe is based on the harmonised application programming interfaces (HAL) developed by HT, using 17 of TM Forum's collaboratively developed open APIs.
Digitised customer experience
Moj Telekom app has digitised HT's interactions with customers, providing them with a detailed overview of all fixed and mobile telco services and their consumption of them, any place, any time. It enables them to pay bills and activate e-billing and management of tariffs and options. It also lets customers check internet availability (see below) through an interactive map. At the end of the first half of 2019, the app had 233,000 users.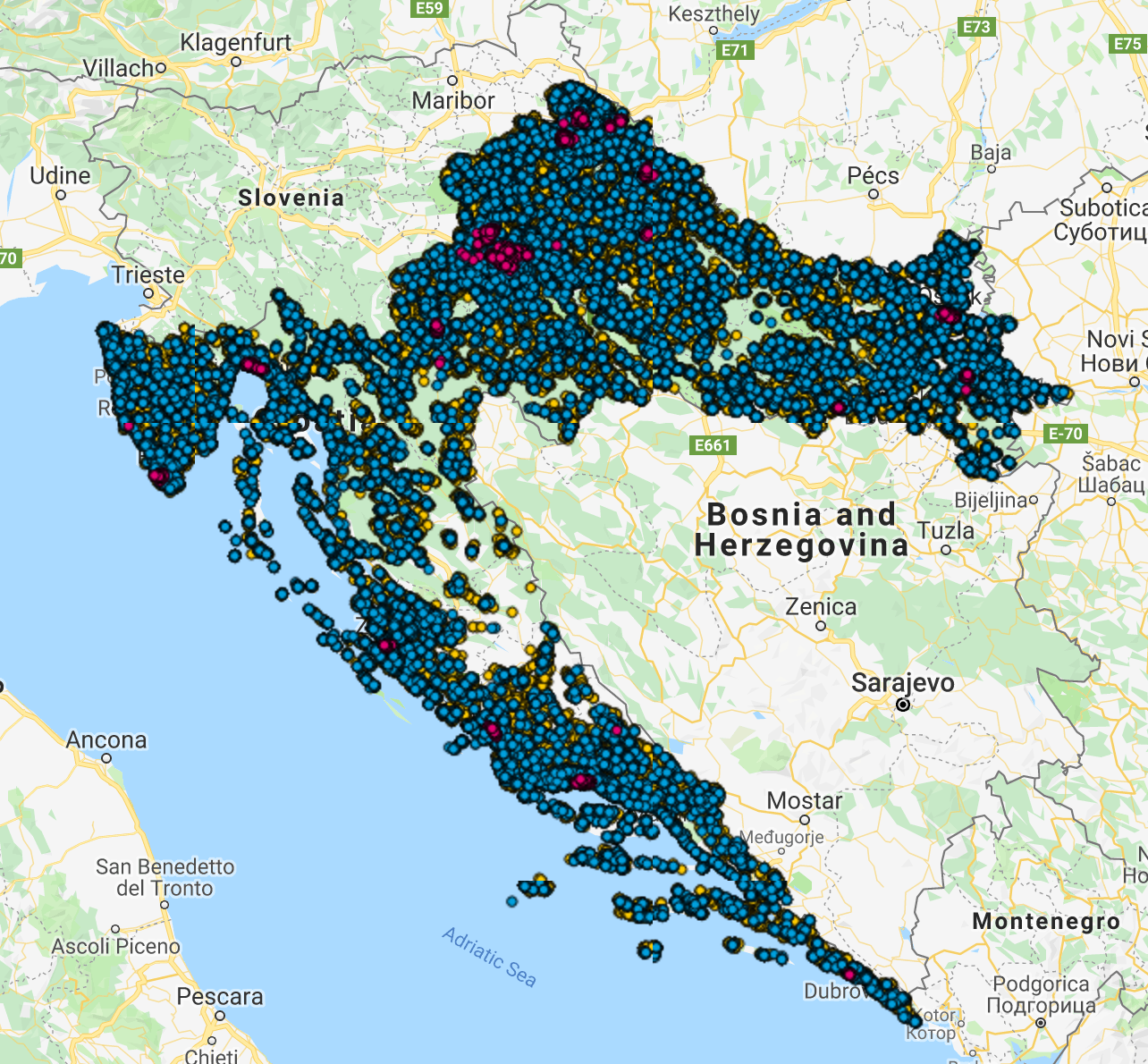 And it continues to innovate for customers: this year HT and Zagrebačka banka launched Telekom Banking, an app-based mobile banking app, from which they can run a current (checking) account, as well as mortgages and savings. It is the first such service on the Croatian market and includes the IziPay service to send money safely by clicking on a contact from their directory. Using the app does not take up any of the customers' data allocation.
Smart parking in Dubrovnik Smart cities and IoT are other key parts of the company's strategy. It has deployed an NB-IoT network nationally and intends to facilitate the setting up smart cities, and to support their digital transformation, using technologies to improve the quality of life for citizens, optimise local resources and foster entrepreneurship.
For example, as part of an initiative called Dubrovnik Smart City, HT led the implementation of a smart parking implementation project for the entire city of Dubrovnik, which uses 1,900 sensors and the NB-IoT network to help drivers find free parking spots and reduce traffic jams: in cities, drivers can spend up to 40% of their time behind the wheel looking for a parking space and creating unnecessary pollution.
Drilo concludes, "The main goal of HT's activities is to connect everyone with the opportunities the latest technology offers so that they can now live better and more easily, creating the basis for a better future. That is why we are constantly investing in the development of a secure and stable network, and use innovative solutions to bring the best possible internet access to each corner of Croatia".
JUDGES' VERDICT
Payam Taaghol
CEO, MYCOM OSI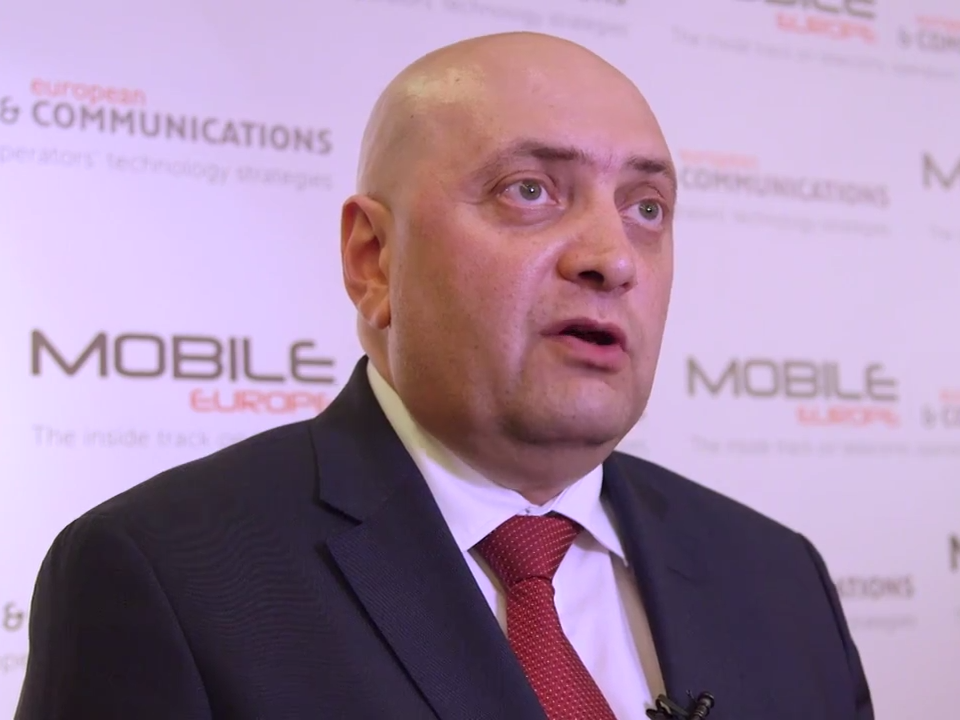 The judges were impressed by the speed, range and depth of progress regarding Hrvatski Telekom's infrastructure build-out to support new revenues, for example in regard to smart cities, IoT and mobile banking.
It is an inspiring example of using technology creatively to overcome difficult terrain.It also plays a pioneering role within the wider Deutsche Telekom Group. As CTIO, we felt Boris Drilo demonstrated real vision, pragmatic innovation and outstanding execution of the company's technology, operational and business strategy.
Annie Turner
Editor, Mobile Europe | European Communications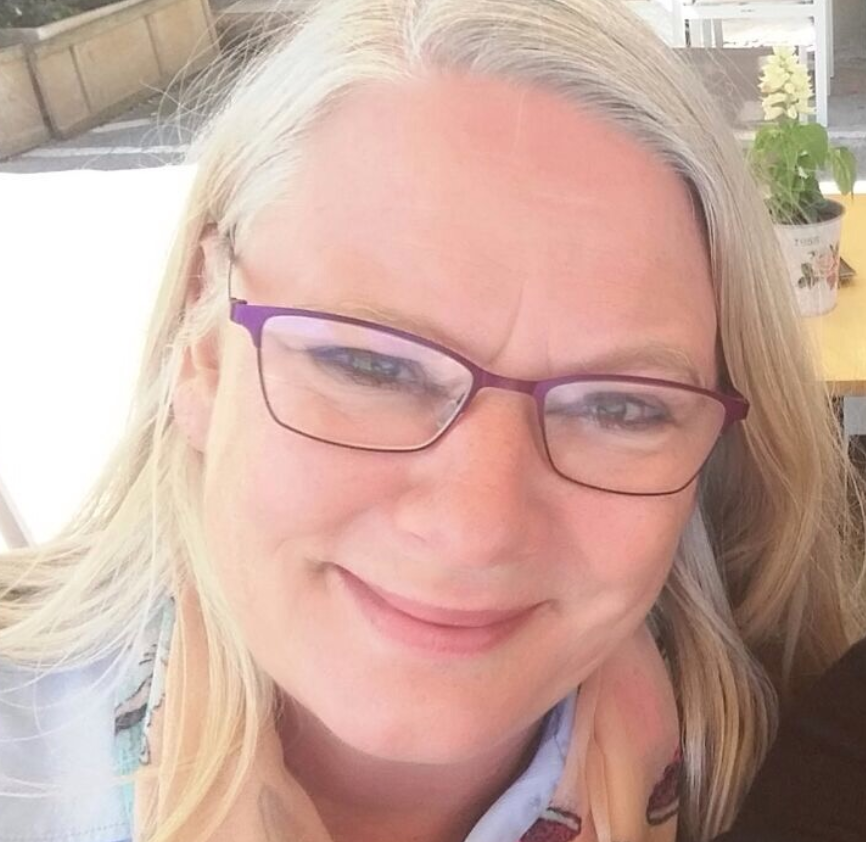 In his time as CTIO at Hrvatski Telekom (HT) Boris Drilo has improved the country's infrastructure in terms of speed, reliability and capacity at an amazing pace. He used technology creatively to bring coverage to areas that are hard to reach, but the judges really liked the fact that he sees technology as a means to a much better end for the Croatian economy at large and people individually.
We were also impressed by the pioneering work done at HT – such as on the haromonised application programme interfaces – for use in the wider Deutsche Telekom group.