The Ericsson Mobility Report says 5G subscriptions worldwide will pass 1bn in 2022 and take-up is faster than for 4G
Ericsson has forecast 5G Standalone (SA) deployments will speed up this year as more operators look to leverage the attributes of next-generation core networks.
According to the new Ericsson Mobility Report, an estimated 20 mobile operators globally had launched 5G SA networks by the end of 2021, but this is expected to double in 2022. It's still slow going for the vaunted attributes that SA will usher in, such as low latency and network slicing that five years ago were expected to restore operators' fortunes, bringing new revenues streams.
5G SA devices and traffic
The report also pointed out that more than half of the 5G devices that have been announced support SA and predicted 5G subscriptions would breach the 1 billion barrier this year, up from 620 million at the end of 2021. By the end of 2027, the number of 5G SA-compatible devices will account for 48% of all mobile subscriptions, which equates to 4.4 billion.
North America and North East Asia have the highest 5G penetration of subscribers, followed by the Gulf Cooperation Council countries then Western Europe. The take-up rate for 5G is faster than it was for 4G.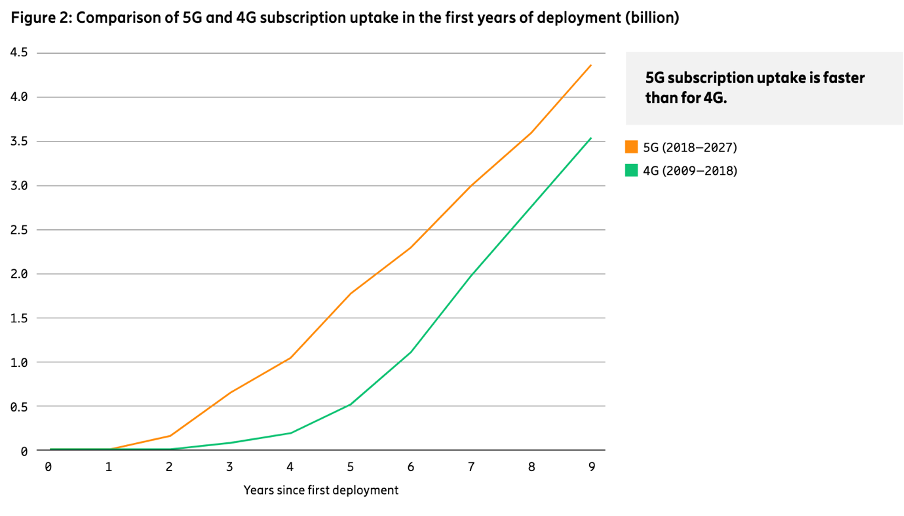 The number of 4G subscriptions is expected to peak at 5 billion this year, falling to 3.5 billion by the end of 2027. Ericsson found that 5G is generating an increasingly large proportion of network traffic, rising from about 10% in 2021 to a predicted 60% in 2027
Total global mobile data traffic, excluding that generated by fixed wireless access, reached around 67 Exabytes (Eb) month at the end of 2021 but is projected to hit 282Eb per month in 2027.
Voice and FWA
IMS remains the standardized voice platform for 5G SA networks that do not support circuit-switched fallback (CSFB) which requires 2G or 3G.

5G voice services can be deployed using various applications in 5G networks as the roll-out phases progress: LTE New Radio (NR) dual connectivity, Evolved Packet System (EPS) fallback and VoNR. Once nationwide 5G SA is in place, only VoNR will be used.

The first EPS fallback voice-enabled networks have gone live in North America, Asia-Pacific and Europe. VoNR and 5G video calling has completed interoperability testing with network infrastructure and devices, and the first VoNR services are ready to be rolled out.
The report said it expects more than 100 million fixed wireless access subscriptions by the end of this year