Safaricom, the country's biggest operator, will suffer most: income from termination rates will fall from over €27m to under €1m
The on-going tussle over mobile termination rates (MTRs) in Kenya is to go to tribunal and submissions against the proposed changes must be submitted in April. A review will follow.
Kenya's IT Cabinet Secretary Joseph Mucheru addressed the country's Senate last week, explaining that the MTRs should have been reduced by almost 90% – from KES 0.99 to KES 0.12 – last December, but Safaricom appealed against it.
MTRs are fees operators pay each other to cover costs of terminating calls on another network.
"We have observed that due to the current imbalance of off-net traffic volume in a quarter, about [KES] 1 billion is paid out amongst operators as interconnection fee. The net beneficiary is Safaricom which received KES. 883 million," said Mucheru.
The Cabinet Secretary continued to defend Safaricom against claims of market dominance, claiming the operator has reaped the rewards of innovation and investment.
He said the proposed MTR changes would encourage greater competition in the market and lower barriers to entry.
Winners and losers
When the change comes into operation, Airtel Kenya will save about KES 2.97 billion (€23.4 million) and Telkom Kenya about KES 404 million, while Safaricom's income from the fees will drop from KES 3.5bn to KES 106m.
Mucheru acknowledged that the rates had been "artificially high" over the past five years, adding, "Termination rates are not meant to be income‑generating streams but cost‑recovery mechanisms".
Safaricom has argued that the Competition Authority of Kenya had erred in law and fact by applying the benchmarking method as opposed to Network Cost Study.
It further stated that the authority breached the constitutional requirements on public participation and fair administrative action.
The Authority responded that its analysis of the impact of termination fees on operators was based on their revenues, levels of profitability, and sustainability. It also stated that the change to termination rates would lower fees for consumers, a claim backed by consumer groups.
Market numbers
Safaricom has about two-thirds of the Kenyan mobile market and its mobile payments service, M-Pesa, accounts for close to 99% of mobile money transfer subscriptions. The total number of active mobile money subscriptions in Kenya amounted to 31.79 million in the third quarter of 2020. M-Pesa had 31.42 million mobile money subscriptions in the same quarter. Vodafone Group owns the M-Pesa platform, which is arguably its greatest innovation beyond traditional services.
Ownership of Safaricom is shown below, taken from its website.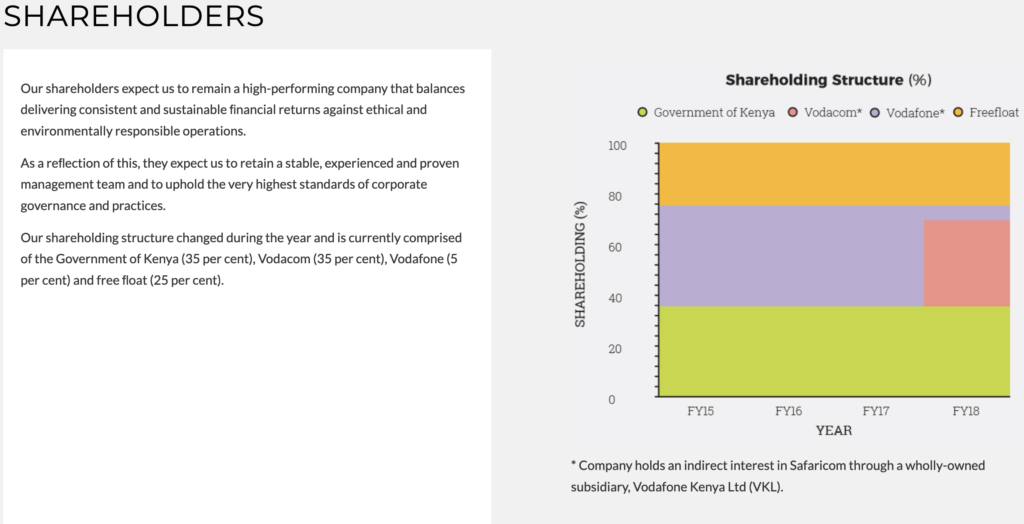 Safaricom is owned by