At the LTE World Summit 2013 this week, one of the hot topics was LTE roaming and the myriad technical, operational and strategic issues that need to be solved in order for operators to offer enhanced mobile broadband services.
Victoria Nikiforova Foley, LTE Business Development Manager at Vodafone Roaming Services, set the scene: "This year, we're talking about 10 billion megabytes of usage in Europe generated by roamers, and that's projected to go up to 17 billion within four years," she said.
One of the biggest technical challenges is managing the increase in Diameter signalling.
The 3GPP standards body has defined the Diameter protocol for use in 3G, IMS and LTE networks as a peer-to-peer protocol enabling numerous network elements, such as authentication, authorisation and accounting (AAA) functions, mobility management, policy and charging control in all-IP networks.
Earlier this month, Swisscom became one of the first operators in Europe to launch an LTE roaming service.
"It was something new for us to build up roaming relationships based on Diameter. This took some time," a Swisscom spokesperson told Mobile Europe.
"We are connected to an IPX carrier for Diameter interconnection. Direct interconnection with each roaming partner is too difficult and expensive.
"Thanks to QoS steering in the home network, roaming customers might get more bandwidth than a home subscriber; we have to find a useful QoS steering for our inbound roaming subscribers.
In order to deal with signalling problems from the new protocol, Swisscom implemented a dedicated Diameter Edge Agent (DEA) to enable Diameter signalling messages to flow smoothly across both operator networks, while also protecting the Diameter servers from traffic overload and securing the network.
Ericsson provided Swisscom with the DEA, as part of its Diameter Signalling Controller (DSC) product.
The product also includes a Diameter Agent (DA), which is the Diameter server or client, as well as a Diameter Routing Agent (DRA) to route all messages from Gx, S9, Gxx and Rx sessions to the same Policy and Charging Rules Function (PCRF) when multiple PCRFs are deployed on a Diameter realm.
Traditionally only one PCRF was deployed on a Diameter realm per operator, but this will change with LTE roaming.
"The operator needs to hide the internal network topology towards the outside world. Then it needs to be able to quickly [choose between] whitelisting new roaming relations [and] blacklisting unwanted roaming relations," said an Ericsson spokesperson.
"[To do this, the DSC must] be able to screen, manipulate & take action on the Diameter messages the way the operator wants it, while also protecting its network from overload situations at network incidents.
"Finally, the DSC must be able to manage the accounting, statistics and policing of the roaming signalling traffic."
Both Orange and Deutsche Telekom confirmed that they are currently working on introducing LTE roaming.
"One challenge to LTE roaming is the mastering of new protocol – this requires complete testing," said Yves Bellego, Director of Technical and Network Strategy at Orange.
"Diameter signalling has never been used in this way before and may lead to completely new, currently unknown challenges," added Deutsche Telekom's Franz Seiser, Vice President Core Network and Services.
"DT is currently very active in GSMA activities around IPX as we for example believe it is a very suitable platform for providing quality differentiation end-to-end across networks."
Other challenges
Besides diameter signalling, Swisscom also mentioned that handset compatibility with the different frequency bands is becoming more difficult.
Ericsson concurs: "LTE can use many different spectrums i.e. frequencies in different countries infrastructure. That means that the terminals also have to be capable of the frequencies used in the roaming countries. The very latest terminals are capable to handle around 10 different frequency bands, but these has to be chosen very carefully against the countries you need to roam with," the spokesperson said.
Tommy Ljunggren, Vice President, System Development at Mobility Services at TeliaSonera, told Mobile Europe that the Nordic operator is considering other spectrum bands in order to solve this problem.
"Spectrum bands [between countries] not being compatible is a challenge. We are now looking at the next 'low band', i.e. the APT 700 MHz band, which is very important that we get in place as soon as possible. That will enable roaming in a large part of the world (EU, Asia, Africa and Latin America)," he said.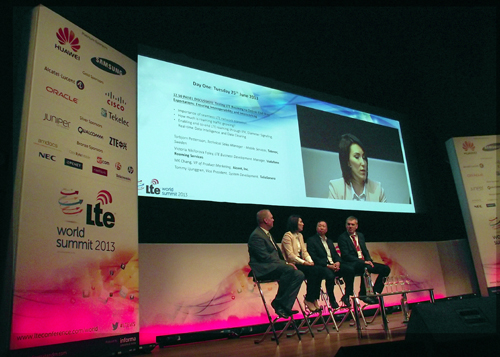 Vodafone's Foley fears that the speed of technological innovation is not matched by operational innovation, as both sides of the LTE roaming network need to have their networks ready to work on the IPX.
Ljunggren shares the same concerns: "We need to get the Diameter/IPX peering in place between the operators to speed up the implementation. TeliaSonera International Carrier has taken some big steps there, [such as] signing the deal with iBasis. Diameter signalling is complex, but we are on top of it."
Foley feels that the standard bodies need to act quickly to prevent internet companies from stealing subscribers away.
"In another five to seven years, if Google continues the same pace, what we're facing is that Google will replicate the same footprint that we're offering customers with LTE," she said.
"The expectation is that because LTE is a data-roaming launch, it will be a quick upgrade from the data footprint that we already have [from our 3G roll-out]. But we care a lot about the end-user experience so we will have to spend a lot of time testing it.
"We need more innovation from the standards bodies such as the GSMA into how we test the network in order to speed up how quickly we can roll out a network."
READ MORE:
Diameter signalling: why the buzz has only just begun