Operators shared perspectives on where they wish to go with 4G LTE at the start of the LTE World Summit 2013 this morning in Amsterdam, with content concerns very much to the fore.
Erik Hoving, Chief Strategy, Innovation & Technology Officer at KPN, for example, outlined how the roll out of its 4G LTE network has evolved since it launched one and a half years ago.
"I can assure you that when we were making the business case for our 4G roll-out, we didn't expect that photographers would be our first application on the network," he said. "I don't think we really know what 4G can mean to us. My children are teaching me [about the different ways] to use 4G faster as young people want to share."
According to Hoving, subscribers now access their smartphones up to 150 times a day, meaning 150 access points to the operator's network – an opportunity that should be taken advantage of.
"I think that part of the problem that we as an industry have is that we try to think everything out. Here at KPN, we believe that in order to be successful with LTE, we have to go and start being entrepreneurial with the other people.
"There are 70 million people in the Netherlands – that means 70 million people with ideas who we want to get close to, so we need to be entrepreneurial and work with them. We deliver the service, they come up with the applications.
"Our world will be one of entrepreneurship and change. 4G will create more revenues than we think now."
Roxanna Zea, CSO of Sweden-based operator Tele2, echoed this thought by talking of the need to build partnerships.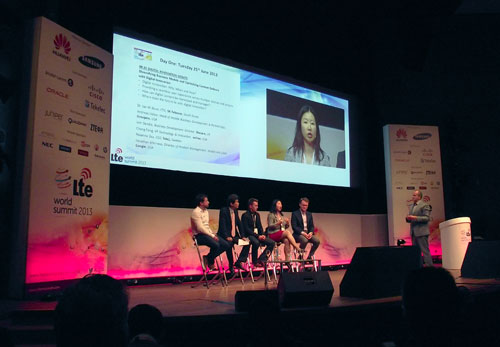 "[When it comes to on-demand video services], we're a challenger operator and we see ourselves as champions of customer value. Looking at the landscape of content… there are lots of standardised products such as music, video, movies – primary content that we would never be able to go out and acquire," she said.
"Tele2 as a challenger doesn't necessarily have the branding to make those deals with the big movie studios to distribute the content, so we see partnerships with those aggregators are a way to access that content."
Zea added that Tele2 has done a lot of work to seek out early start-ups and jointly work on monetisation and distribution agreements with them to provide a "win-win situation for both parties".
She pointed to previous examples of operators trying to build their own app store ecosystems, stating that they had been unsuccessful due not being as good at "building the user experience and being able to integrate multiple platforms" as the OTT players and technology companies like Google.
"It turns out that carrier billing is a very healthy business for us now with very healthy margins. Our most interesting example is the public pilot of Tele2 Play in Sweden. Effectively, we want people to buy content on their mobile phone on their mobile subscription – that's how we can push up ARPU and make an additional margin on top of that," she said.
"[Subscribers] can buy content but also have access to terrestrial TV on their mobile. But the problem is that most of [using our smartphones 150 times a day] is at home. If you want to do that in terms of selling content, you have to also find a technical solution to make it work in a seamless fashion."
To make the video streaming work, Tele2 provides a box that streams the content to the mobile phone on the subscriber's home broadband connection.
In contrast, Korea's SK Telecom prefers to provide consumer services in order to provide differentiation from other operators who also provide 4G LTE, although it currently has a lead over its competitors, especially Korea Telecom (KT).
"KT is still struggling to catch up for LTE. The perception of consumers is that when it comes to LTE, SKT is better than KT. This is only a perception, but it's difficult to change. Early LTE adopters tend to be premium customers. LTE has been very good as way more premium customers have migrated from KT to SKT," said Dr Jae W Byun, CTO of SK Telecom.
To that end, SKT is offering IPTV services and HD voice to "provide an enhanced experience" for subscribers, particularly as voice delay tolerance remains very small and sensitivity to data service loss is high.
"Our strategy is like Microsoft's in the 1980s. Our strategy is to have many independent third-party developers to develop many different ideas and apps for our customers. Microsoft didn't invent Excel – Lotus 123 did. Microsoft didn't invent browsers – Netscape did. But when it became crucial for businesses to have these applications, Microsoft then developed these applications by themselves," he said.
"We are trying to do the same thing. Apps are important so we are developing the apps in-house so that we can win against the OTT players. But we cannot think up all the ideas ourselves so we depend on lots of independent developers."
Follow us at @mobileeurope for live updates