Samsung has launched a tablet that offers users a choice of operating systems as it looks for the next big innovation in devices.
The ATIV Q is a convertible tablet with the ability to change modes – it can function as either a notebook PC or as a tablet.
Running on Windows 8 and Android Jellybean 4.2.2, PC users can access Android apps via Google Play, and transfer or share files and folders from Windows 8 to Android.
Samsung claims that the ATIV Q tablet has the world's highest resolution at 3200 x1800, which it calls QHD+. The 13.3-inch touch screen offers 2.8 times higher pixel density at 275ppi than current full HD displays.
The Korea-based company also launched the ATIV Tab 3, the world's thinnest Windows tablet.
"We're committed to offering our customers choice and convenience in personal computing, and the convertible nature of both these new tablets delivers the freedom and versatility our customers demand," said Simon Stanford, Vice President of IT & Mobile Division, Samsung Electronics UK & Ireland.
"These innovative devices have been designed with busy people in mind, and the adaptability they offer is better suited to busy lives than any tablet on the market."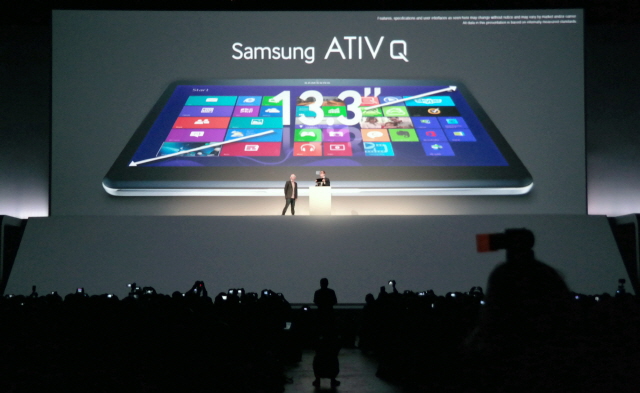 Samsung launches dual-OS ATIV Q Windows 8 / Android tablet
Among other new product releases, Samsung also debuted the Galaxy NX, the world's first interchangeable lens Connected Compact System Camera (CSC) with 3G/4G LTE and Wi-Fi connectivity, which also runs on Android Jellybean.
However, the launches are evidence that the value in mobile hardware is eroding rapidly, according to Victor Basta, managing director of Magister Advisors.
"The pace with which Samsung is introducing new devices points to the smartphone becoming as much of a commodity as the PC. In the first four months of this year alone, Samsung launched an eye-watering average of one new device a week," he said.
"There is a panic-fuelled chase for the illusory next big thing. Complete eco-systems, not device makers, are the real winners; Amazon and Apple have created their own mobile universes and will increasingly stand apart from the rest of the mobile market."