The operator will begin with home broadband in London then expand to mobile and home broadband in 25 towns and cities across the UK by the end of 2019.
BT's EE launched 5G at the end of May and Vodafone plans to switch commercial 5G on in July.
Three says that having twice as much 5G spectrum as its closest competitor will enable it to deliver the "fastest 5G network in the UK".
Three has gone so far as to say  it is "the only operator who can offer a 'true' 5G experience' which requires 100MHz of 5G spectrum, as set out by the International Telecommunication Union (ITU-T), a global standards body on 5G technology."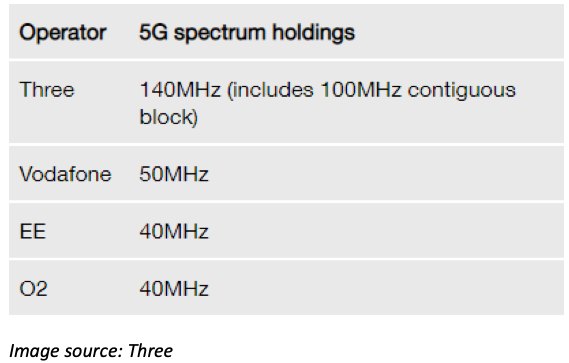 "At launch, peak mobile speeds will be at least 2x faster than other mobile network operators and will provide a more reliable connection and experience for customers," Three said in a statement.
To get started with Three's 5G home broadband, customers will just need to plug a hub into the wall without lengthy engineer wait times or a long-term contract. This 'plug and play' 5G service will offer comparable speeds to fibre, while offering more flexibility and better value for money, Three claims.
Network improvements
As part of its £2 billion (€ 2.24 billion) 5G infrastructure investment commitment, Three is undertaking network improvements in London, Cardiff, Glasgow, Birmingham, Manchester and Liverpool.
This investment also aims to help Three meet the anticipated future demand for data – UK consumers are expected to use 13 times more mobile data in 2025 than today, according to Ofcom. Three's mobile customers already use 3.5 times more data per month than the industry average, the operator says.
Over the next three years, Three's 5G rollout will continue to ramp up to cover 80% of its network traffic. The network investment programme also includes upgrades within Three's 4G network, expected to deliver up to 400% improvements in speed and capacity.
This will be achieved through deploying more 4G spectrum, converting 3G spectrum to 4G and using advanced antenna technology.
More and more data
Dave Dyson, CEO at Three, said, "It's clear that consumers and businesses want more and more data. We have worked hard over a long period of time to be able to offer the best end to end 5G experience.
"5G is a game changer for Three, and of course I am excited that we will be the only operator in the UK who can offer true 5G."
Three will be announcing more detail around handset range and pricing in July.