Vodafone Ireland has said that it gained a "winning combination" in the Irish spectrum auction, after paying €35 million more than Telefonica, and €110 million more than Hutchison in the multi-band auction.
The operator spent €160 million in up front fees to secure the spectrum, compared to Meteor's €144 million, Telefonica's €125 million, and Three's €51 million.
That bid gave it the largest spectrum holding in the country.
Vodafone Ireland's Strategy Director, Paul Ryan commented, "In addition to having the fastest network for mobile data, we now have the largest allocation of spectrum of any mobile operator in Ireland."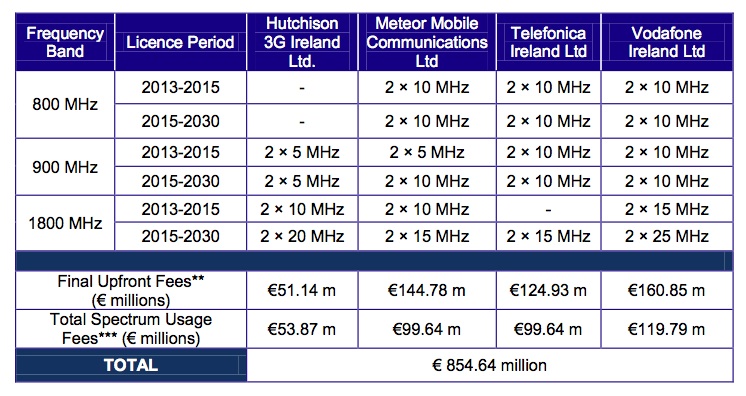 The operator has made its 4G plans available on its website and said that work has already commenced on upgrading its network. It will spend half a billion Euro over the next five years on its network.
Telefonica, which spent €125 million in the auction, has identical holdings to Vodafone at 800 and 900MHz but, from 2015, will have 10MHz less at 1800MHz. It said it would commence rollout from the first half of 2013, spending €200 million on the network over the next three years.
From 2015 Meteor will have the same amount of spectrum at 800MHz and 900MHz as Vodafone and Telefonica, but holds more 1800MHz spectrum than Telefonica and less than Vodafone. Meteor spent €144 million to secure its spectrum.
Hutchison won no 800MHz spectrum, and is left with a small amount of 900MHz spectrum and, from 2015, 2x20MHz at 1800MHz. Three Ireland said it "welcomed" the results of the auction. It pointed out it paid only €51.14 million for its spectrum, the lowest of any bidder, and said that it would be able to roll out LTE with the spectrum it has.
Robert Finnegan, CEO of Three Ireland, said, "Our strategy was to acquire a flexible mix of spectrum that would allow us to continue to be Ireland's leading high speed network at the lowest cost. This result will enable the roll-out of new technologies such as LTE with speeds of up to 180 Mbps but also allows us to continue to invest in our network going forward.
Finnegan added, "The 51.14 million price tag means we are in a very good position to continue to offer the very best value to consumers and the best service."
Three's added spin was that its portfolio of spectrum increased more than any other operator with an addition of 25MHz, whereas the old networks saw a "far smaller" increase of 10MHz by 02, 10MHz by Meteor and 20MHz by Vodafone.
Benefiting from four blocks of 1800 MHz, Three will be able to roll-out high speeds of up to 180 Mbps and its allocation of sub-1GHz will boost rural coverage and provide enhanced 3G services.
In total, the auction raised approximately €854.64 million in spectrum rights for 140MHz of paired spectrum, comprising €481.7 million in Upfront Fees (adjusted as necessary by transitional arrangements), along with annual Spectrum Usage Fees totalling €372.95 million which will be adjusted for inflation and paid in instalments until July 2030.