Vodafone rained on BT's 5G parade, offering unlimited data at no extra cost for 5G, now its offering the UK's first home broadband bundles with 5G.
Three UK is due to launch its 5G service on Monday, offering unlimited data plans at a flat rate for 5G and 4G, whereas Vodafone tiers its prices for its unlimited 4G/5G data bundles, dependent on speed.
BT was the first to launch 5G in the UK, but with premium pricing. It has already acknowledged that will not be not sustainable with Vodafone and Three not charging more for 5G.
The new set of bundles, Vodafone Together, cost from £31 per month for a limited-data, SIM-only and fixed broadband plan.
For an extra £6 per month on the Unlimited, Unlimited Max and 20GB plans (see below) customers can choose an entertainment subscription free of charge, from Spotify Premium, Amazon Prime Video, Sky Sports Mobile TV or a Now Entertainment Pass.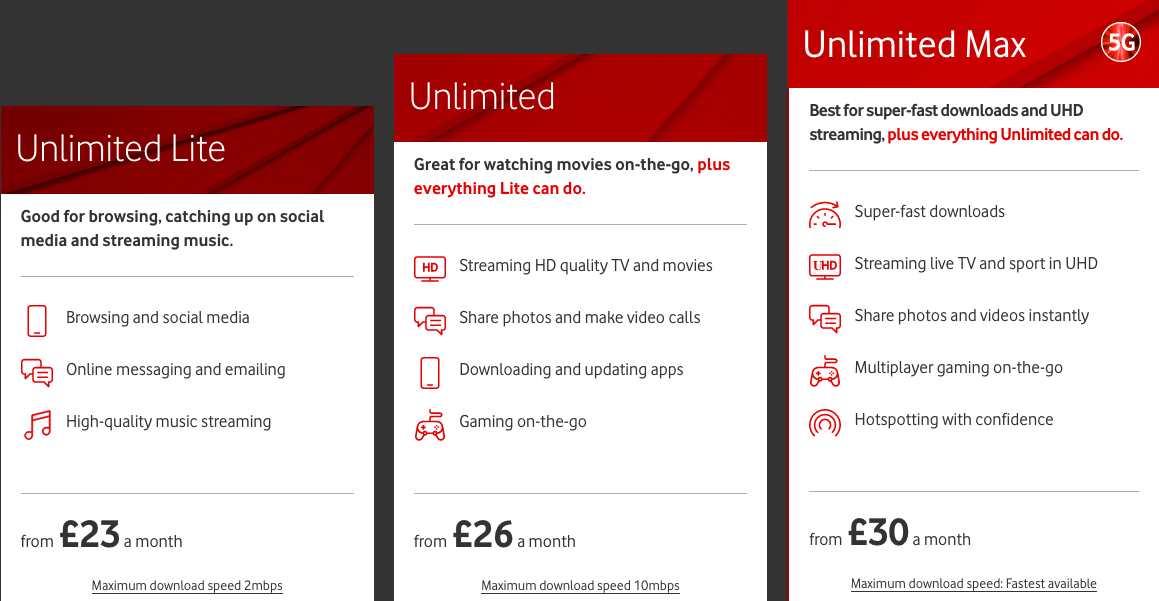 Calls via Amazon Echo
Vodafone also provides an app that enables users to manage their Wi-Fi, which they can pause, boost or prioritise speeds to devices, grant guests access and all with live-chat support.
For a limited time, Vodafone is also offering those who sign up for the service a free Amazon Echo Plus, which can be used to make and take phone calls.
Vodafone is offering a further 15% discount for additional mobile plans added to the account.
Max Taylor, Consumer Director at Vodafone UK, said, "It's exciting to be launching another game-changing product with Vodafone Together – the UK's first 5G mobile and broadband bundle.
"The free Amazon Echo Plus is the perfect partner for Vodafone Together, allowing customers to make even more use of their free mobile minutes. With our world first Alexa calls and Vodafone OneNumber, landline calls really will become a thing of the past."