Five wireless entrepreneurs won out at the finals of the UK's Discovering Start-Ups 2013 competition, earning praise from leading venture capitalists, angel investors and wireless industry experts.
The winners ­ Chirp, Ether Books, Simpalarm, SQR Systems and White Space Water ­ showcased a range of wireless technologies.
Now in its fourth year, Discovering Start-Ups was jointly run by Cambridge Wireless and Silicon SouthWest and supported by TechCity UK.
London-based start-up Chirp has developed a platform that allows consumer and businesses to share data using sonic barcodes in the form of electronic bird song, using anything that creates sound from TVs and radios to smartphones and doorbells.
Ether Books from Bath was chosen for its mobile social commerce technology platform, which enables writers to get published and engage directly with a global smartphone and tablet reading audience.
Simpalarm, based in Bristol, pitched an effective and affordable device designed to provide family telecare by unobtrusively monitoring a wide range of normal daily activities in the home such as movement, door opening, visitors, water and electricity.
Another London firm, SQR Systems, was praised for its innovative technology that securely distributes video data over low-bandwidth and bandwidth varying networks to constantly optimise the video in encrypted form.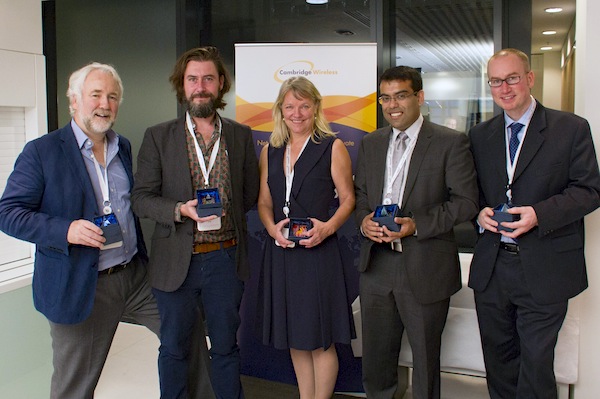 The winners of Discovering Start-Ups 2013
Finally, WhiteSpace Water was chosen for its range of sensors and systems for the water industry based on Weightless-technology and White Space spectrum that aims to reduce water loss and save money.
The five winners were each presented with Discovering Startup Trophies, a prize fund worth £5,000 including cash prizes sponsored by Qualcomm and tickets to Mobile World Congress provided by UKTI.
They were chosen from 18 finalists from across the UK who pitched their technologies and business plans to a panel of judges that included senior executives from BT, Google, Orange Labs, Qualcomm Ventures, Samsung and Innovacom, along with investors such as London Business Angels and NESTA.
The competition run by Cambridge Wireless and Silicon South West ­ two of the UK's leading technology industry networks ­ along with the support of London's Tech City, is now in its fourth year.
Dr Sorya Jones, CEO of Cambrige Wireless, said that UK's wireless industry is showing potential.
"The innovation, ambition and passion shown by the 18 finalists reflects the strength of the UK's tech start-up industries," she commented.
One of last year's winners, Smart Antenna Technologies has recently secured funding and launched an innovative single-antenna technology for smartphones and tablet devices that replaces up to six separate antennae.
Mobile Europe magazine's Oct/Nov issue, out this month, takes a in-depth look at six of the technologies presented at the event. Click here to subscribe and ensure you get your copy.