Deutsche Telecom rises to third after T-Mobile/Sprint merger, while Jio is judged to be the world's strongest and fastest-growing telecoms sector brand.
For the second year in a row Brand Finance has found Verizon to be the world's most valuable telecoms brand after an 8% increase in brand value to $68.9 billion (€57.62 billion). This has propelled it back into the top 10 most valuable brands globally in the Brand Finance Global 500 2021 ranking, widening the lead over second placed AT&T (whose brand value fell 13% to $51.4 billion). In total, there are 17 US brands in the ranking, with a combined brand value of $182.8 billion.
The US market
It's two years since the start of Verizon's business transformation programme, Verizon 2.0. This focuses on network transformation, go-to-market strategy, the brand and the business' culture – and has seen the brand progress in leaps and bounds.
Verizon is widely recognised as having the best-in-class network and the widest coverage in the US, with infrastructure usage surging during the pandemic to 800 million phone calls and 8 billion texts a day. The operator is also making strides in its 5G expansion programme, which covers more than 2,700 cities and 230 million people.
Savio D'Souza, Valuation Director, Brand Finance, commented, "While 2020 was the year for Verizon to optimise its existing assets, Brand Finance expects 2021 to be the year [it] strengthens its network leadership through acquisitions of a broader spectrum and a wider launch of its 5G.
"Supported by an increased focus on gaming, the company is also leveraging its superior brand strength to increase customer differentiation by migrating customers to unlimited plans and increasing stickiness with content and partnerships such as Disney+, Apple and Discovery+."
Deutsche Telekom reigns in Europe
With a brand value of $51.1 billion, Deutsche Telekom (DT) has retained its position as the most valuable telecoms brand in Europe, climbing one spot in the ranking since last year to take third place overall.
It has added 28% to its brand value and is the fastest-growing in the top 10 most valuable brands by far, outperforming the second fastest growing brand, Spectrum, by a huge margin. Spectrum's brand value increased by 11% to $21.4 billion.
As the largest telecom provider by revenue in Europe, DT has reaped the rewards of its expansion into superfast internet connections and the popularity of its MagentaEINS service package. Last year, the German telecoms brand also finally completed the T-Mobile and Sprint merger in the US, which bolstered its total revenue.
With that successful merger under its belt, the telecoms giant is now turning back to Europe to continue its expansion, which Brand Finance thinks is likely to lead more success in the coming year.
Sub- and masterbrands
All major telecom operators are fast diversifying into fixed line, broadband, Pay TV, IoT, film content, streaming and various adjacent services, including banking and finance, and many are creating sub-brands for services which operate under their 'masterbrands'.
Vodafone realised, 30 years ago, that a strong single or masterbrand, developed over decades and trusted by customers promotes an emotional connection, standing for good service, value for money and innovation. Certainly masterbranding still has a role to play, because brand fragmentation can be expensive and hard to manage, as well as confusing for consumers. This explains why T-Mobile, Vodafone and Orange mostly continue to pursue masterbrand strategies.
The rebranding of Sprint might seem a little strange, given that Sprint Corporation was over 120 years old, with 28,000 employees, more than 50 million customers and $30 billion revenues when it merged with T-Mobile.
However, Brand Finance's latest Global Brand Equity Monitor found that the T-Mobile brand is very well known in the US and beat the Sprint brand on every aspect of brand imagery. In the long run, one integrated T-Mobile brand will provide the benefits of a single Masterbrand.
Jio is shining star
As well as measuring overall brand value, Brand Finance evaluates the relative strength of brands, based on factors like marketing investment, customers' perceptions, staff satisfaction and corporate reputation. Alongside revenue forecasts, brand strength is a crucial driver of brand value.
The world's strongest telecoms brand is Indian telecoms giant, Jio, with a Brand Strength Index (BSI) score of 91.7 out of 100 and an elite AAA+ brand strength rating.
Since it was founded in 2016, Jio has become the largest mobile network operator in India and the third largest mobile network operator in the world, with almost 400 million subscribers. Renowned for its incredibly affordable plans, Jio took India by storm when it offered 4G to millions of users, initially for free, and simultaneously transformed how Indians consume the internet. This is what is known as the 'Jio effect'.
Jio is outstanding for the strength of its brand and has the fastest-growing brand in the ranking in terms of brand value, bucking the negative trend across the industry, with a 50% increase to $4.8 billion.
Tough times in China
China's three main operators had a tough year with more significant losses in brand value than any of their Chinese counterparts. Despite a 23% drop in brand value, at $37.6 billion China Mobile remains the region's most valuable brand, followed by China Telecom, which is down 34% to $13.3 billion, and China Unicom, which fell 15% to $7.9 billion.
There are several reasons for these diminished performances, including declining subscriber numbers, due in part to the large-scale cancellation of work phone numbers by migrant workers affected by the pandemic. In Q1 2020 alone, China Mobile lost four million customers and China Unicom lost 7.5 million.
Also, mid-year torrential rain resulted in some of the worst floods in more than two decades, affecting nearly 250,000 people and destroying 41,000 homes and telecom infrastructure.
MEA brands innovate
Etisalat is the Middle East and Africa region's strongest telecoms brand, with a BSI score of 87.4 out of 100 and a corresponding AAA brand strength rating – the only brand in the region to achieve this rating.
Thanks to its strategy over the last few years and its recent achievement of becoming the fastest network on the planet, the brand was in a position to respond immediately to the 'new normal' of the pandemic, providing solutions and flexibility in a way that connected emotionally with consumers. Etisalat Group's ambition is to become a truly global player.
The region's most valuable brand is stc, which saw its brand value rise 14% to $9.2 billion, simultaneously jumping five positions to reach thirteenth. As a result of its brand and business transformation, stc has recently doubled the capacity of its network and achieved a AAA-brand rating for the first time.
LatAm brand values tumble
Latin America's operators have been battered by the pandemic and other factors. Vivo has the largest market share in Brazil in wireless and fixed, but over the last year its brand value fell 31%, making it the eighth fastest falling brand in the Brand Finance Telecoms 150 2021. The brand is now valued at $1.5 billion and is looking to innovation to restore its fortunes, such as using AI to provide data that enables the Brazilian government to track the spread of Covid-19.
Other telecoms brands in South America have also fared poorly, with Argentina's Personal losing 53% of its brand value, bringing it down to $253 million and making it the third-fastest falling brand in the ranking. Brazilian Oi, declared bankrupt in 2016, dropped its brand value by 35% to $425 million.
The story is similar for Chilean brand, VTR, which is the seventh fastest falling brand in the ranking this year, down by 31% to $260 million, which is predominantly attributed to a slight decrease in revenue and an increase in the cost of capital over the last year.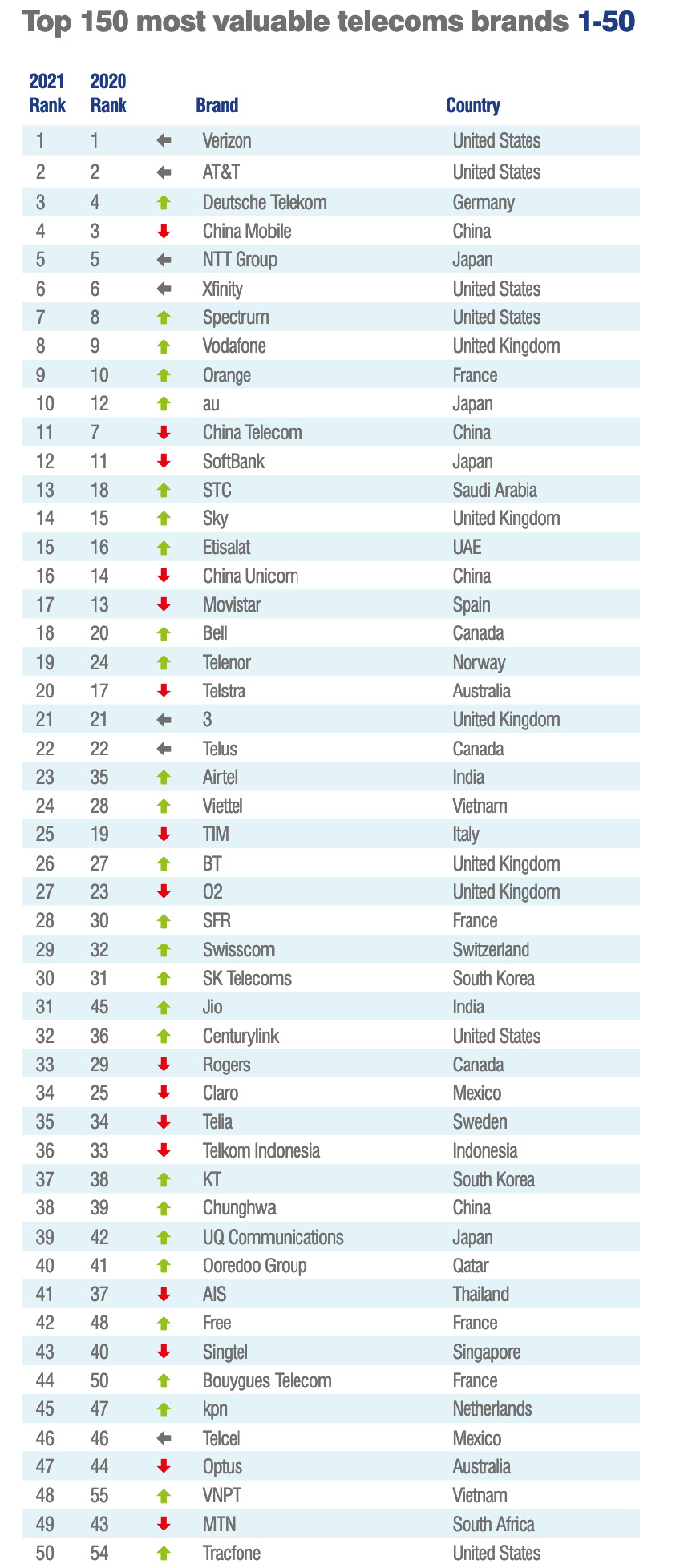 Brand Finance Telecoms Infrastructure top 10
Alongside the 150 most valuable telecoms operator brands, Brand Finance ranked the world's top 10 most valuable and strongest vendor brands.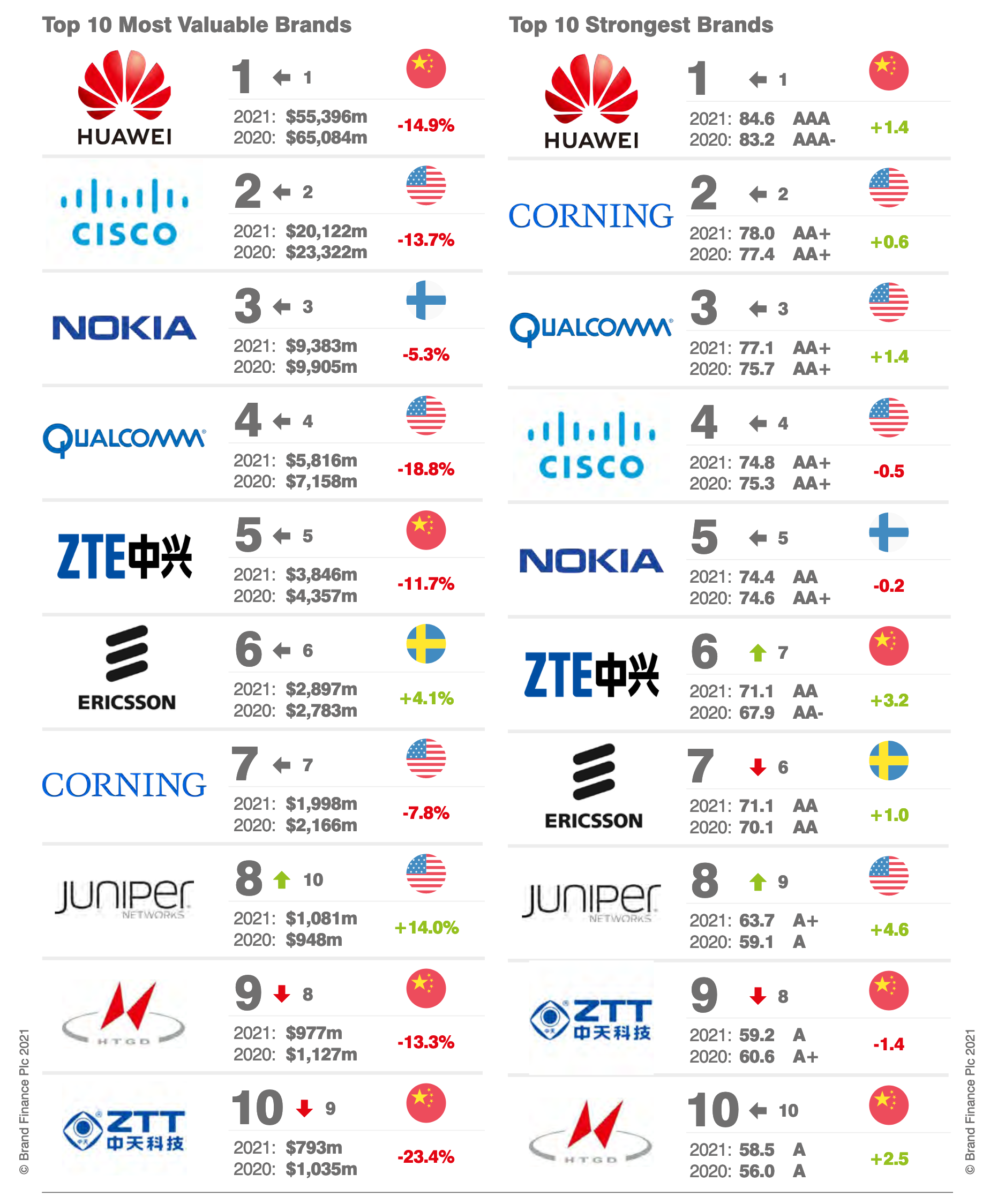 Huawei continues to lead the pack as the most valuable and strongest telecoms infrastructure brand, with a brand value of $55.4 billion and a BSI score of 84.6 out of 100. It operates in more than 170 countries globally, yet the brand is mired in controversy with questions surrounding the security of its networking equipment.
The US government encouraged its allies to limit or ban the use of Huawei's networks across their respective countries, with many complying, including the UK, which has announced that by 2027 there will be no Huawei equipment in its infrastructure. Only two brands in the ranking recorded brand value increases this year: Sweden's Ericsson, whose brand value rose 4% to $2.9 billion, and the US' Juniper Networks, which increased 14% to $1.1 billion.
View the full Brand Finance Telecoms 150 2021 report here.
Methodology for the Brand Finance Telecoms 150 report 2021
Brand definition
Brand is defined as a marketing-related intangible asset, including, but not limited to, names, terms, signs, symbols, logos and designs, intended to identify goods, services or entities, creating distinctive images and associations in the minds of stakeholders, thereby generating economic benefits.
Brand value definition
Brand value refers to the present value of earnings specifically related to brand reputation. Organisations own and control these earnings by owning trademark rights. All brand valuation methodologies are essentially trying to identify this value, although the approach and assumptions differ.
As a result, published brand values can be different. These differences are similar to the way equity analysts provide business valuations that are different to one another. The only way you find out the 'real' value is by looking at what people really pay.
As a result, Brand Finance always incorporates a review of what users of brands actually pay for the use of brands in the form of brand royalty agreements, which are found in more or less every sector in the world. This is known as the royalty relief methodology and is by far the most widely used approach for brand valuations, since it is grounded in reality.
It is the basis for its public rankings, but Brand Finance always augments it with a real understanding of people's perceptions and their effects on demand – from the database of market research on over 3000 brands in over 30 markets.
Brand valuation methodology
For the rankings, Brand Finance uses the simplest method possible to help readers understand, gain trust in and actively use brand valuations.
It calculates the values of brands in its rankings using the royalty relief approach, a brand valuation method compliant with the industry standards set in ISO 10668.
The Brand Strength Index assessment, a balanced scorecard of brand-related measures, is also compliant with international standards (ISO 20671) and operates as a predictive tool for future brand value changes and a control panel to help business improve marketing.
Brand Finance does this in the following four steps.
1. Brand impact
Brand Finance reviews what brands already pay in royalty agreements. This is augmented by an analysis of how brands impact profitability in the sector versus generic brands.
This results in a range of possible royalties that could be charged in the sector for brands (for example a range of 0% to 2% of revenue).
2. Brand strength
Brand Finance adjusts the rate higher or lower for brands by analysing the brand's strength. This comprises three core pillars: investment, which includes activities to support the future strength of the brand; equity, which collates perceptions from Brand Finance's own original market research and from the research of other data partners; and performance, which covers brand-related measures of business results, such as market share.
Each brand is assigned a Brand Strength Index (BSI) score out of 100, which feeds into the brand value calculation. Based on the score, each brand is assigned a corresponding brand rating up to AAA+, in a format similar to a credit rating.
3. Brand impact x brand strength
The BSI score is applied to the royalty range to arrive at a royalty rate. For example, if the royalty range in a sector is 0-5% and a brand has a BSI score of 80 out of 100, then an appropriate royalty rate for the use of this brand in the given sector will be 4%.
4. Brand value calculation
Brand Finance determines brand-specific revenues as a proportion of parent companies' revenues attributable to the brand in question and forecasts those revenues by analysing historic revenues, equity analyst forecasts and economic growth rates.
Brand Finance then applies the royalty rate to the forecast revenues to derive brand revenues and applies the relevant valuation assumptions to arrive at a discounted, post-tax present value which equals the brand value.