Nick Booth asks how much established procurement processes are costing operators and suppliers, and how they could improve to suit the times.
Communications service providers (CSPs) spend hundreds of billions of dollars annually procuring technology, so it seems ironic that these digital companies struggle to quantify their own spending.
In 2019, when analyst Ovum (now Omdia) tried to work out the price of procurement, it estimated that operators spent $327 billion (€297 billion) on capital expenditure (CapEx).
There is more guesswork involved in calculating operating expenditure (OpEx), with analysts estimating it is three times higher than CapEx. This means that CSPs are spending about $1 trillion annually on OpEx.
A new survey by EY of 500 execs from technology, media, entertainment and telecoms firms around the world found that 42% of telcos admitted their approach to capital investment is too static and rigid. This was higher than any of the other sectors. Telcos are also the least likely to review and adjust investments, and struggle to find sufficient data to add credibility to the decision-making process.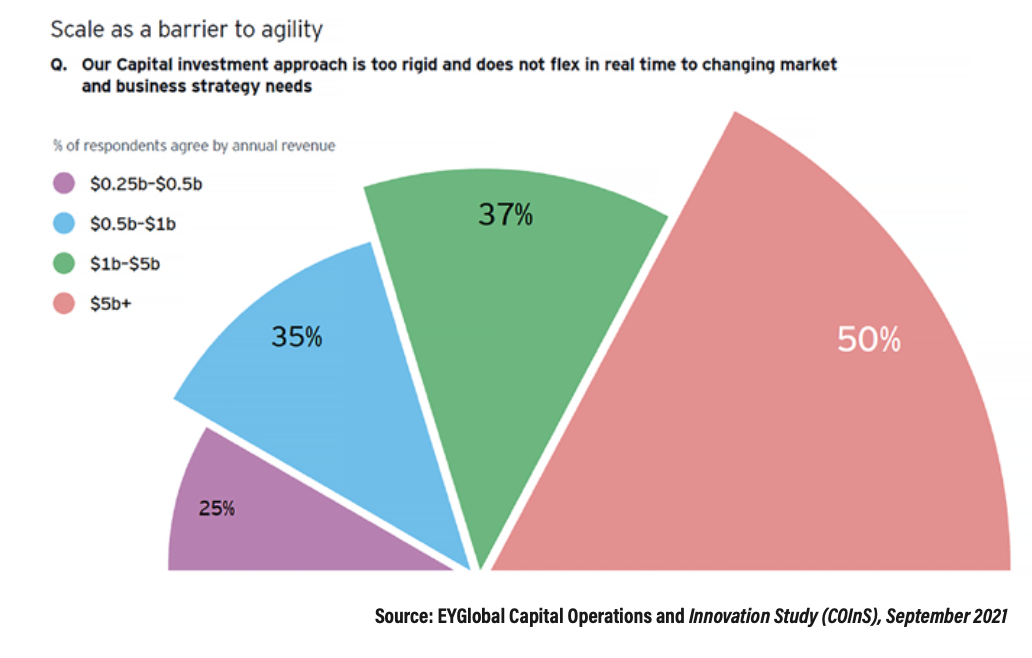 TM Forum is conducting a detailed investigation report into every aspect of the supply chain in an effort to help CSPs better consume software, hardware and services. The forthcoming report, Mapping the path to telco growth, will offer some data even if it doesn't solve all the mysteries of procurement.
Expensive to do business with
The cost of procurement can be driven up by the cost of doing business with the buyer. Suppliers pass the cost of product, solution or service, as well as the number of people who were involved and the time spent responding to queries, onto the customer. Every request for information (RFI), request for proposal (RFP) and request for quote (RFQ) adds to the bill.
TM Forum estimates the extra cost of procurement added by RFI, RFP and RFQ processes can be 10% of the total revenue. That equates to $750 million (€640 million) lost by CSPs – without factoring in the huge premium for being first to market.
From interviews with CSPs and suppliers, TM Forum found that one of the most common complaints is about the amount of time wasted during tenders when everyone is under orders to move fast and scale up.
The hidden cost of bad decisions
The price of poor decision-making and missed opportunities is hard to estimate. Some CSPs interviewed by TM Forum have talked of project costs being tripled by change requests as the CSP tried to make the business case work. Sometimes strategic priorities evolve in the course of a five-year contract and, as CSPs embark on 5G projects with no set business plan, the price of agility could prove very high.
Hidden procurement costs can arise from the late delivery of new customer experiences or a new business support system (BSS). Each disappointment has its impact on customer experience or lost revenues from new services delayed.
Another issue is that the RFP process can give the buyer 'too much information', which stops CSPs from being able to make the most informed choices. Also, "Contractual terms are becoming more onerous as CSPs seek to protect their interests and the RFP process continues to impose a tax on the industry," warns Mark Newman, Chief Analyst at TM Forum.
Though the true cost of CSPs' poor procurement decisions is hard to pinpoint, Newman think this all costs vendors at least $750 million a year. The current procurement process presents a real risk that the telco IT market becomes less competitive, yet operators want more from their suppliers.
Tayeb Ben Meriem, Co-ordinator of OSS Standardisation at Orange, says, "CSPs want to move away from the established way of procuring assets. It could be a physical asset or software asset, but when I procure an asset, I don't want to invest in testing and certifying this asset. I want the marketplace to take care of that."
Vodafone's global supply chain
CSPs should streamline processes by using data and AI, including machine learning (ML) to automate tasks and obtain the best outcomes, says Ninian Wilson, Vodafone's Global Supply Chain Director and Procurement CEO. However, he warns against getting too carried away too quickly.
"When we get new tools, they wouldn't apply to everything we do," says Wilson, although he's definitely in favour of improving the tender process with tools that can rationalise suppliers, create the tender document, despatch it and evaluate a scorecard, he adds.
Vodafone already uses tools for visibility, transparency and increased efficiencies based on data. "It'll be cool if we get it to do the negotiation, put it into a contract and upload pricing information into our ERP [enterprise resource planning]. That's what we're calling autonomous sourcing," he says.
The next stage would be predictive analytics, using an historical database to look ahead to predict possible contract failures. This is some time away, but Wilson notes that the disruption brought about by Covid-19 highlighted the lack of agility in most CSPs and showed that they need to do more to assess and mitigate risk in the supply chain.
This will require more investment, he says, adding, "We will be making some more digital investments to make sure that we maintain that resilience and build upon it over the next two to three years."
Buying components
Certainly TM Forum's research on its Open Digital Architecture (ODA), published in May, found that 10% of CSPs and suppliers want a marketplace where CSPs can procure software components.
ODA was developed by the Forum's members and is designed, among other things, to change radically how CSPs shop for, buy and install IT and network components, making it far simpler and less expensive.
Indeed, two-thirds of the CSPs surveyed for this report believe that ODA can change the way software is procured and implemented, and even cut out the RFP altogether. "Concepts like Open APIs, artificial intelligence, platform business models, cloud native microservice architectures and digital ecosystems will help," says Dr Lester Thomas, Head of IT Architecture and Innovation at the Vodafone Group, which has been instrumental in the development of the Forum's Open APIs and ODA.
He adds that they will only succeed if they can successfully evolve away from legacy BSS/OSS architectures – and the OSS side in particular has proved a tough nut to crack, as BT's Neil McRae, MD Architecture and Strategy and Group Chief Architect, noted in this Mobile Europe interview earlier this year.
BT has taken a different path to many of its counterparts, with less commitment to open software and hardware alliances, such as O-RAN. It has also created its own standalone procurement company within the BT Group based in Dublin Ireland, where it was recruiting to fill 70 new roles in Feburary this year. The new company has the brief to 'manage and influence' a budget of £13 billion (€14.8 billion).
BT Sourced is buyside disruptor
According to BT, its 'buyside disruptor' was masterminded by BT Chief Procurement Officer Cyril Pourrat, who says the mission is to simplify processes and rethink how BT works with suppliers and start-ups, through "partnership-based approaches".
Operating at arm's length from BT Group frees Pourrat's team from organisational hindrances and allows BT Sourced to become "procurement disruptors and trailblazers". It doesn't entirely spare the telco from company politics, though, as the employment union Prospect is allegedly "dismayed" by the plan.
However, BT Sourced finds itself influenced by a new set of guidelines that have no connection with the performance of the network. Environmental, social and governance (ESG) compliance in the supply chain is very high on the agenda, with Pourrat telling a Fairmarkit webinar on sustainable procurement that, "69% of BT's carbon emissions are coming from suppliers and we've got to zero in on that."
ESG compliance imposes new standards which might be harder to define than 5G, as they are about less tangible and measurable qualities such as the climate, diversity, transparency and societal issues. Current targets outlined in the Group's Digital Impact and Sustainability Report include net‑zero carbon emissions by 2045, buying 100% renewable energy and cutting carbon emissions in the supply chain by 29% (compared with 2016-17) by 2030.
Pourrat says digital tools will enable the telco to get the best price performance while abiding by the sustainability guidelines. "There has to be a trade‑off between the absolute resources available and the need to actually walk the walk," he says. "That is why we are using digital a lot."
Rather depressingly, an Orange Procurement spokesperson states that that so far digitisation hasn't made procurement any easier.
Interesting times for procurement
Operators' procurement teams face tough new challenges in the shape of shortages of raw materials and components, rising component prices, and pressure on the supply chain as a result of disruptions caused by the pandemic and geopolitics.
Meanwhile, competition is challenging telcos' established business models and applying strong pressure on CSPs' margins.
According to Orange, all the above are definitively transforming its relationship with network and IT vendors, and will heighten competition in the long term.
Ten years ago the company allied with Deutsche Telekom (DT) to create Buyin, which had a mission to stimulate local market opportunities with the respective procurement teams working at a local level.
The world is very different now. How does this affect the CTO who makes the buying recommendations?
Procurement has to work much more closely with the technical and legal teams to monitor the risks and impacts. "We are alerting, identifying mitigation levers in [the] short and medium term, such as business continuity plans, alternative sources at competitive conditions and prices, and diversifying sources.
"We need to regularly update our risk parameters list," says the Orange Procurement spokesperson.
It's a much harder job these days. Industries seem to be massively complicating issues and expecting digitalisation to solve them. Maybe in the short term at least, procurement, like many other aspects of business, is asking too much of data science, digitisalisation and artificial intelligence?