SMS volumes show steady growth pattern
French regulator ARCEP has reported that the total number of mobile number portability (MNP) requests made in France slowed from 2.6 million in the first three months of the year to 1.4 million in the second three months of the year.
The high number of requests in the first quarter of the year reflected the impact new operator Free Mobile made after its launch, and although the number of users requesting a move of operator has slowed, there were still nearly twice as many MNP requests for April-June 2012 as for the same period in 2011. (Q1 2012 MNP requests were up 233% on the previous year.)
That would suggest that the presence of Free has lead to an additional 700,000 customers churning within the quarter, if you accept the premise that little else has changed in the market since a year ago.
MVNO market share — hit hard by Free's launch — recovered very slightly, with a net growth of subscribers of 2.5%, after a decrease of 0.6% in the first quarter. Prior to Free's launch, MVNO net additions had been running in the double figures on a quarterly basis.
Overall, there were 70.4 million mobile subscribers in France in the second quarter of 2012. Net quarterly growth was virtually double what it was the year before: 900,000 additional customers in Q2 2012, compared to 500,000 in Q2 2011.
This is the second highest rate of Q2 quarterly increase in the past ten years. Growth in the first quarter of the year had already been high, with 900,000 additional SIM cards coming into use. 

The pay-as-you-go customer base grew by 1.1 million during the quarter, with PAYG now representing 26.6% of all accounts, versus 19% to 20% from 2008 to 2011.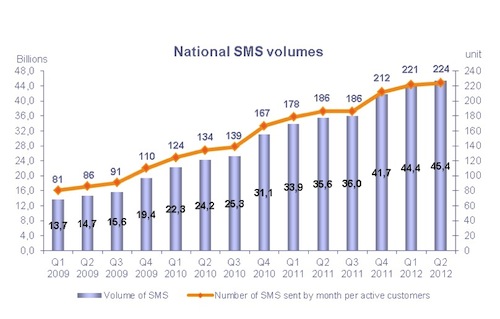 SMS volume figures show a Q4 jump every year, then a levelling of growth before a similar jump at the end of the year. That has lead to an overall increase in the volume of text messages from 13.7 billion a quarter in Q1 2009 to 45.4 billion a quarter in Q2 2012. In 2012, Q2 SMS volumes shifted up 2.4% on a sequential basis, with a year on year growth of 27.8%.
Users are also sending more text messages. ARCEP's figures claim that the number of SMS sent per month per active customer has risen from 81 to 224 per month.