Visa Europe has added person-to-person (P2P) immediate payments and multi-currency payments to its Visa Personal Payments mobile service, in a move that could have serious implications for operators and their mobile wallet services.
Visa Personal Payments is a mobile payments ecosystem targeted at European banks keen to offer mobile banking services.
While the Multi-Currency feature will go live at the end of 2013, Immediate Payments is available from this week and enables consumers to send and receive money within minutes from their bank's mobile banking app to another user whose bank also supports the Visa Personal Payments service.
According to Alex Kwiatkowski, Research Manager, EMEA Banking for IDC Financial Insights, Visa's best hope for success is to build an ecosystem that branches out from dealing with just traditional payments.
"Visa's strategy has to be a mix of being defensive about its traditional card payment business [while] going on the offensive and going out after new opportunities [that can be] delivered by mobility. It's got to be careful not to alienate its traditional partners the banks, while not abandoning other players in the ecosystem like operators and vendors."
The new P2P payments service is being rolled out to the UK first, with a further 16 markets to follow on October 15th. In the UK, Royal Bank of Scotland and NatWest were the first banks to launch mobile banking apps using Visa Personal Payments last month, but 24 banks in the UK now support Visa's platform.
Mobile banking app users can also send money to users whose banks don't have a P2P function in their mobile banking apps.
The recipient will receive a text message directing them to a "secret" website on the Visa domain where they need to enter their mobile number, their 16 digit debit-card number (also known as the PAN number) and verify the correct amount that the other user is trying to send them.
The user has seven days to log onto the website and will receive the money within one business day, or however long their bank takes to process payments from other banks.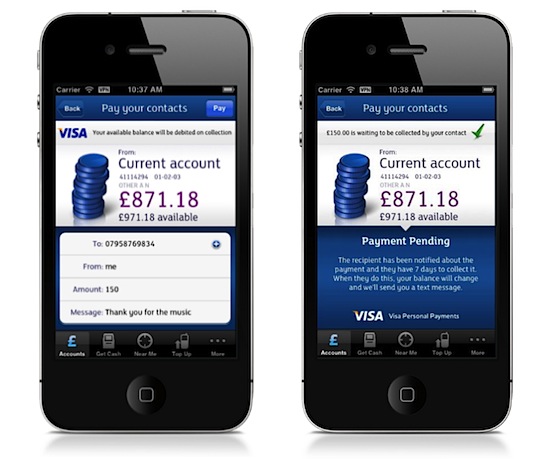 Screens from RBS' new Personal Payments app, in this case, paying someone who is with another bank
While charging fees is up to the banks' discretion, RBS and Natwest are allowing their customers to send up to £250 to other UK mobile phones for free, which is a much greater limit than PayPal permits for personal payments. Other currencies are likely to involve charges set by each individual bank.
"Historically, it would take till the next working day to access funds as a consumer if someone credited [your] account and at the moment, it is still slow and difficult to move money within the UK," said Kingdon.
"At the moment, in order to transfer money, you need the account and sort code number. With Visa's P2P service, I should be able to send money to your mobile phone number and you should get the funds immediately."
Visa's Personal Payments platform works by using the Visa Network global infrastructure as the base layer, followed by Visa's Money Management database layer on top of that, which allows banks to manage the transactions by mapping phone numbers and PAN numbers onto the third layer, i.e. the mobile banking apps built and maintained by the banks themselves and connected via APIs.
In addition, Visa is also offering banks a tailored white-label mobile app to go with the platform, if they don't want to develop their own. Last month it demonstrated this with the United Bank of Bulgaria.
Although the Personal Payments service does not offer operators a cut, Visa Europe's Vice President of Product Management Hugh Kingdon says that Visa is working with several operators on developing their mobile wallets, which include P2P payments, such as the UK's O2 with its "O2 Wallet" service.
"When I talk to an operator, they want the ability to do P2P payments, NFC and remote payments such as buying things off the net. For this, putting a Visa account on the phone is what you need. According to reports, p2p payment is what customers want the most," he said.
Visa also said that eventually operators would be able to issue Visa cards, which could be another way to earn money.
Beating PayPal
Visa's P2P payments service also sounds like a way for banks to displace online payments service PayPal, which currently occupies the dominant position in this space, but Kingdon disagrees.
"We're trying to displace cash and cheques, rather than PayPal," he said.
"What this service enables banks to do, is to realise the service which they already had before. Today in the UK, banks have 3 methods to do personal payments: One, I can give you cash. Two, cheques. Cheques work very well and they're a pain to be received. Three, [the] BACS UK interbank switching method.
"[The P2P service] gives them a fourth method. The first benefit is that it reaches all Visa cards. Secondly it's multi-currency, enabling you to move money across borders."
"Anyone trying to kill PayPal will have their work cut out for them," comments Kwiatkowski.
"Traditional players are now trying to adopt the same approach PayPal had when they came to the market, i.e. you don't need a stodgy, inflexible company, use us!"
Kwiatkowski thinks that it would take a strong commercial case to get consumers to stop using PayPal, when it works well, and that banks cannot afford to get rid of the fees from multi-currency transactions.
Kingdon disagrees.
"Consumers would be more likely to trust their money with their bank rather than PayPal."